Over the last ten years, one of the most encouraging practices in my life as a follower of Jesus is my monthly conversation with a spiritual director. The director I work with is a woman who, among other things, has a degree in Jungian psychology. As such, I find she often says things that I barely understand on first pass. But that is the gift she provides me: framing things differently and inviting me to see afresh what God may be doing.
When I've been befuddled about some marriage or parenting challenge, she has repeatedly said to me, "Oh Michelle, remember: they are so other." They being the two boys and man I live with. So other.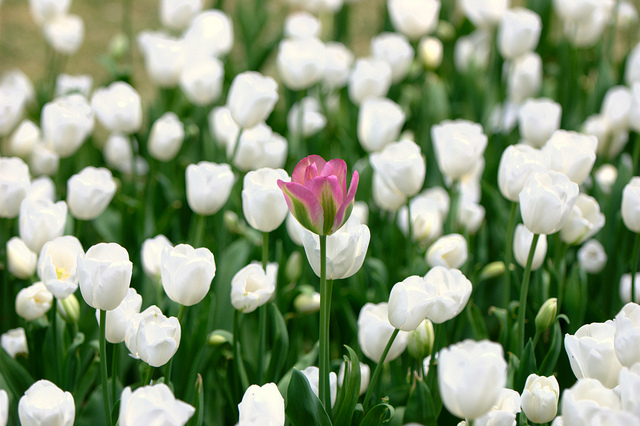 Image credit: Niccolo Caranti
If you could hear her voice, you would immediately detect the wonder with which she says this. There is mystery and awe in her tone. Like I said, an invitation to see things differently.
I realized recently (to my shame) that my ears have grown deaf to the holy tone my spiritual director uses when referring to my husband and sons as other. I've allowed the word to give me permission to internally declare them weird, strange, so very odd/unreasonable/insensitive--fill in frustration here.
As a church we're exploring our unique design as individuals, including spiritual gifts, personal styles, and areas of passion. One of my surprising joys in this season has been appreciating and bragging on the gifts of others. I spoke with a woman who thought she might have the gift of administration but feared that this meant she was cold and un-relational. Feeling sympathetic and aghast, I thought of another woman we both know who makes projects and organizations run smoothly and efficiently, and is also joyful, full of life, and most definitely warm. "You need to talk to her!" I said. "That will expand your picture of what being administratively gifted can look like!" Another woman was curious about a possible gift of apostleship (launching new ventures) but was hesitant about operating in that gift as a woman. I quickly put her in contact with a female friend who has explored initiating ministries with trepidation and a sense that God and those around her are cheering her onward. How great to know such uniquely fashioned people!
Then last week, each member of my small group shared about our spiritual gifts findings. What a surprise to realize that three of the six of us have some sense of a craftsmanship gift! My gifts center in the arenas of people and words, and I feel fairly hopeless in the area of artistic creation from practical materials. And yet 50 percent of my small group has that kind of gift. How cool! How wild! How other and how great!
There's the tone and meaning of the word that my spiritual director has been inviting me to all these years. The other is someone to be marveled at. Scripture tells us that the other is necessary for our growth, for the body of Christ to be mature and complete.
Unsurprisingly, I am repenting of my misuse of the word other as it pertains to my family. And, unsurprisingly, God is meeting me graciously as I do, giving me eyes to see with greater delight the ways my sons are other in fascinating and delightful ways.
My eldest is, among other things, an athlete. That makes him other to me right there, but as I've watched him on the baseball field this spring and noticed how sport makes him come alive and be bold, I've begun to marvel at how different he is from me--and how inspiring. I wouldn't mind a little more of his joy when he puts himself out there to steal bases.
My youngest is an animated communicator. Perhaps he's got my love of words, but what really impresses me are the ways he expresses himself with his face and his body. Who is this guy? I wonder sometimes. How marvelously and mysteriously and wonderfully other.
Surely there is a cosmic pull to my misinterpretation of my spiritual director's invitation to see the main individuals in my family as positively other. Other can be difficult. Other often contributes to misunderstanding. Appreciating the other often involves work. I'm grateful for a season of remembering the gift of--and even the need for--difference in our world.
| | |
| --- | --- |
| | Michelle Manley likes the space of quiet reflection, reading, and prayer. She enjoys sitting and talking with others, listening for the creative work of God in daily life. Her six- and eight-year-old sons help to keep her in the physical world. You can also regularly find her on the trampoline with them. She is married to Mark and has worked as a pastor at The River Church Community in the areas of Small Group Community and Adult Spiritual Formation for fifteen years. |