David and I first met in 1997 as interns with the now defunct ministry Teen Mania. We became good friends, and, when the year ended, we both joined Bibleway Ministries in Hong Kong. Our six-month stint included leading teams from around the world into China, smuggling thousands of Bibles and teaching supplies, and working with the underground church.
But the biggest blessing was how God showed us the people that he loves. On a trip to Kunming, China, God broke our hearts for those who have never heard of the name of Jesus.
Image courtesy: Kyle Guerrero
I came back to the States, pursued my education, and worked to get people at my church excited about God's heart for global missions. David returned to China a year later, and he's been there ever since. David speaks fluent Mandarin and has been training local leaders to share Jesus to the unreached. Our paths have crossed a dozen times since then.
This past October, I found myself back in Kunming with two other guys from our church--and David. So much had changed in Kunming over twenty years. The sleepy town of 4 million has ballooned to over 10 million. There are more skyscrapers than I can count.
They definitely didn't have a Starbucks in Kunming two decades ago, but that's where we found ourselves the first morning we were there. Soon after we arrived, a group of ragtag Chinese people walk through the front door. They were full of smiles and excited to see David. A few days prior, David had turned the ministry over to a small team of local Chinese believers. They were now doing most of the work, even more capably than David could.
The four people we met that day were strategically placed around the province. Their stories were amazing.
"Bob" is the new leader of the fellowship. He's about my height, 5 foot 7 inches, and has a lot of teeth and bushy hair. About a year ago, Bob and Dave were taken into custody by the secret police as they left a village where they had been sharing the Good News. After a few hours of questioning and yelling by the officers, David was able to leave the police station--but he did not see Bob. "Where is Bob?" David demanded. "What are you doing with him?"
A few hours later, Bob emerged from police custody. David barely recognized his friend, as Bob's face had been so disfigured by blows and burns from cigarette butts. The two cried together and wondered what to do next. David had to leave, but Bob was determined to return to that village to continue sharing Jesus with them. He went back.
"Nancy," another local leader in her mid-twenties, was the youngest and best dressed. She came from a small village and was trained as a nurse at a large university. In her village, she saw a huge need for someone to love the many orphans. She now oversees over 1,700 orphans in 74 villages.
The other local believers kept saying, "She's crazy." Nancy has a reputation for sharing about Jesus over a loudspeaker in public parks. In China, this is effective because people recognize that if you are willing to put yourself at risk of being arrested, then what you have to share must be important. Sure enough, Nancy has been arrested multiple times.
Even more impressive is the next thing God has put on her heart: Nancy wants to go to North Africa to share Jesus and work among orphans.
I was deeply moved by all of their stories. I noticed that they all mentioned that persecution is the norm for Christians in China. It's not if it'll happen, but when.
Though the ministry leaders smiled as they shared,my heart was broken by the end of our three-hour meeting. What do I do with these emotions, and how do I put words to how I am feeling? It took me a few days to process, pray, and journal everything I experienced. I'm still processing now.
Undeniably, God is doing amazing things in China--and I want to be part of it.
Two sets of scripture came to mind as I processed. The first is Philippians 1:6: "Being confident of this, that he who began a good work in you will carry it on to completion until the day of Christ Jesus." God is not done with me or us. We have a mandate to share Jesus' love with others.
Second is Acts 20:23-24: "Finish the race and complete the task the Lord has given you."
I'm not confident that I have been running the race God has for me. Despite my heart for the people of China, I've been lackadaisical, smelling the flowers along the track. I want to run a race that only I can with the talents God has given me.
I want to keep doing my part in creating awareness of God among the unreached. I want to get people to go, to get people out of their comfort zone. I want to partner with and learn from my brothers and sisters in China, who are serving God and reaching those who don't know Jesus in amazing ways.
God's church is growing and I want to be part of it. I am no longer just a spectator.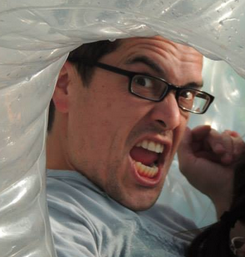 Kyle Guerrero has been married to his wife, Amy, since 2005. They have three beautiful daughters: Eva, Olivia, and Alexa. They have been connected with The River for over nine years and have been involved in small groups, youth ministry, and international service trips. They previously lived in Malawi serving the poor, in Uruguay ministering to third-culture-kid families, and in Leavenworth, Kansas, serving military families through Youth for Christ. Kyle is currently serving as the Missions Director at The Well, a church in Fresno.