I went on my first missions trip when I was twenty. Before I left, I was scared out of my mind. I was going to Thailand, and it seemed so far away.
Image courtesy of Kyle Guerrero
But I was also excited. I had recently made some serious changes in my life, including breaking up with my girlfriend and recommitting my life to Christ. I felt like I had released many of the things that were holding me back from following God, and I was ready to go.
I was deeply impacted during my time in Thailand. I fell in love with the Thai, Karen, and Lisu people, and I felt a significant connection to Asia. I remember sharing Jesus with a man whose parents were forcing him to be a monk. I remember being with the Karen people, one of the largest displaced people groups in recent decades. I remember having a life-giving discussion with a friend in a hut about the plans God had for us. (I even remember being dared to swallow a live gecko--and doing it.)
But, most importantly, I remember God breaking my heart for the ones he loves around the world.
Image courtesy of Kyle Guerrero
The months and years that followed that first missions experience have not always looked the way I expected them to look. I always thought I would end up living overseas for many years as a full-time missionary. But, despite one- and two-year stints living abroad, that isn't how things have turned out.
My family's most recent experience living overseas was extremely challenging. Due to several circumstances, we moved a lot and did not have the ministry support that we needed. The lack of clarity in the ministry and the the lack of stability for our family created significant emotional and behavioral challenges for our children. This ultimately resulted in our moving back to the States.
At the time, it was not easy to admit that God might have other plans for me, but he has directed my path since then.
Despite the various changes in my life, one thing has remained true. I am committed to sharing Christ with nonbelievers. My first trip to Thailand changed the way I live my life. I have spent countless hours volunteering with different missions organizations. I completed college because I knew it would open doors for ministry. I've been able to share God's love all over the world in word and deed, all because of that first trip to Thailand.
Now, twenty-three years later, I am grateful to have the opportunity to serve full-time as a missions pastor at a church in Fresno, California. Initially, the idea of returning to church ministry was not exciting to me, but I see now how God has orchestrated every step of my life to bring me to this point. My new position has provided the stability my family needed, but it also gives me the opportunity to travel overseas and encourage the domestic and global work that is happening.
To bring things full circle, I am returning to Thailand next month. On December 27, I will be jumping on a plane to work in the same area that I worked in as a twenty-year-old. My heart is happy, and tears come to my eyes as I think about venturing back to the place where I first heard God's call to me to begin this journey.
God put this passion for missions in my heart, and I am in this race because of him. My responsibility is to be faithful, and in that faithfulness, he is able to use me. Running the race is not always easy, but the challenges I've experienced personally and as a family have prepared me for the position that I'm in now. I am thankful for the places that God has brought me, and I am hopeful for many more things to come.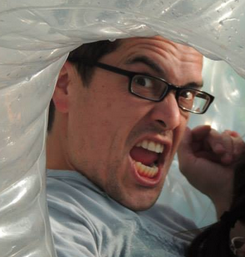 Kyle Guerrero has been married to his wife, Amy, since 2005. They have three beautiful daughters: Eva, Olivia, and Alexa. They have been connected with The River for over nine years and have been involved in small groups, youth ministry, and international service trips. They previously lived in Malawi serving the poor, in Uruguay ministering to third-culture-kid families, and in Leavenworth, Kansas, serving military families through Youth for Christ. Their family has recently just moved back to California and Kyle is serving as the Missions Director at The Well, a church in Fresno.