In my line of work, I tend sheep. I think about what they need and find ways to feed, shelter, and protect them. I spend time getting to know them—learning about their backgrounds, their dreams, and their fears. I comfort them when they are afraid. I bind up their wounds. And I (try to) bring (usually) gentle correction when they misstep. I create and maintain a space for them to thrive in their relationships with God.
I am a college minister with InterVarsity Christian Fellowship. San Jose State University is my pasture; the students are my sheep.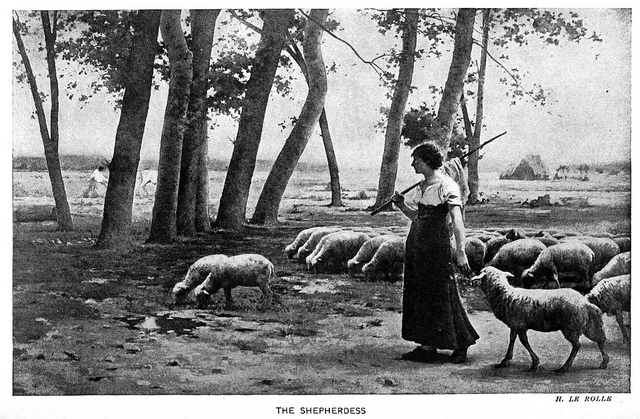 I love being part of God's movement on campus and am privileged to see his presence so clearly as he works in the lives of college students. But sometimes the work is messy, frustrating, and painful. Unresolved conflict. Refused reconciliation. Misunderstood intentions. Noncommittal flakiness. There are days I want to give up and turn in my resignation.
Earlier this year, I had a conversation with a student leader, whom I'll call Grace, that changed the course of our relationship. Grace brought great insight and questions to our Bible studies. She added vibrancy to our fellowship. However, her presence also incited a fair amount of discomfort. I started to notice that her comments, because of the strength of her tone and attitude, were affecting the dynamics of the room. I would hold my breath when she spoke because I could see how her words had the potential to harm.
While I want my students to pursue God in all of his truth, I also want our fellowship to be a place of love, safety, and welcome, where students can share honestly and vulnerably without fear of judgment.
I wanted Grace to contribute positively. I don't believe she was intentionally trying to push others away. She was just unaware of how others perceived her.
I initiated a conversation with Grace in which I affirmed the gifts I saw developing in her. I shared my observations and expressed my desire for her to grow in her care for others by being aware of what she said and how she said them. No, I did not want her to walk on eggshells and avoid hard issues. I wanted her to grow in compassion and gentleness.
We had what appeared to be a healthy conversation. We were both open in our sharing and reception. But after a few troubling text messages and interactions with Grace, I knew things were not okay. I asked for the opportunity to clarify. She refused. I texted. I called. I emailed. I even tried to find her on campus. For a month, I pursued Grace with no success.
I tried my hardest to stay hopeful for reconciliation, but the situation was wearing me down. I finally broke down when I realized my anger and frustration at Grace's refusal to talk was rooted in a deep sense of hurt. I love Grace. And I am certain that she loved me. She is the same woman who took a two-hour bus ride to visit and bring gifts to us in the hospital when Angel was born. The same woman who volunteered to be Jesse's pen pal. The same woman whom I shared stories, laughter, and prayers with. I couldn't understand why she would not even talk to me. Didn't she care about our friendship? I didn't know what to do anymore.
One Sunday, Brad prayed with me over the situation and God quickly spoke to me through an image. I saw two sheep. One going after the other, through the thorny brush. Both going deeper and deeper into the thicket. And then, an arm reaches through the tangles and pulls out the second sheep. She is cut up and bloodied. It was so clear. It was Jesus' arm and I was the sheep he held—weary and hurt. I couldn't go after Grace anymore. I couldn't follow her into the thorns of broken trust. I had to let go of Grace, and give her and all my pain to Jesus. And I was reminded that I too am a sheep who needs care. I felt a deep sense of both sadness and peace that day.
As I reflect on my relationship with Grace, I still am full of sadness and peace. I long for reconciliation but I cannot force it. I am so grateful that God has called me into the work of walking with—sometimes chasing—his sheep, even if it gets messy. And I am grateful that I too am a sheep of the Heavenly Father's pasture, and he tends to me as I wrestle and embrace his work in my life.
Mary was born a friendly, fiery extrovert with a flair for drama. Growing up has brought a healthy dose of wisdom; she's learned to appreciate being still and quiet.

Mary attended Santa Clara University, where she cultivated great friendships, studied accounting, and fell in LOVE with Jesus (Christ, not her husband--that Jesús came later).

Mary has a passion for people and loves developing friendships, empowering leaders, and walking with others as they explore faith. She's wife to Jesús, mom to two adorable sons, Jesse and Ángel, part-time InterVarsity campus minister at San Jose State University, and assistant coach for a high school girls basketball team. Though her big Chinese family drives her up the wall sometimes, she loves them to pieces and knows she wouldn't be who she is without them.