In 1999 I was suffering from a deeply wounded and broken heart. The man I thought was the love of my life broke up with me in Jerusalem three days into a two-week vacation together. Little did I know at the time that God was using this experience to prepare me for a new kind of life.
Nine months later, in California, I was still suffering and desperately seeking comfort in church after a decade away. One Sunday our pastor asked the simple question, "What is in your heart that keeps you from a relationship with Christ?" It quickly dawned on me that I was continuing to harbor and nurture my desire for this broken relationship. I felt like God was asking me to hand over this relationship to Him.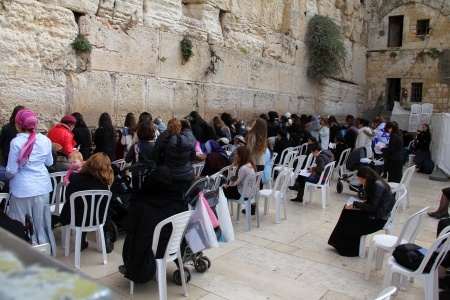 Image credit: flik47 / 123RF Stock Photo
As I knelt at the communion table and prayed that God would release me from my broken heart, a physical lifting came over me. It felt like He literally lifted the pain out of my heart and body. From that moment on, I was healed from my sorrow and never once desired that relationship again. It was a miraculous healing. In that moment I truly became a believer in God and His powerful love for me.
After that healing experience I was filled with joy and curiosity about my newfound relationship with Christ. Although I had grown up in the Methodist church, I was unaware of what a personal relationship with Jesus looked or felt like. I considered the loss of my relationship with my ex-boyfriend a small sacrifice for the joy and life I was given afterwards.
I'd like to say that my life was filled with only good things from that point on, but, instead, following that conversion moment were five very lonely and defining years. I call them my desert years. For the first time since I was fifteen, I didn't have a boyfriend and I wasn't surrounded by a large group of friends. The social and emotional pillars that once supported me were gone. I felt like I had to redefine all aspects of my heart and mind. God gave me lots of time and room to do that.
Although there were many days filled with tears and wondering when my time in the desert would end, I had a deep conviction that I was following the right path and waiting for God's best. As I learned to read the Scriptures, I continued to find solace and hope in His promise of good plans for me. He changed my motivation for finding a husband from wanting someone to fulfill me to wanting someone who was designed to give me a godly marriage that would glorify Him and His purposes.
I say to myself, "The Lord is my portion; therefore I will wait for him." The Lord is good to those whose hope is in him, to the one who seeks him; it is good to wait quietly for the salvation of the Lord. - Lamentations 3:24-26 (NIV)
And God delivered. He brought me not a perfect husband, but one that was perfect for me. I am still thankful every day for His provision. I still marvel at how good He was to me, and I am so thankful that I waited for His provision rather than choosing less than His best.
Consider it pure joy, my brothers and sisters, whenever you face trials of many kinds, because you know that the testing of your faith produces perseverance. Let perseverance finish its work so that you may be mature and complete, not lacking anything. - James 1:2-4 (NIV)
Of course, I am not at the end of my testing journey. Perseverance has not finished its work in me yet. God continues to put new challenges in my life to deepen my faith and trust in Him. Yet I find the journey is worth the cost. I encourage those of you who are continuing to wait for a spouse, a job, children, healing, or other things to continue to wait with hope, patience, and wisdom for God's best for you.
I have come that they may have life, and that they may have it more abundantly. - John 10:10 (NKJV)

But those who hope in the Lord will renew their strength. They will soar on wings like eagles; they will run and not grow weary, they will walk and not be faint. - Isaiah 40:31 (NIV)

Blessed is the one who perseveres under trial because, having stood the test, that person will receive the crown of life that the Lord has promised to those who love him. - James 1:12 (NIV)
| | |
| --- | --- |
| | Growing up, Molly Meyer wanted to be a professional cheerleader. When she realized she had no natural talent for it, she decided to be an engineer instead. Currently she calls herself a stay-at-home mom for her three children. She finds this phase of life joyful, humbling, and challenging. She hopes that God is doing a transforming work in her and preparing her to make an impact in the lives of her children and the world around her. |
Have you ever found yourself in a difficult time of waiting on God? How have you found hope and faith through the dark and lonely times? Please share your thoughts in the comment space below.