Coffee at the Hanoi Hilton
It was a long drive, so I put the tape my friend gave me into my cassette player and started listening to the story of Vietnam POW Jerry Coffee. (Oh, wait. I guess I just dated myself. LOL.) I first heard his story on that road trip. I recently reheard it, and though my life is now very different, the story still had the same effect on me.
Life can be challenging. Sometimes it's a sickness, death of a loved one, a huge transition, new job—the list goes on and on. I've had my own struggles in the last several months as we left our home in Uruguay to move to Kansas, where my family is in ministry on a military base. I have been thinking a lot about life's challenges these days because they feel so real to me right now. Between culture shock, moving, and managing expectations, I've felt more fear and concern about the unknown than I have felt in a long time.
During the Vietnam conflict, US Navy Captain Coffee (love his last name) was shot down while on a surveillance mission. After being captured and moved to North Vietnam, he arrived at what would be his home for the next seven years. The "Hanoi Hilton" was a tiny room with a 20-inch-wide bed jutting out of the wall. An open bucket was his bathroom, and the only décor was a set of shackles he had to wear. His life quickly became a series of interrogations, beatings, and other maltreatment.
The one light for him was that, every Sunday morning, the POW community would hold "church" and recite whatever Scriptures they could remember to one another. They could not speak to each other, so they held their church through a tapping code they developed. This basic way of spending time in communion with God and with others brought spiritual encouragement to Captain Coffee. He would later talk about how this helped him to not only survive in prison, but thrive.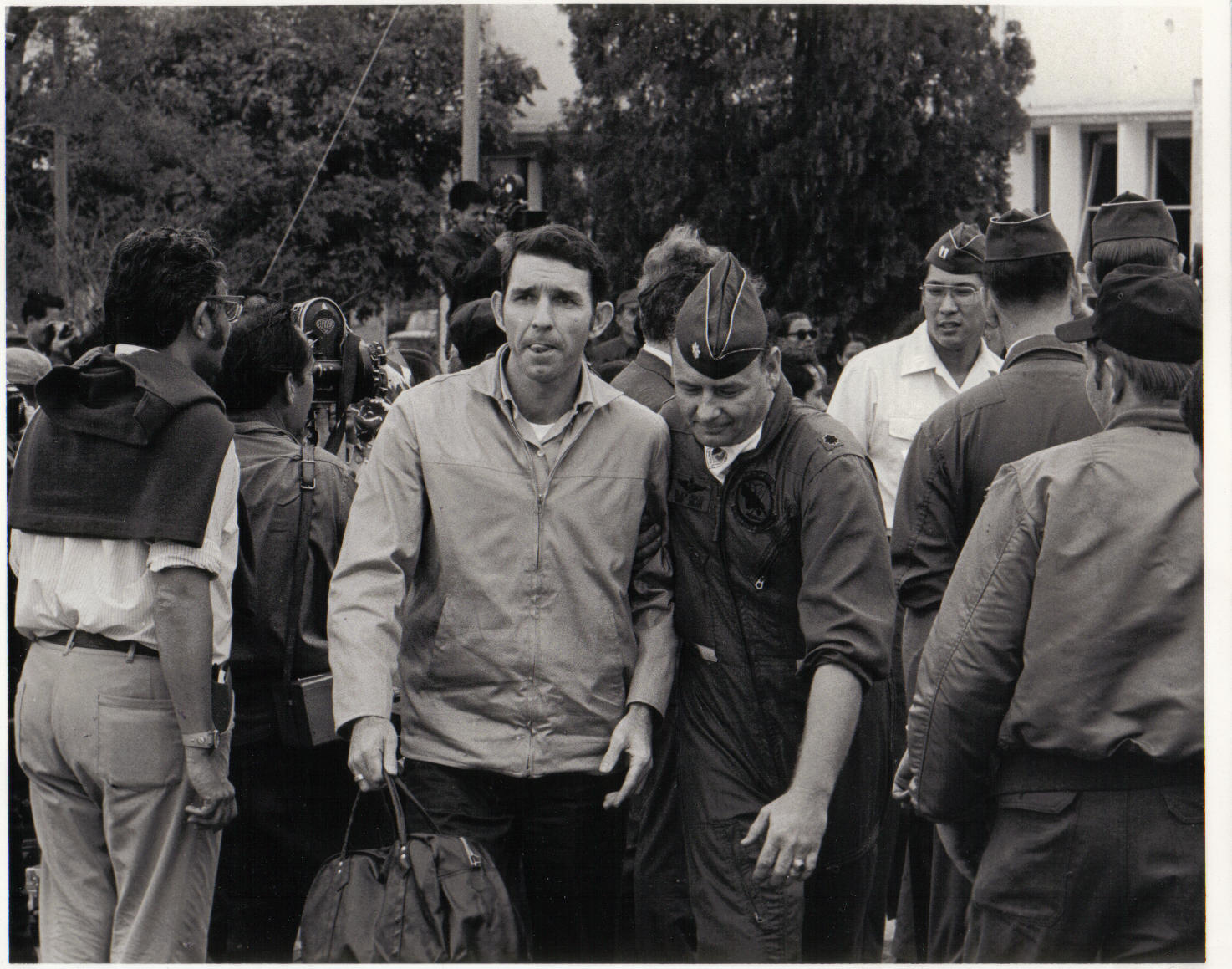 Captain Coffee, shortly after his release from 2,566 days of imprisonment
(Used with permission from www.captaincoffee.com)
This is a testament to the power of fellowship with other believers. I love how Captain Coffee recognized his need for others to encourage him in his faith. I love how the POWs found whatever means necessary to communicate with each other. I can only imagine that, without this, Captain Coffee's story could have looked very different.
Thankfully I'm not in a jail being tortured or being held captive in a foreign country. But I am facing my own challenges. And, like Coffee, I find that I need others to encourage me to stay strong in my faith. There have been many days I have wanted to just give up and find a "regular job" or leave ministry, but those in my community have encouraged me with Scripture and spoken words of truth into my life. They have prayed for me and reminded me where my strength comes from. Friends have reminded me to stay strong in what God has called me to do in this season. Right now that means being a loving husband and father, even when I don't feel like it. It means being a light to the students we are ministering to, even when I'm having a bad day. It means sharing Christ with the students' families, even when I don't know exactly what to say.
My strength does not come from myself. It comes from God, and it comes from community with others. This is something that Captain Coffee learned, and I am learning this today. I have confidence that God is working for me even as I learn to trust him more.
What have you relied on to get through life's great challenges? Are there other models of courage that you look to for inspiration?
Kyle Guerrero has been married to his wife, Amy, since 2005. They have three beautiful daughters, Eva, Olivia, and Alexa. They have been connected with The River for over nine years and have been involved in small groups, youth ministry, and international service trips. They previously lived in Malawi serving the poor, and in Uruguay ministering to third-culture-kid families. They now live in Leavenworth, Kansas, serving military families and their youth through Youth for Christ.

Kyle dislikes long walks on the beach and candlelight dinners. He loves being outdoors, learning new things, exploring, and being with youth, God, and family.