When I was in elementary school in the late 70s, The Cave of Time and Sunken Treasure were the books to have. The books were from an extensive series called Choose Your Own Adventure.
I loved opening up these books to start an adventure. They were written in second person, with me, the reader, making choices to hopefully reach the end of the book safely. I clearly remember opening up a book and anticipating the ability to pick what I wanted to do. The book would say, "If you want to head into the lost caves, turn to page 3," or "If you think danger awaits, head to the beach and turn to page 23." I loved having control of the story, and I loved getting lost in it.
Copyright: ivelinradkov / 123RF Stock Photo
Today at forty-three, I still want to live an adventurous life! I think it would be amazing to read a Choose Your Own Adventure book for adults about making it through the day. "You are overwhelmed at work and you choose to eat a 1200 calorie cupcake, turn to page 5," or "You posted a super cute picture of your cat but no one has liked it yet on Facebook, turn to page 12."
We all want to live a life of purpose and adventure. But in the last few months I have been challenged by the question: What does it mean to have a story?
About a year ago, I read the book A Million Miles in a Thousand Years, in which author Donald Miller reflects on his life. A movie was being made about him and it prompted him to think about the life he was living as well as the story he wanted to live. His reflections caused him to start living his life in a drastically different way. His story is amazing.
When I finished his book, I couldn't help looking at my own life. My wife. My kids. Was our story good? Could it be better? Of course it could! I needed to start crafting our story. I needed to set goals so that our story was amazing--worthy to be posted on Facebook.
God quickly interrupted my plans for the great story that I was ready to write and direct. Through a series of events, I realized that I was not the writer who was supposed to create the script. It's God who knows me, my weaknesses, and my struggles. He has a story that is filled with adventure, struggle, pain, and thankfulness. My story must be threaded with his grace, mercy, provision, and love.
If I claim that God is number one in my life, then I must let him write the story. I am scared because I need to trust God. I feel anxious because the ability to dictate outcomes is not in my hands. I feel humbled because it's not my agenda, but God's.
As a result, I have been asking myself: Am I okay with God's provision? Will I trust God? Is my identity truly in Christ?
In the last year since we have been in Fresno we have been on a wild ride filled with adventure, God's grace, mistakes, and difficulties. It's better than I could have ever written it. I can't wait to see God's final story for our family.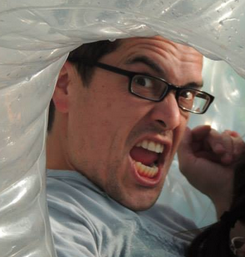 Kyle Guerrero has been married to his wife, Amy, since 2005. They have three beautiful daughters: Eva, Olivia, and Alexa. They have been connected with The River for over nine years and have been involved in small groups, youth ministry, and international service trips. They previously lived in Malawi serving the poor, in Uruguay ministering to third-culture-kid families, and in Leavenworth, Kansas, serving military families through Youth for Christ. Their family recently moved back to California, and Kyle is serving as the Missions Director at The Well, a church in Fresno.