Having Fellow Flame Lighters
It's nighttime and the kids are asleep. I troll the Internet looking for inspiration. I come across a quote by theologian Albert Schweitzer: "At times our own light goes out and is rekindled by a spark from another person. Each of us has cause to think with deep gratitude of those who have lighted the flame within us." This got me thinking about the recent events of my life, where friends with no real superpowers were flame lighters for me and with me.
I was diagnosed with a hyperthyroid in September 2014. Who knows how long I had been suffering from the symptoms—fatigue, muscle weakness, rapid heart rate, insomnia, loss of concentration, and more? I'm guessing at least nine months. My diagnosis only came because a few friends pressed me to seek professional medical assistance. As soon as I was diagnosed, I went down the list of symptoms and could check off almost every one. I had never thought to look at all my symptoms collectively to point me to an answer. The condition I have is called Graves Disease (named after the doctor who discovered it). Even the name is depressing.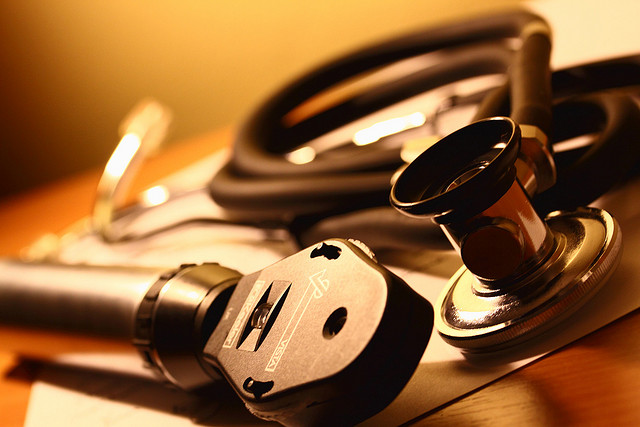 Image credit: Adrian Clark
How could I miss this? I asked myself in frustration. This internal voice of critique often appears in times of trial and it really bums me out. I also felt relief, fear, sadness, and anger in one swoop at the realization that I had a disease. My mind immediately went to the extreme: I was going to see all the saints really soon. My family left me alone and tried to be supportive in ways they could. My son would fill my daily pillboxes to ensure I was taking my meds regularly.
Nothing has been easy as I've traveled the path of seeking treatment. For starters, trying to get an appointment with an endocrinologist came with a three-week wait. This disease is not dire in the medical world, but I urgently wanted help decoding all that was happening to my body. I did not like being in this place of un-health. The only upside of the disease was not having a muffin top for once. I received reassurance from a friend who shared openly about her own physical journey and provided me with encouragement that all would be okay. While I cognitively recognized my health condition is not life threatening, anything that changes life the way we know it to be takes some adjustment, great or small. This friend lighted the flame for me by way of her confident assurances.
Along the way I've felt inadequate at being my own advocate. It took me an entire week to seek an endocrinologist who was available sooner. If my kids were having a similar issue, I'd have been on the phone and Internet looking for the first available doctor! I eventually found one: the sister of a good friend at church.
Selecting treatment options was another struggle. I could choose radiology or iodine to kill the thyroid, which would require a pill a day for the rest of my life to provide the hormones. Another option was a daily lifetime pill to temper the hyperactivity of the thyroid and restore balance. I decided to go with the medicine that brought down my levels of Thyroid Stimulating Hormone (TSH). It was at 20; normal is 4.2. Like all medicine, this one has side effects. The most significant side effect right now is wayward taste buds. This is challenging, given that I am the chef of our household. The adventure continues on this front.
Five months later, the medicine has been so effective that I'm now not making enough of the TSH and have swung to being hypothyroid. The immediate sign of this was the reappearance of my muffin top. It was good while it lasted.
Surprisingly, I haven't ask God, "Why me?" Not doing so is new for me, and is the result of either growth or denial. In any case, it's good right now. I pray. I listen to Pray as You Go. Deep within I'm drawing from a shallow reserve of gratefulness that wasn't there before. I contribute this reserve to times of solitude I've sought out and the companions along my spiritual formation journey thus far.
These days I have been able to resume running and physical activities with normal strength and endurance. Like the near-death experiences that clarify one's perspective, my ongoing encounter with my thyroid is pushing me to try to live from a place of plenty. I can in large part thank those who have lighted the flame with me—and sometimes for me.
| | |
| --- | --- |
| | Kuimeuy (ku-may) Wang has been married to Kevin for twelve years and is mother to Zoe (10) and Micah (8). She lives in Silicon Valley and volunteers at school through Project Cornerstone. Her hobbies include trying out new restaurants, especially fusion ones; dabbling in art with her son through YouTube drawing videos (Sponge Bob, angels, reindeer, the Hulk); photography (but it doesn't return the affection); and running. Her favorite book of the Bible is Ephesians; her favorite TV show is Enlisted; her go-to meal after traveling is a nice bowl of pho. Tell for when she's tired: necklace statement pieces to draw attention away from the bags under her eyes. |