I used to dislike celebrating Christmas. For me, it was a time of traveling to see people far off and managing my own and others' expectations, followed by an emotional crash on December 26. My focus was not on an anticipatory waiting for the coming of Christ, but instead on the over-commercialization and negative feelings that I associated with the season.
I grew up in a charismatic church, and traditions like Advent were not recognized. We did not talk about the meaning of the weeks leading up to Christmas. When I started coming to The River in April 2004, I had my first exposure to Advent. And though I understood its importance, I found myself having a difficult time embracing the heart of Advent.
As years have passed, I still find myself struggling to balance living life and the awaiting of Jesus' birth. But with my young family, it has gotten easier. We've started our own Advent traditions. I am learning to treasure this time together as we wait to celebrate the birth of our Savior. It's become a time for us to seek Jesus, to experience his peace and his hope even in the midst of the commercialism, unmet expectations, and generally feeling overwhelmed.
As we have celebrated Advent with our colleagues and friends in Fort Leavenworth this year, the season has taken on even more meaning. The other day, my Club Beyond supervisor, Tim, told me that his upcoming service project to Iraq had been canceled. He had been planning to travel to work with Christians in Baghdad and the northern part of the country. But his in-country partner, Andrew White, the "Vicar of Baghdad," had been forced to leave the country to protect his own life and that of the Iraqis associated with him. Members of the Islamic State (ISIS) and other terrorists have already killed many people in his congregation. Andrew White himself has been threatened, shot at, and thrown in prison. In the local community, he is a pillar of faith who has brought reconciliation in the Muslim community, spiritual growth for the Christian community, and medical outreach to people in extreme poverty.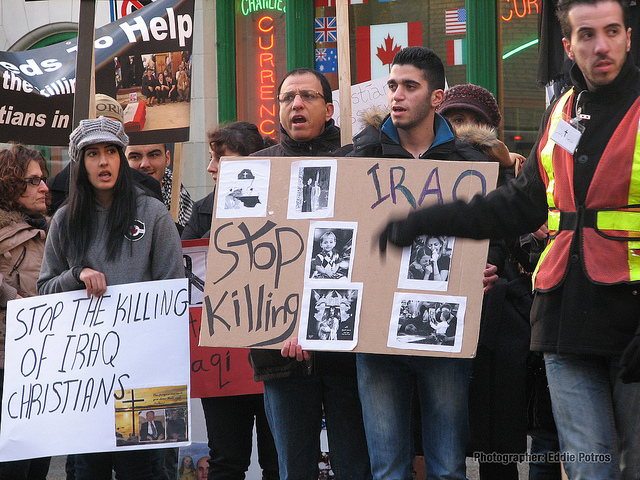 After watching a few videos of Andrew White, my heart was heavy. Heavy for the people of Iraq, the conflicting Muslim communities, and all the other work that White had accomplished. Over one thousand members of his congregation have been killed, and many more have fled to northern Iraq, where conditions are harsh. My heart breaks when I think about fellow Christians who are just trying to stay alive. I feel a tugging in my heart when I think about all the reconciliation that had been in process between the Shia and Sunni Muslims before ISIS became a dominating force.
The situation in Iraq seems to be getting darker. But despite the terrible atrocities happening in Iraq, Andrew White still believes there is hope for the people there. He is still laboring around the globe on their behalf. It challenges me to think, What can I do to help? I feel powerless because of the distance and a lack of knowledge about the people in Iraq. Despite that, I will continue praying and sharing videos of Andrew White's work in Iraq.
In this time of Advent, waiting for the birth of our Messiah to deliver us from selfishness and pain, and to bring hope and joy, I can think of no one that needs this promise more than the people of Iraq. For me, this time of Advent has turned to the people of Iraq. It's no longer only about me, but about God's love and hope for our Christian brothers and sisters in Iraq. And as I've turned the focus off of myself and onto the Iraqis, I've also found that the meaning of the season has become more real, more tangible. They are living in the waiting, in the promise of the hope that comes only through Christ.
So, this Christmas season, may my prayer and yours be that the hope of the Savior's birth bring peace to a land that's experiencing hatred and darkness.
Kyle Guerrero has been married to his wife, Amy, since 2005. They have three beautiful daughters, Eva, Olivia, and Alexa. They have been connected with The River for over nine years and have been involved in small groups, youth ministry, and international service trips. They previously lived in Malawi serving the poor, and in Uruguay ministering to third-culture-kid families. They now live in Leavenworth, Kansas, serving military families and their youth through Youth for Christ.

Kyle dislikes long walks on the beach and candlelight dinners. He loves being outdoors, learning new things, exploring, and being with youth, God, and family.