My mom has repeatedly said, "You're so reactive. You need to calm down before you speak or act." She once told my husband, Jesus, "With Mary, just let her react. Don't fight back. She gets that way, but afterwards, she'll know she was wrong." To which I reacted and said, "What are you doing? I'M YOUR DAUGHTER! You should be on MY SIDE!"
It was frustrating and infuriating to hear my mom say this. Why? Because it was truth that I cannot deny. I have no argument. No words to defend myself. I know I am reactive. I know that if I just calmed down, I would not say hurtful (sometimes ridiculous) things that I would need to apologize for later. But sometimes, I just can't control myself.
I have been working on managing my feelings, reactions, and words for so long and through so many situations—with friends, family, my husband, and now, my kids. I don't always manage myself very well. And for those times, I am really grateful for grace. For the times I actually do manage well, I give myself a pat on the shoulder. It's really, really hard work!
Now add an opinionated, verbally gifted, strong-willed four-year-old with excellent negotiation skills and the work gets even harder. About a million times harder. Oh my sweet Jesse. He brings so much joy and delight into my world. He also tests my patience like no one else. OMG. Sigh. Grunt. Yes, a million times harder is a realistic estimate.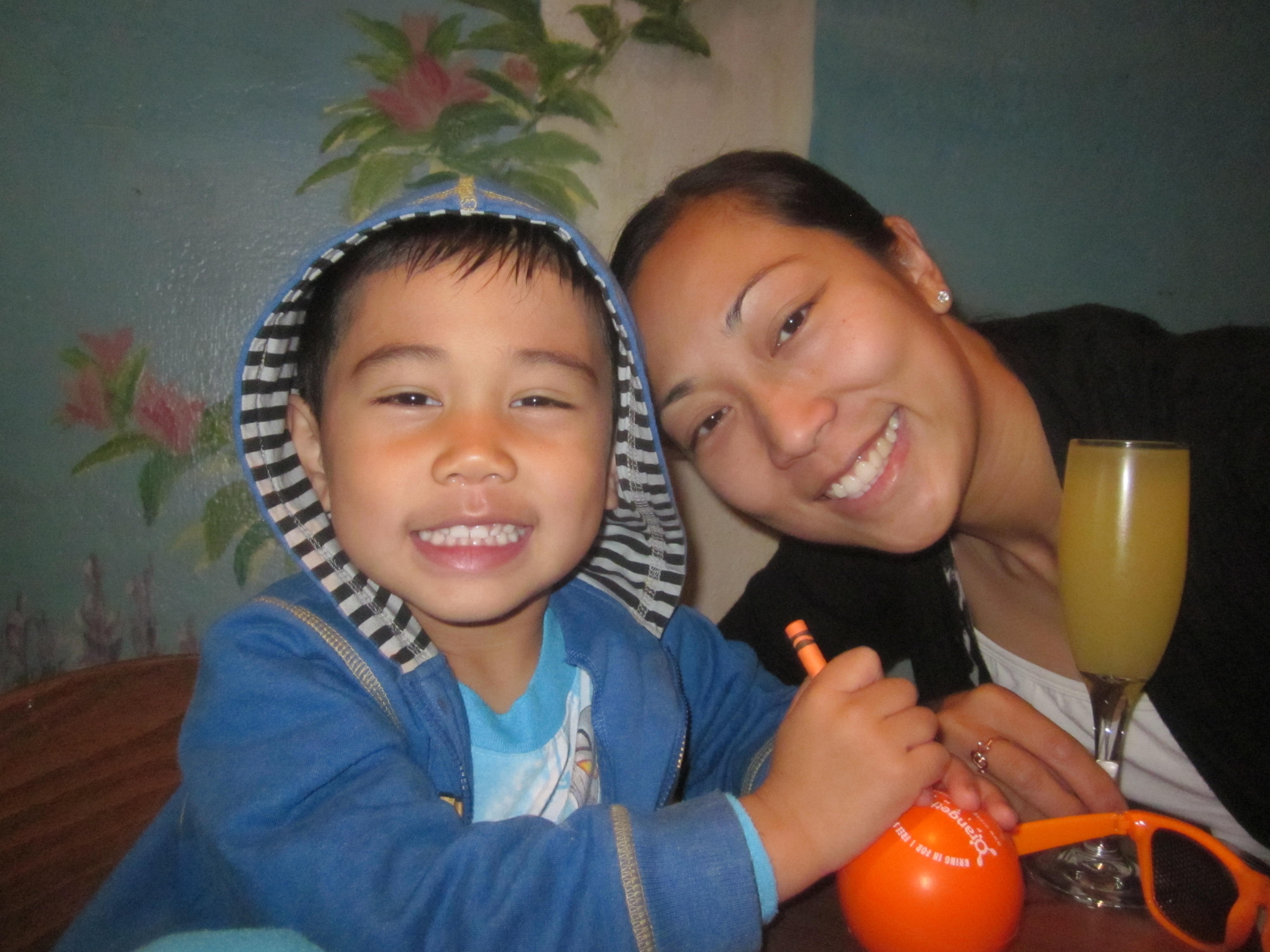 A handful of months ago, I was having a really hard time with Jesse. Meals. Changing clothes. Brushing teeth. Putting on socks. Getting into the car. Getting out of the car. Everything was a fight. I was defeated and exhausted.
One Sunday, as we were driving to church after a morning of epic battles in every possible category, I blew up in the car. I turned off the radio and yelled at Jesse. And as soon as the words left my mouth, I regretted them. The words themselves were not particularly hurtful, but my tone and volume stung. In the rearview mirror, I saw the eyes of my precious son grow big and fill with tears. And my heart was pained.
Yes, I want to be a mom who can do tough love and not let her kids run all over her. But I do not want to be a mom who uses fear and yelling to keep her kids in line. So what is a mom to do when she wishes she could have done differently? Apologize, ask for forgiveness, and try to act differently next time.
Before I dropped Jesse off in Kids' Community, I sat with him in the church lobby and apologized. I shared how I felt but that I was wrong to yell at him. He forgave me. We hugged. He went to KC; I went into the arms of Louisa, a good friend who empathized with and encouraged me. After my tears slowed, I sat in the sanctuary to hear the end of Brad's sermon about fasting. Fasting? I remember thinking. What does fasting have to do with me? I'm eight months pregnant. I have to eat. But as I journaled, I felt pulled to think about my yelling. What if I fasted from yelling?
My fast started as a physical discipline exercise. Hold tongue, purse lips, walk away, take deep breaths—I did whatever it took to keep words from coming out of my mouth. These spaces of not physically reacting helped me become more aware of what was actually pushing my buttons and what I was feeling. I was tired and wanting quiet and rest. I worried about being late. So I tried making some changes—waking up earlier or going to bed later for moments of quiet solitude, adding twenty minutes to our morning routine, taking naps, asking for help.
These practical things were SO helpful. But more importantly, the spaces of not physically reacting opened my eyes to see how hurtful and unhelpful the things I would have said and done were—and not just with Jesse but with everyone else around me. That realization was profound. I do not want to be someone who hurts. And that encourages me to hold my tongue.
My feelings are valid. I am very aware that I do not want to just shove my feelings aside. In fact, sometimes I'm right, but that still does not justify or make okay the hurtful or unhelpful things I say. I have not conquered my reactive yelling, but I'm a little better at managing myself. I want to grow so that I can live fully as an honest feeler who expresses my heart in a loving way toward others and myself.
Do you struggle with your emotional response to certain situations? How have you tried to increase your ability to respond in healthier, more life-giving ways?
Mary was born a friendly, fiery extrovert with a flair for drama. Growing up has brought a healthy dose of wisdom; she's learned to appreciate being still and quiet.

Mary attended Santa Clara University, where she cultivated great friendships, studied accounting, and fell in LOVE with Jesus (Christ, not her husband--that Jesús came later).

Mary has a passion for people and loves developing friendships, empowering leaders, and walking with others as they explore faith. She's wife to Jesús, mom to two adorable sons, Jesse and Ángel, part-time InterVarsity campus minister at San Jose State University, and assistant coach for a high school girls basketball team. Though her big Chinese family drives her up the wall sometimes, she loves them to pieces and knows she wouldn't be who she is without them.