Keeping Your Soul at Disneyland
The Happiest Place on Earth isn't so happy for me. Going to Disneyland stretches me in all of my painful places. In an effort not to use the h-word, I'll just say I really, really don't like crowds. I really, really don't like blaring music. I really, really don't like standing in line—especially really, really long lines. All of these things put me on edge and make my mind feel like it's going to explode.
Add three small children to the mix, all with different needs, temperaments, and bathroom timing, and I'm a basket case before I even walk through the gates.
I go to Disneyland because it's a place my husband grew up loving, and my kids love it too. Minus a few meltdowns, they usually go with the flow, wait well in lines, and don't seem to mind being jostled around by the crowds. They are also oblivious to the need to see and do it all. They enjoy each experience as it comes.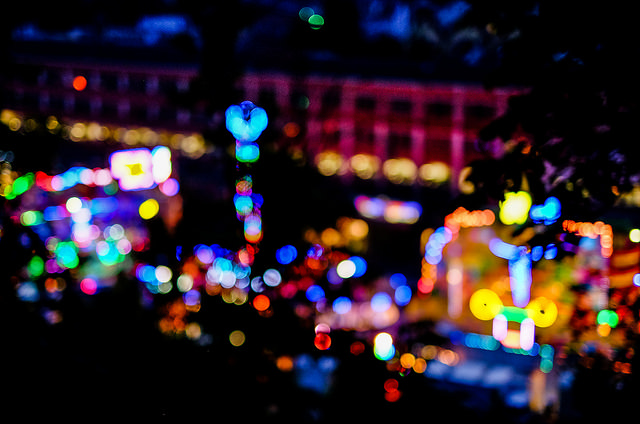 Image credit: Matthias Ripp
But the large crowds put me in a "me-first" mentality. I start feeling anxious about every minute that ticks by because I want to do all the rides I want to do in the least amount of time. I don't want to be inconvenienced. I don't want to have to suffer the pain of waiting. Waiting feels like a waste of time and I'd rather be doing than waiting. It brings out all my selfish desires to take care of myself first.
During our most recent trip to Disneyland, an act of kindness by a stranger pulled me out of my selfish, me-first funk. I was waiting in a long line for a latte. I'd had a raging headache for about four hours from lack of caffeine—because I couldn't be bothered to wait in line for coffee earlier so I could wait in some other lines for rides.
After my tray was finally loaded down with my latte and food, I realized I still needed a straw and two spoons, which were located on the other side of the waiting crowd. As I turned to set my tray down and retrieve them, a young man waiting for his food asked, "What do you need? How can I help?"
In that moment, my heart melted. This guy saw me and noticed my need. A small act of kindness. It was what I needed in that moment to make me take pause and consider my ugly attitude. I was grateful for the help he offered but most grateful for the shift in attitude he had caused. He had a posture of noticing and giving. He definitely didn't have a "me-first" attitude.
I want to take this moment and remember it for all of my life. I am hopeful that it will change me permanently. I want to practice noticing and giving until it becomes second nature like it seemed to be for him. I want to be able to look outside of myself and notice others in their need, most especially when I'm in need myself.
Do nothing out of selfish ambition or vain conceit. Rather, in humility value others above yourselves. - Philippians 2:3 (NIV)
Listen to my instruction and be wise; do not disregard it. Blessed are those who listen to me, watching daily at my doors, waiting at my doorway. For those who find me find life and receive favor from the Lord. - Proverbs 8:33-35 (NIV)
What kind of experiences put you in a "me-first" frame of mind? What would it look like for you to practice a posture of noticing others and giving to them instead?
| | |
| --- | --- |
| | Growing up, Molly Meyer wanted to be a professional cheerleader. When she realized she had no natural talent for it, she decided to be an engineer instead. Currently she calls herself a stay-at-home mom for her three children. She finds this phase of life joyful, humbling, and challenging. She hopes that God is doing a transforming work in her and preparing her to make an impact in the lives of her children and the world around her. |