Lessons from the Backcountry
This summer our family has reignited our interest in backpacking. In our early married years, my wife, Angie, and I backpacked throughout Southern California and took a seven-day trip in the Sierras, which included climbing up 14,500-foot Mount Whitney. When our kids were four and seven, we did an extended trip into the Sierras, using a pair of llamas to carry our gear. Now that they're older, we carry our own gear on our backs for up to three nights at a time. Backpacking has enriched our lives in many ways, including giving us a chance to completely unplug, forcing us to live simply, and giving us uninterrupted time together as a family in God's backyard.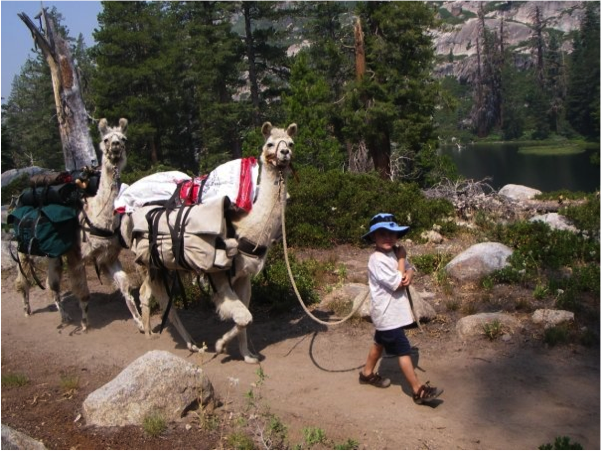 Unplugging
Just the other day I received an advertisement in the mail from a local church, which was starting a teaching series called "Get your head out of your apps." I liked the edginess of it. Silicon Valley is the epitome of being plugged in. I've heard of folks who finally manage to get out in nature (which often is accompanied by quality time with friends and family), and they remain tethered to the phone. On a backpacking trip earlier this summer, when I finally got back into cell range I had a dozen texts and well over a hundred emails. What a joy to be able to turn the thing off and not worry about it for a few days! With a teen and pre-teen, I know how plugged in life can be for kids too. Rich and undistracted conversations on the trail with earbuds gone are priceless.
Very Basic Living
Back in our early days of backpacking, a forty-plus-pound pack wasn't unusual. I've appreciated the advancements in technology in recent years that allow our packs to weigh well under twenty pounds. It's not just the technology, but also the older and hopefully wiser side of me realizing just how little I really need for survival.
Fire and water are pretty important. I've got a primary system and a backup system for both. For fire, we've got a backpack stove that lights with a piezo lighter, with waterproof matches as backup. For water (purification, that is, as there is plenty of water in the Sierra backcountry), I've got an electronic pen that uses UV light to kill any living nasties. Backup is a tiny bottle of iodine tables. Admittedly, a lot of Silicon Valley types like backpacking so they can be gear geeks. I'm guilty, but I try to steer clear.
Beyond the fire and water, you don't need much. Bracing cold baths take place in alpine lakes, and entertainment might be a small paperback and a deck of cards. While we squeeze into a tiny four-person tent with our growing kids, for many in the backcountry accommodations might simply be the "Thousand Stars Motel." Yes, there are a lot of stars up there. The first time this city slicker saw the Sierra sky was on a backpacking trip when I was nine years old. It was like my own personal planetarium. I'll never forget the majesty.
Time with Family Connecting with Creation
We're lucky; our family gets a lot of time together. I'm a teacher and we homeschool our kids, so I'm thankful for the flexibility in our schedules. But, even at home, we get caught up in our individual activities. In the backcountry we connect in amazing ways as we play cards, swim, or read a book together. Undistracted and spontaneous conversations take place in the tent, while eating simple meals, or on the trail.
Backcountry travel and all that entails might be too far outside your comfort zone. But try something that gets you out and away from the crowds. For us, something magical happens. Connecting with our Creator and those close to us through nature is essential to life. Great things beyond our understanding can happen when we move away from the crowds (sometimes just a mile up the trail will do the trick) and get into the backcountry.
Reentering
During a recent trip to the Desolation Wilderness above Tahoe, the day to head home arrived. At a glacial lake at 8,500 feet, we packed up quickly and decided to have breakfast on the trail. We hiked the first hour with complete solitude around us. One viewpoint looked down on several lakes, with Lake Tahoe 2,000 feet below. I drank my coffee and we ate our oatmeal by a little creek in the coolness of the Sierra morning. We hiked another hour and began to see a couple day hikers. Then we plunged down a steep trail toward lake level, and soon the crowds appeared. It's always a welcome sight to see the parking lot, but this time it was mobbed with people jockeying for parking spots.
Oh, backcountry. We can't return soon enough!
What holds you back from unplugging and getting into nature? How have you experienced the Creator when you have gotten away from the crowds and the regular demands of life?
| | |
| --- | --- |
| | Rick Schertle has taught middle school social studies and language arts in San Jose for nineteen years. He is a lifelong tinkerer and a contributing writer to MAKE Magazine. Rick is director of The River's Washington Maker Workshop. He, his wife, and his kids love backpacking, good books, and world travel. |