Lessons in Driving, Lessons in Patience
I've always considered myself a pretty good driver. Not good compared to my wife, who has had no traffic citations or accidents, but pretty good.
I've enjoyed driving for the past thirty-one years. My experience has taken me on road trips with my family all over the U.S., Honduras, Europe, Turkey, Vietnam, The Philippines, and even Morocco. There is something about the independence and freedom that comes with driving. Maybe it goes along with being a California native, a product of the ultimate car culture.
Copyright: kzenon / 123RF Stock Photo
While I've enjoyed driving, I'm not always the most patient with other drivers. My self-perceived good driving habits and my experience driving all over the world have created a bit of an ego and a habit of judging others on the road. I may express it through a late honk or a rant to others (or just myself) in the car.
This self-righteousness was greatly challenged when I began to teach my daughter to drive.
I was excited that my daughter had expressed an interest in learning how to drive. These days, many kids seem content having their parents drive them around, as getting a license is a lot more work than it used to be.
After getting her driver's permit and a quick parking lot lesson, including a reminder to actually look when you back up, my daughter was ready to hit the road. Being in the passenger seat while my fifteen-and-half year-old was in the driver's seat felt incredibly strange and uncomfortable.
I'm thankful that my daughter acquired my wife's habit of not getting bothered by other drivers. This served her well during the learning process.
I was astonished by how other drivers behaved toward my daughter. The impatience, rudeness, and aggressiveness were nearly unbearable for me to witness. These people had no idea my daughter was just learning and in fact doing quite well on the busy freeways and streets of the South Bay.
The tables had turned. I now realized that many of the people I got impatient with might have been new drivers, like my daughter.
I can't say I was able to ignore all the rudeness, but I was very conscious of the example I was setting for my daughter. She told me only a couple of times that she preferred to drive with her mother. If anything, that encouraged me to have even more self-control.
Patience has never been my best virtue. My mom, being a woman of Scripture, had us memorize a lot of Bible verses growing up. I especially remember 1 Corinthians 13:4-5: "Love is patient, love is kind. It does not envy, it does not boast, it is not proud. It does not dishonor others, it is not self-seeking, it is not easily angered, it keeps no record of wrongs" (NIV). When I begin teaching my son to drive in a couple years, I will need to tape this to the dashboard.
I'm also challenged by Proverbs 14:29: "Whoever is patient has great understanding, but one who is quick-tempered displays folly" (NIV). Proverbs is an awesome book and just tells it like it is. Who wants to show folly!?
While my driving habits have not completely changed, I am much more self-aware. I'm thankful for the chance to teach my daughter to drive and the lessons God taught me in the process. She passed her driving test with on the first try and now even has a delivery job that involves driving all around the Bay Area.
Got some driving stories of your own to share? Ever taught someone to drive? I would love to hear what God may have taught you.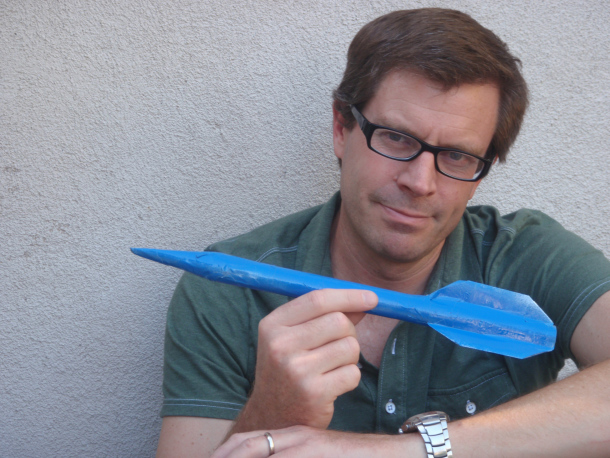 Rick Schertle has taught middle school social studies and language arts in San Jose for nineteen years. He is a lifelong tinkerer and a contributing writer to MAKE Magazine. Rick is director of The River's Washington Maker Workshop. He, his wife, and his kids love backpacking, good books, and world travel.