Letting Go of Old Wineskins
"And no one puts new wine into old wineskins; or else the new wine will burst the wineskins and be spilled, and the wineskins will be ruined. But new wine must be put into new wineskins, and both are preserved. And no one, having drunk old wine, immediately desires new; for he says, 'The old is better.'" - Luke 5:37-39, NIV
This was one of the first passages I ever studied as a Christian. Back during my college days, while part of UC Davis InterVarsity, I attended my first Bible study in the Davis Activities and Recreation Center, where I met people who would become my newfound faith family. During my first run at this passage, it became clear what this passage meant for me at that life stage: adopt my new faith in Jesus as the identity of my life. At the time it felt easy to understand, so I never gave the passage a second thought.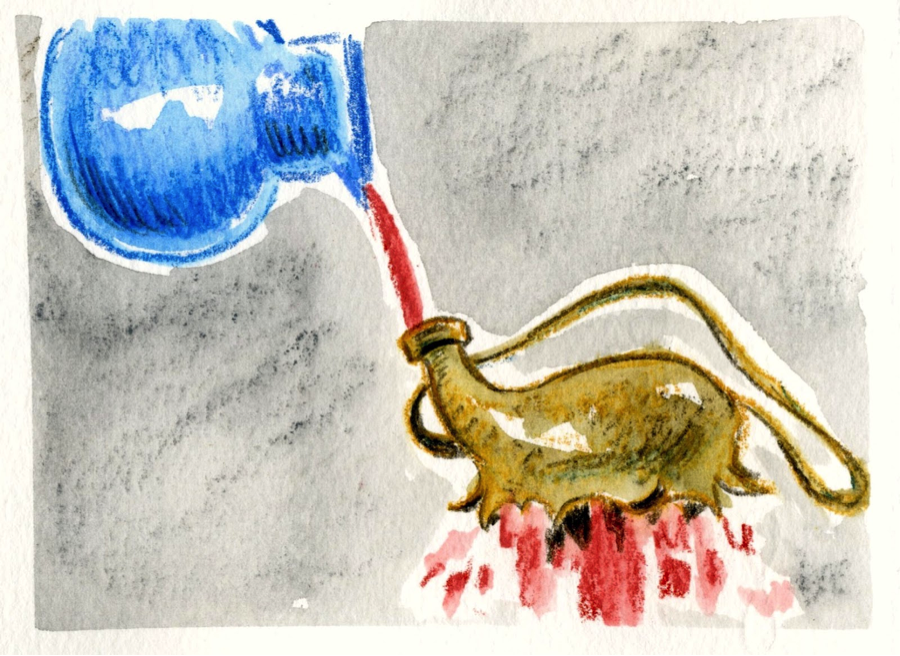 Now, several years after graduating from college and moving on to my young adult life, I find this passage still applicable. But, unlike my first run through this parable, I now find it difficult to grasp and embrace.
For most of my Christian life, I struggled to embrace the "new wineskins" that Jesus talks about. My old wineskins were not so much old habits or lifestyles; rather, they were old mindsets that I have been clinging onto since childhood. For most of my life I grew up with an anxiety-prone mindset. My parents instilled the idea that the only way to approach life's problems is through the avenue of worry and anxiety. When confronted with a problem, they always said I did not worry about something enough and I needed to "worry more."
From my teenage years into adulthood I approached all of my life problems with an anxious mindset. To be honest, it got me through school and some of my life problems really well. I would approach my problems with anxiety, and my normal reaction would be to overreact and over-control my circumstances. I would also give in to despair and self-loathing if things did not go my way. These unhealthy patterns really grew out of a lack of wellbeing when I was growing up. I had always felt deficient, and, as a result, I had the compulsive need to control my circumstances.
Entering adulthood, anxiety began taking its toll on my relationships with people and at work. I became constantly worried about how my life would be if things went wrong. I would start to overreact to potentially bad situations. Eventually I realized that anxiety was no longer helping me get by in life and, in most cases, often made me feel stuck. This especially manifested itself in my relationships with people, where I constantly worried about whether I was likeable or whether people were safe to talk to. Rather than trusting God in my relationships with people, I would try to take control of things.
My journey out of anxiety began by learning to surrender to God. And, for me, that was painful because I always believed the lie that, unless I worried about my problems, nothing would work out.
However, when coming before God in prayer, my burden ultimately becomes light as I surrender the fact that I am no longer lord over my life—but, rather, God is. And that reality ultimately frees me from my need to control my life.
Anxiety for me has always been an old wineskin. When it comes into contact with the new wine that God gives, the two become incompatible. Worldly anxiety and God's comfort cannot coexist together; one will eventually give. For me, that has been a shattering reality as I found out that I couldn't hold onto God's goodness as long as anxiety had deep roots in my life.
Thankfully God promises us new wineskins that can hold his goodness. While my journey to be free of anxiety may be a lifelong process, God ultimately promises restoration when we surrender to him. And when we can contain his goodness without anxiety it brings us to a place of freedom to live out our lives according to his purposes and his glory.
Alex Ly began attending The River in the summer of 2012. Prior to this, he studied at UC Davis, where he received degrees in History and Political Science. He was also heavily involved in the InterVarsity chapter. He currently is a bass player on the worship team and a volunteer leader for the youth ministry. Some of the things he enjoys about The River are its emphasis on missions, diversity, and a holistic approach to faith. Two of his most impactful experiences at the church have been participating in the young adult group, led by Mark Phifer-Houseman, and receiving inner healing through The Healing Path.


For fun, he likes to play badminton, playing bass and goes social dancing. He especially likes to dance at weddings where his ridiculous dance moves and energy can be witnessed.
Do you ever rely on anxiety to help you get through life's challenges, as Alex did? What are the "old wineskins" in your life that you need to let go of, and what will God offer you in return?