I am the kind of person who likes to know in advance how things will turn out—or, at the least, what to expect. Personality tests I've taken show I'm a perfectionist. I pay attention to details and desire certainty and completion. I like working out intricate patterns in crochet projects that others have designed. These patterns are usually accompanied by photographs or diagrams that I can follow so I know what to expect. Yes, I may have to stop, unravel, redo a stitch, or even put the project aside for awhile, but when I go back and take it up again, I know what the end is supposed to look like.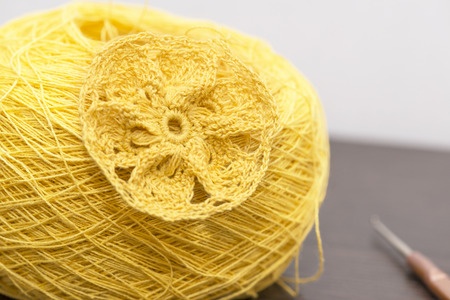 Copyright: marasi / 123RF Stock Photo
This desire for certainty carries over in other areas of life. I can be patient, knowing that there is a goal, a destination, a journey's end. Waiting is not a problem if I know I'm going in the right direction. I feel frustrated and jealous when I encounter people who are confident they exactly know what they are supposed to be doing.
In my experience, life, especially my life in Christ, isn't like a crochet pattern that I can follow neatly and exactly. Though I pray and seek direction, it often seems I'm given a few instructions to proceed and then told to wait or sometimes to step out on my own. In times like these my mind runs into overdrive, as I earnestly search for answers and question my goals.
This struggle with uncertainty has come up recently in my search for a thesis topic for my master's degree. I have so many interests but no one topic has come forward—despite my search for direction, despite my prayers for guidance. And so I wait, looking for a pattern, desperate for an answer.
After weeks of prayer and impatient, anxious fretting, I realized that I didn't need to know the answer at this time. As I waited and prayed, the message came: "Don't be in a hurry. The answer will come in good time. You need to look further into the possibilities you have identified. See what will work and look for creative solutions."
I was trying to force the pattern when the pattern was not mine to make. I was trying to play God. I was like the clay mentioned in Romans 9:20-22.
To continue the craft analogy, an anonymous poem often quoted by the late Corrie Ten Boom depicts life as a tapestry woven by God the weaver, who knows the pattern. What is known to us is like the underside, or "wrong" side, of the weaving, with its irregularities and exposed, uneven threads. It is only when the weaver is finished that the pattern will be revealed to us.
O Lord, help me to be patient and not to force the pattern. Help me to remember that you are the designer and crafter of my life.
| | |
| --- | --- |
| | Lucille Boone has lived in downtown San Jose for over thirty years. She works as a part-time librarian for the City of San Jose at the Dr. Martin Luther King, Jr. Library and is currently studying for her Masters Degree in Counselor Education at San Jose State. She has been coming to The River since 2007 and volunteers with the toddlers on Sundays. |
Do you ever wish you knew exactly what you are supposed to be doing? What has helped you to wait and be patient for the "patterns" in your life to reveal themselves?