Loving Instead of Fighting
I joined an online book club this fall. It started with one of those random e-mails that sometimes come to my inbox. But this one actually caught my attention. Spend the year reading classics and contemporary contributions in the arena of spiritual formation… Interesting. For awhile now, I've had an inkling of desire for some new learning, some sharpening and expanding to stir the life of God in me and mature me, possibly making me "better" at my job, in my parenting, as a friend. So, yes. My answer to this unexpected yet somehow sought-after invitation was Yes.
That is why I'm now reading the autobiography of Madame Jeanne Guyon, a seventeenth-century French woman who deeply encountered God in prayer amidst tremendous suffering and persecution. It's an across-the-centuries communication requiring translation at times. The "California therapeutic culture" in me wants to hear more details of the story, to know every turn of emotion Madame Guyon experiences. Instead, Madame Guyon writes sparsely about both her tragic experiences and her profound encounters with God. It's easy for me to react to Madame Guyon's story as alternately dreadfully wrong and amazingly unreal.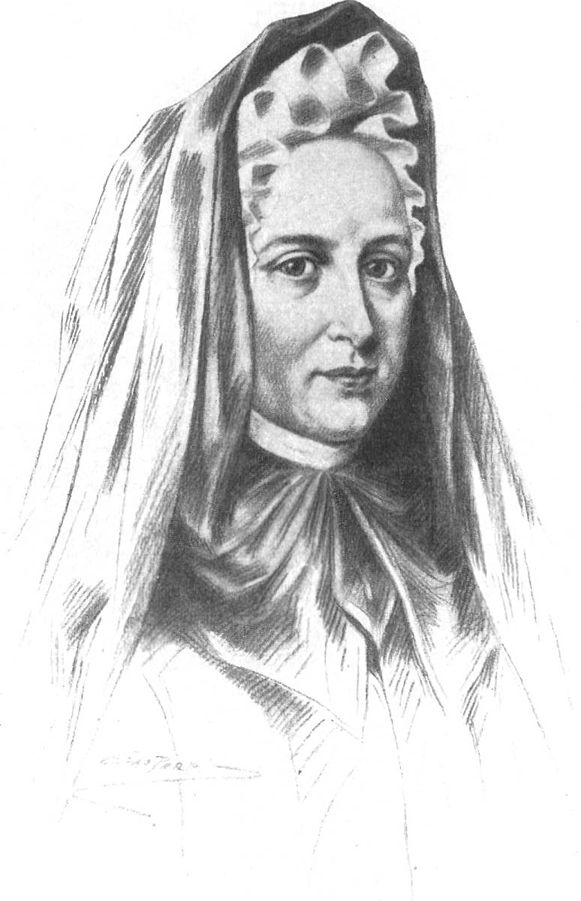 "Jeanne Marie Bouvier de la Motte Guyon - Project Gutenberg eText 13778." Licensed under Public domain via Wikimedia Commons
Just one example: Madame Guyon is given in marriage to a man more than twice her age who, in modern parlance, has an enmeshed relationship with his mother. The two of them regularly ridicule, shame, and constrict her, forbidding her even from prayer and churchgoing. So wrong, right? In the midst of such challenges, though, Madame Guyon finds God richly in prayer and in actively practicing the presence of God and His immense expression of love for her. She says of herself in this season, "I endured the insulting treatment of my husband and mother-in-law silently. This wasn't as difficult anymore because my interior life was so rich that my outward life could not hurt me." Could that possibly be true?
What has struck me again and again as I've gotten to know Madame Guyon is her lack of fight. Don't get me wrong. Madame Guyon was a person of great strength and influence. She ultimately tutored many in the way of prayer. Her largely inward and meditative prayer practice being somewhat unique and controversial in her day, she persisted nonetheless. But Madame Guyon noticeably didn't thrash around against what she couldn't change. Neither did she waste energy on sulking. Madame Guyon didn't expect life to be easy, and she did expect that God would use everything in life—including all the wrong—to build His life and character in her.
Mostly when I read Madame Guyon I'm thinking about how different we are. Thankfully, I'm not like her in the magnitude of my sufferings, but neither am I all that like her in my response to what is hard in my life. When my kids bug me, I moan and complain, nurture wish dreams about temperament changes, indulge in some kind of treat—for surely I deserve it. When I arrive at the airport only to find that my 90-minute flight is delayed by three hours, I immediately start thinking about airline incompetency and poor customer service, and consider a plan to make my inconvenience known in such a way as to get some "credit" for my trouble. When I feel overlooked in some way, my impulse is all too often to nurse my wound and rehearse my bitterness, semi-consciously seeking a way to make my hurt known in a cry for sympathy.
The moderator of my book club issued the challenge to herself and all of us following along at home to play a "Let's Pretend" game with Madame Guyon's model. What if we pretended for a day or a week or a month that Madame Guyon's way is a good way, maybe even a better way than the way we've been operating? What if we—what if I—came to challenges without as much surprise or indignation and instead brought the expectation that God would use it for good, for the deepening of my connection to Him, for the helpful refining of my character?
That exercise is leading me to a laying down of my own inner impulse to fight when I feel pressed upon in some way. I'm trying instead to direct my energy toward looking for God's invitation to me in those moments, and, not surprisingly, that invitation almost always seems to involve loving. Loving instead of fighting. It's more of a reorientation than I care to admit.
Perhaps I'm getting what I wanted when I opened that unforeseen e-mail. :)
What is your typical response to challenges in your life? How would this change if you expected God to use everything for good, to refine your character or deepen your relationship with Him?
| | |
| --- | --- |
| | Michelle Manley likes the space of quiet reflection, reading, and prayer. She enjoys sitting and talking with others, listening for the creative work of God in daily life. Her six- and eight-year-old sons help to keep her in the physical world. You can also regularly find her on the trampoline with them. She is married to Mark and has worked as a pastor at The River Church Community in the areas of Small Group Community and Adult Spiritual Formation for fifteen years. |