My Mom's Gift of Scripture
I remember the call I got seventeen years ago like it was yesterday. In our upstairs apartment in an old Victorian on Third Street in downtown San Jose, I was drained of emotion after my parents informed me that my mom had been diagnosed with Parkinson's disease. I knew enough about Parkinson's to know that the end result was not pretty.
After the diagnosis, my mom was relatively healthy for about ten years. But in the next seven, she struggled greatly with limited mobility and dementia. Watching my dad take on the huge responsibility of caring for her was difficult at times but also a huge blessing. My dad stepped up to the task without questions, learning to cook and clean. He showed me what it means to love unconditionally and to truly live out marriage vows. When my mom passed away this March, they had been married fifty-two-and-a-half years.
While this has been the toughest time in my life, I am grateful that my mom left an incredible spiritual legacy to her kids and grandkids.
Part of her spiritual legacy was memorization of Scripture. She was famous for her three-by-five index cards hole-punched in the top corner and held together with binder rings. When things got challenging, she had her Bible verses to hold on to. She wrote down the verses, memorized them, and lived them out. Those Scripture cards were among my mom's most treasured possessions, and she longed to share them with her family.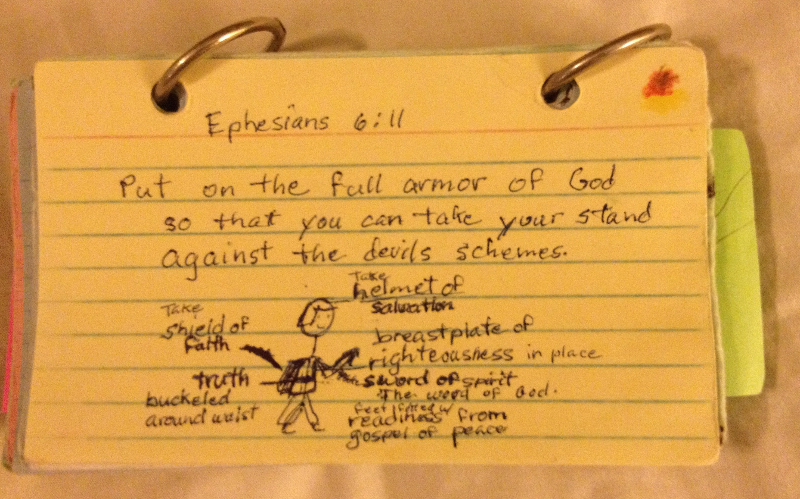 Several Thanksgivings ago, with the help of friends (because writing was becoming difficult) she prepared a set of Scripture cards for each of her eight grandkids. She presented them during our Thanksgiving meal and shared the meaning of God's word in her life. Scripture was such an integral part of her life that she wanted her grandkids to share her passion for God's words of comfort, correction, and direction. Her love of Scripture, along with her and my dad's daily prayers, created a lasting impact in our family. All of her grandkids are following Jesus. To know God and walk with him is what parents of faith want their kids to carry into adulthood, and I'm so glad for my mom's faithfulness.
One verse she often reminded me of when I was a kid, which has since become a favorite, was Philippians 4:6: "Do not be anxious about anything, but in every situation, by prayer and petition, with thanksgiving, present your requests to God" (NIV). My mom believed in praying for all things, both big and little. She trusted that God cared about all the small details. Through the anxious moments of my childhood, the words of God reached me as I learned to bring big and little things to him. Even with the massive issues affecting the world today, it seems crazy that God still cares about the little things. But it's true.
My mom used Scripture for correction as well. I seem to remember Philippians 2:14 coming up pretty often during my childhood as well: "Do everything without grumbling or arguing…"
I miss my mom terribly, especially during this Christmas season, but whenever I see her Scripture notecards, I think of her. When our family gathers together in a few days, we'll give thanks for my mom and her faithfulness to Scripture and prayer. I wish everyone had the legacy my mom left for us.
Thank you, Lord.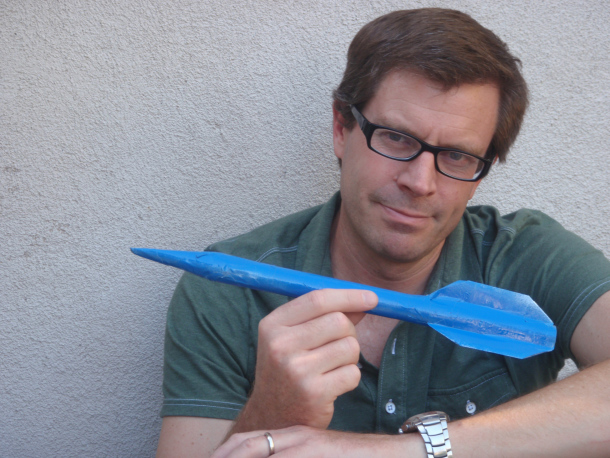 Rick Schertle has taught middle school social studies and language arts in San Jose for nineteen years. He is a lifelong tinkerer and a contributing writer to MAKE Magazine. Rick is director of The River's Washington Maker Workshop. He, his wife, and his kids love backpacking, good books, and world travel.