Putting Together the Pieces of the Cross
I am a sucker for those do-it-yourself pottery shops. Spending a couple of hours painting knick-knacks is a creative outlet for me and a fun way to spend quality time with my sons. As a side effect, my house is filled with kiddie ceramics: smudgy painted dinosaurs, coffee mugs, trophies—everywhere.
One day last March, I came home after the cleaners had mopped, scrubbed, and vacuumed my house. A flash of yellow on my kitchen counter caught my eye. Upon closer inspection, I recognized shards of ceramic that were once a cross painted by my younger son at one of those pottery studios. My heart sank when I saw the bright colors and childish lettering broken into jagged pieces. It was a fitting punctuation mark for a rough day. (Although one year later, I can't remember the specifics of why I felt so bad at the time.)
Why did it bother me so much? It wasn't a Ming vase, just a mass-produced ceramic blank decorated by a kindergartener. But it was precious to me, and I don't like to lose things I hold dear. Besides, a cross is not just any tchotchke, but a symbol of forbearance and forgiveness. Why couldn't the damaged object have been one of the ceramic kittens or puppies? Why couldn't the person who broke it have been a friend—or one of my kids' friends? Instead, it had to be my housecleaner, a person with whom I already have a somewhat awkward employment relationship.
At the time, I blogged about this incident and my disappointment over the broken cross, my anger at the housecleaners, my subsequent shame about being angry, and just being thoroughly conflicted over what to do.
Angela Aviles, The River's Communication Director, left a comment on my blog noting the symbolism of the broken cross. She suggested that I glue it together as a symbol that things, relationships, and brokenness can be repaired and restored. It was a wise idea, but I promptly shelved it away in the back of my mind for some other time. The pieces of the broken cross were bagged up in a Ziploc and stuffed in the garage, out of sight and out of mind.
As the Lenten season approached this year, my thoughts drifted back to the broken cross. I asked my husband to dig up the bag of shards. Even though I arranged and rearranged the pieces, they would not connect together. There were too many parts missing. While five large chunks remained, much of the cross had shattered into crumbs of ceramic, long since tossed in the trash. Back into the baggie the pieces went, a project for another day.
There was one person I knew could help me — an artist friend who enjoys working with tile mosaics. But I hadn't seen her in ages. I decided to send her a message on Facebook, and she invited me to call her. I put that on my to-do list, which got pushed to the next day, and then another, until I let that ball drop too.
The next week, our family made a trip to Target. I left my husband and boys in the toy section while I cruised around the store filling the shopping cart with shampoo and toilet paper. When I came back to meet the boys, my husband mentioned, "You know who I just ran into? Your friend… the art teacher."
"Where is she?" I demanded.
My husband gestured to a nearby aisle, but when I got there, it was empty. I brought the cart back.
"She's not there. I guess I'll go to Michaels and get some ideas."
On my way out, I spotted my friend across the store. We chatted for a while about life and about my project. She gave me some ideas I would never have come up with on my own to make a new piece of art out of the pieces of the cross.
So I went to Michaels and left with a wooden cross and some tile adhesive. At home, I painted the wood, letting my children help choose the colors. Then I rearranged the pieces of the cross on its new background and affixed them in place. The jagged edges still show and there is ample spaces between the pieces, a reminder of what was once broken and is now whole.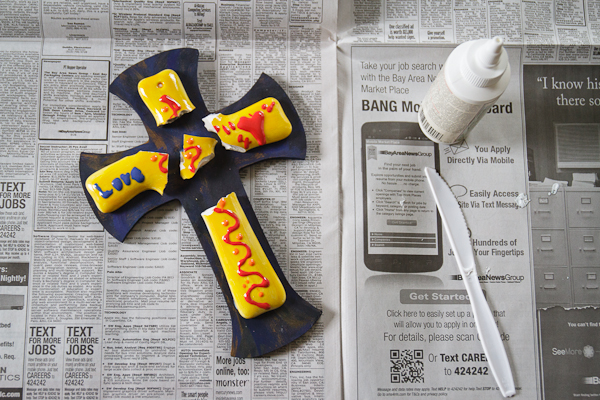 | | |
| --- | --- |
| | Grace Hwang Lynch is a freelance writer and editor and full-time mom. You can find more of her musings on raising a mixed-race Asian family, as well as some great family recipes, at HapaMama.com. |
Can you relate to Grace's response to losing something she treasured? How has something that was broken in your life become whole again? Please share your thoughts in the comment space below.