Saying Yes Means Saying No
I love buffets. Whisper "all you can eat" across the room, and I'll hear you and be ready to go. My favorite things in Las Vegas are the breakfast buffets where I can have as many pieces of bacon and crab legs as I want for $15.
I love buffets because I can have a little of everything or a lot of something delicious. But at some point, I always have to decide: do I want more shrimp or a selection from the dessert table? Because as much as I want to keep eating, I know that my feasting has to come to an end. My stomach is a limited vessel for storing food. I cannot have everything I want because my body is physically unable to hold it (without my getting sick). I have left many buffets, thinking, I wish I could have eaten more of _____. I want more and I'm frustrated that I cannot have more.
Image credit: InterContinental Hong Kong
I'm a buffet kind of girl in other areas of my life too. I am that person at a party who wants to meet and talk to everyone (while munching on all the food). I am that person who wants to sign up for every activity that every organization is sponsoring. In my job, I want to be on every planning team, go to every conference, pastor every student, and lead every event. Within our church community, I want to be a mentor, join a book club, lead a ministry, volunteer with the kids, and greet everyone on Sunday morning. As a parent, I want to actively participate in the Parent Teacher Organization, volunteer in the classroom, have a relationship with every other mom, and be the best mom possible to my two boys.
I am that person who wants to be involved with and do everything. When I can't, I feel frustrated and disappointed—especially at myself. Mary, why can't you just make it happen? Move things around. Work a little harder. Come on, just get it done. And then the comparisons start flowing in. Look at so-and-so. They make it happen. They can do all those things. Can't you pick it up like they do?
I tried to make it happen for a long time. I said yes to everything that I wanted to do, thought I should do, thought others expected of me. And I really thought I was doing well. I was satisfied because I was so involved.
I didn't realize that, for all the things I was saying yes to, I was saying no to quite a few other things. No to being fully present to my sons. No to good quality time with my husband. No to unrushed conversations with my family and neighbors. No to needed times of solitude and rest. My relationships and my well-being have really suffered as a result.
Thankfully, God has been faithfully working with me in this area of my life. He has been graciously teaching me about my limitations, my priorities, and my choices, and bringing healing into areas that were unhealthy.
I never understood that saying yes to things really meant saying no to other things. I thought and really wanted to be able to do it all. I am slowly embracing the reality that I am a limited person and cannot do everything that I want to do.
My husband, Jesús, and I would like to add a third child to our family. I would also like to advance in my career and invest in my leadership growth. I want to be both—a full-time stay-at-home mom and full-time campus minister extraordinaire! But I know that's impossible. There are not enough hours in the day. Though these two things don't have to be in direct conflict with one another, I am very aware that one will need to be prioritized over the other. And while I have put my family second (and third) in the past, I am unwilling to repeat that in this next stage of our lives.
As I say yes to our desire for a third child, I enter into this decision knowing that my career may not advance as a result. Others may advance before me and my leadership may just coast along as they are for the time being. As a person who struggles with wanting it all, this reality is hard for me to accept. I am already starting to grieve and let go of the things that I will be saying no to. But I do believe there is a promise of contentment and joy as I choose to say yes and no.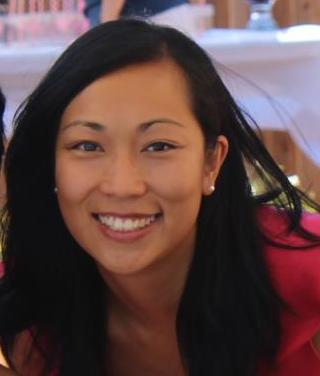 Mary was born a friendly, fiery extrovert with a flair for drama. Growing up has brought a healthy dose of wisdom; she's learned to appreciate being still and quiet.
Mary attended Santa Clara University, where she cultivated great friendships, studied accounting, and fell in LOVE with Jesus (Christ, not her husband--that Jesús came later).
Mary has a passion for people and loves developing friendships, empowering leaders, and walking with others as they explore faith. She's wife to Jesús, mom to two adorable sons, Jesse and Ángel, part-time InterVarsity campus minister at San Jose State University, and assistant coach for a high school girls basketball team. Though her big Chinese family drives her up the wall sometimes, she loves them to pieces and knows she wouldn't be who she is without them.