The Slow Pace of Soul Keeping
For me, this month of soul keeping feels an awful lot like going fishing.
When I was a boy, my grandparents used to take me fishing at a little lake by their house in Tennessee. I treasured my time with Grandma and Grandpa. The fishing? Not so much. Summertime in Memphis is awfully humid and buggy. Beyond that, I experienced fishing as a tremendously frustrating activity. It just felt so slow—and, frankly, a bit random. I'd cast my line into the lake and wait interminably. Meanwhile, Grandma, standing right next to me, would reel in fish after fish. "Those fish are really biting today," she'd say. Sure thing, Grandma. Can you pass me the mosquito repellant?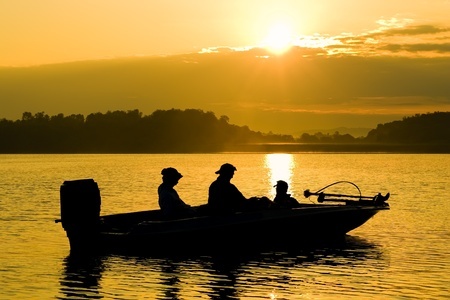 Copyright: sleepyhollow / 123RF Stock Photo
Soul keeping sounds so spiritual. And John Ortberg's stories in the Soul Keeping book are so charming and inspiring. But, for me, soul keeping often feels slow. To make matters worse, when others around me share stories that sound mystical, feelings of inadequacy arise within me.
In the midst of my rising doubts, I'm comforted by the words of Jesus: "If you then, though you are evil, know how to give good gifts to your children, how much more will your Father in heaven give the Holy Spirit to those who ask him!" (Luke 11:13, NIV) It is the Father's nature to give good gifts. I don't have to motivate God to act. It is his predisposition. I'm also reminded that God met Elijah, not in the pyrotechnics of fire or earthquake, but in stillness.
The trained spiritual directors I've met with in the past like to ask me what I'm noticing these days. I am often frustrated by this question. It's not a hard question, yet I frequently have no answer. I want to say, "I haven't been noticing anything. Now can you give me some spiritual guidance?" But skilled spiritual directors keep asking that question.
The practice of noticing assumes that God is already at work in my life. It assumes that God has already been speaking. The only question is whether I have learned to listen well. "Noticing" only happens in slowness.
So I am trying to embrace slowness as God's gift, not a curse upon my lack of spirituality. And as I slow down, I find that my capacity to notice is waking up, so to speak.
Last month, I was on a personal retreat on the peninsula. At the beginning of the retreat, the leader invited us to take an hour to walk the grounds. "Be aware of what you notice," she said. As I walked, I saw a unique plant with very soft leaves that my son, Ryan, used to like to touch when he walked to elementary school. It reminded me of Ryan's unique perspective on life. I thought of the years of God's faithfulness that have led us to Ryan's senior year in high school. In that moment, I offered to God the boulder-sized burden of worry that I carry (about him and a host of other things). And I gave thanks to God for his trustworthiness.
Another day, as I sat in a waiting room, I noticed a woman helping her daughter with her homework. I recognized the daughter had some special needs and was really struggling. As I thought about the challenges that lay before this family, I noticed that my heart was filled with compassion.The next day, I received an email invitation to be on the advisory committee for a special event at the Children's Discovery Museum for kids with autism. My schedule is plenty full, but I sensed the Lord's nudge to accept the invitation. As I did, the affirmation of Jesus gently entered my soul.
Embracing a pace—a slow pace—that nurtures a noticing posture is not always comfortable. I notice a host of my own character flaws. I notice that I'm impatient, blaming, and judgmental. It turns out that soul keeping can be humbling. But I'm finding that these uncomfortable moments are often the catalysts for my deepest conversations with Jesus.
Does soul keeping feel uncomfortably slow for you? When you've taken the time to notice what God is doing in your life, what have you seen and experienced? How are you hearing God's voice during this month?
Brad Wong is the lead pastor of The River. He loves being husband to Vickie and dad to Ryan and Lauren. He studied pre-med microbiology at UC Berkeley, but his vocational path took a sharp turn in the mountains of the Philippines, where he shadowed missionaries who translated and taught the Bible.

Brad delights in exploring the world. During his time at The River, his ministry travels have taken him to Thailand, Uganda, the Philippines, China, Malawi, and Honduras.

He enjoys reading, running, Belgian ales, red wine, dark chocolate, good conversation, challenging ideas, thoughtful people, and food from every culture.