Turning Off and Tuning In
We've never had cable or satellite TV, so I figured The River's "Turn Off and Tune In Challenge" would be pretty easy for me. What I didn't realize is the amount of time, especially in the evening, that I was still connected to a screen. Through the Challenge, God has taught me a number of important things, including being more present with my family, having a good attitude when doing chores, and a newfound enjoyment of reading and all the benefits that come with it.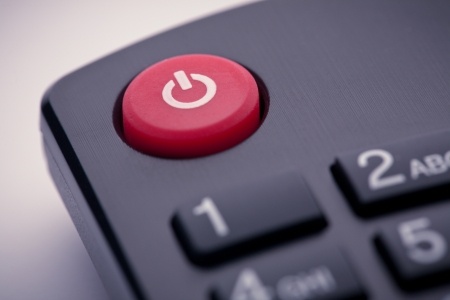 Copyright: ptnphoto / 123RF Stock Photo
We eat dinner together most nights and share about our highs and lows of the day. The television that gets a few channels over the air is in the basement. Out of sight, out of mind. As a teacher, I've always had a personal policy to not check work email from home unless absolutely needed. After an email or two from an overly anxious parent, I found myself lying in bed worrying, even if it was over something small.
But while I avoided work email, there was still plenty of personal stuff to catch up on online. My wife and I had also gotten into in the habit of watching TV shows like The Sopranos to relax at night, but it ended up having the opposite effect, winding me up when I wanted to settle down. In the end, our perceived limited screen lifestyle included much more screen time than we had thought.
During the Challenge, by setting screens aside in the evening and not worrying about what's going on in the world outside the house, I've found myself tuned in to my wife and kids like never before. We'll just sit and talk, even if it means a later bedtime. If you've raised a teenager, you know this time of connecting can be like gold. Also, whether we've been exploring Medieval Europe or travels across America with John Steinbeck, we've gotten back to enjoying worlds beyond through family bedtime reading. We've done this since our kids were young, and now hope we can keep doing it until they leave the house!
Our kids are awesome in the kitchen and have come to love cooking. While they do a lot of the weekly cooking, my job is cleaning up afterwards. It's a pretty fair deal, but I found myself grumbling recently about how dishes were not rinsed and every pot and pan managed to be used for certain recipes. Pretty ridiculous, I know, but as we became more tuned in to family, my wife and kids graciously pointed out my attitude and God helped change my prideful heart. From early on, we've tried to teach our kids that when asked to do something, to do it right away with a happy heart. Philippians 2:16 talks about "Doing everything without grumbling and arguing..." I remember my mom reminding me of the verse when I was a kid. It's hard to put into practice, but just like my kids, I'm getting better at it, and the Challenge has helped.
As a language arts teacher, I'm always encouraging my students to read. On an ongoing basis, we read a class novel, are in small literature groups, and I read a higher-level book aloud. I tell my students that, while it may not be scientifically proven, reading grows the brain and TV shrinks it. But I'm often not reading myself. By turning off screens two hours before bedtime—including weekends—that leaves me with loads of time to read. I currently have three or four books going right now, and it feels good. It feels like I'm in a good place of growing my brain. Reading before bed has helped me sleep better as well.
While many of these lessons were not specifically spiritual, the Challenge could be good for anyone wanting to tune in to their inner self. I've always had a hard time with introspection and this challenge felt like it was a practical way to engage with my inner soul. Living in ultra-plugged-in Silicon Valley, it has felt countercultural in a very good way. I'm confident that after these thirty days some of these practices will stick well beyond the time the Challenge is over.
Can you relate to Rick's experience of becoming more aware of how much time you spend in front of a screen? What benefits have you experienced when you have tried to tune in to your family or your inner soul?
| | |
| --- | --- |
| | Rick Schertle has taught middle school social studies and language arts in San Jose for nineteen years. He is a lifelong tinkerer and a contributing writer to MAKE Magazine. Rick is director of The River's Washington Maker Workshop. He, his wife, and his kids love backpacking, good books, and world travel. |