What Gymnastics is Really About
From a mathematical point of view, you could say I've been a Christian for thirty years. And it would be natural to think that my spiritual life would thus be mature by now.
While we never truly "arrive" in this life, my maturity really didn't start sprouting noticeably until about seven years ago. Let's just say that what brought me to see a counselor then had everything to do with my son's neonatal birth condition, and what happened in those sessions had nothing to do with him. Rather, it had everything to do with my disillusionment about God and who I thought he was and should be. But that's another blog post for another day.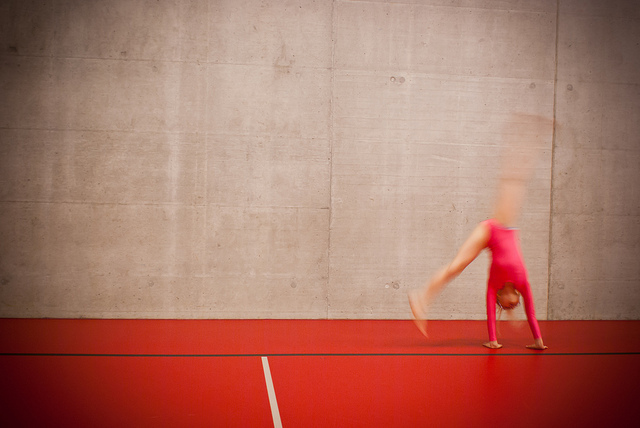 Photo credit: Clemens V. Vogelsang
What I want to share is something more recent. Fast-forward seven years to today. I am truly joyful that God brought me much more clarity about who he is, who I am, and what I am to be about. I know that I am to model my life after Christ—and to share this love that I freely experience with others. It is much easier said than done, especially when it comes to my family.
Last January, my daughter, who was competing in gymnastics, decided she wanted to withdraw because of homework demands. The process of saying goodbye to this part of her identity was tough—for me. I had no idea how much I had defined her by this. We worked through the withdrawal process and agreed that she could come back to gymnastics whenever she decided to.
It was a feat to actually come to this point of accepting the change. Looking back, I remember sitting at every meet, full of anxiety and worry about how well she would do compared to her other teammates and where that would put me in the parent ranking order. We parents don't really talk about this, but there is a ranking order. And I didn't want to be at the bottom.
This past September my daughter voiced that she missed gymnastics and wanted to go back. We went through a process of figuring out which gym to join and which competitive track would be challenging enough yet leave time for schoolwork. In the back of my mind, I was thinking the second time around would be cake. My daughter knew the drill and would do really well.
You can see where this was heading… and it wasn't pretty.
In competitive gymnastics, for the early levels, the award podiums go up to sixth place. My daughter did not get on the podium at her first meet after returning. We chalked it up as nerves. In subsequent meets the scores moved upwards, but only incrementally.
A couple months ago, I got to the point where I finally succumbed to the thought that this subpar performance was not going to cut it. All the costs involved were too much to bear such low scores. I was coddling mediocrity. It couldn't go on.
By chance or divine providence, at about the same time I was putting a presentation together for work and researching inspirational quotes. I went off on a bunny trail and decided to find something about what God has to say about children not living up to their parents' expectations. I found this: "All your children shall be taught by the LORD, and great shall be the peace of your children." (Isaiah 54:13, ESV)
What I draw from this scripture is:
God is looking out for my children.
I am a reflection of God, as my children are a reflection of God. My children are not a reflection of me. I am to be their coach and guide on the road of life. Ultimately they belong to God, and God can use me to teach them.
God promises peace—not an elite athlete or PhD candidate.He is concerned about my children's wellbeing and their character. The peace God offers is not a guarantee of an easy life. Instead, his peace will let my children know they are loved and will sustain them when life is not easy.
What these gymnastics experiences show to me is the reality of proclaiming her worth and value in God, not her scores. This is not easy for me. I am sitting with this now, mature Christian that I am. :-) What I hope to be able to do is to love my daughter no matter her performance scores. The extent to which I am able to do this is a reflection of my ability to truly trust God and his goodness in her life.
I'm not 100 percent there yet—because I'm still not 100 percent sure I trust Him fully for my life. Working on that too.
| | |
| --- | --- |
| | Kuimeuy (ku-may) Wang has been married to Kevin for twelve years and is mother to Zoe (10) and Micah (8). She lives in Silicon Valley and volunteers at school through Project Cornerstone. Her hobbies include trying out new restaurants, especially fusion ones; dabbling in art with her son through YouTube drawing videos (Sponge Bob, angels, reindeer, the Hulk); photography (but it doesn't return the affection); and running. Her favorite book of the Bible is Ephesians; her favorite TV show is Enlisted; her go-to meal after traveling is a nice bowl of pho. Tell for when she's tired: necklace statement pieces to draw attention away from the bags under her eyes. |
If you are a parent, have you ever felt the pressure of the parental "ranking order" that Kuimeuy refers to? Have you worried about how your children's achievements (or lack thereof) reflect on you? How do you think we can teach young people that their worth is in God, rather than their accomplishments?