The Western Wall in Jerusalem, also known as the Wailing Wall, is considered one of the holiest sites in Judaism. If there is ever a place to get your prayers answered, this is it. People have been praying at this ancient wall since the fourth century. They often write their prayers on small slips of paper and stuff them in the many crevices along the wall. When I visited the wall, I did this too. At the time I was very much in love with my boyfriend and I prayed with all my heart that he would be my future husband. Surely this prayer, imbedded in this wall, would have great weight with God.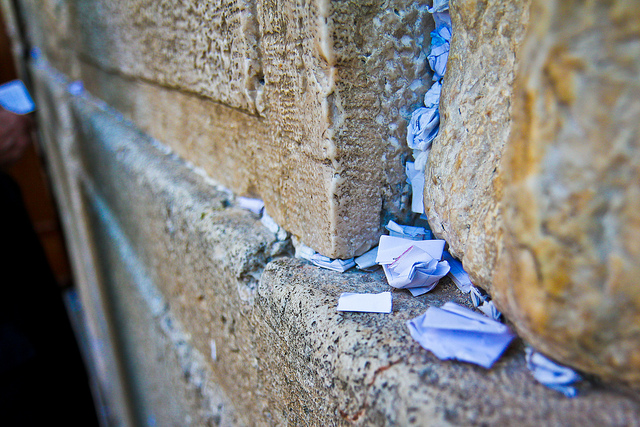 Image credit: Asim Bharwani
And maybe it did. I just didn't receive the answer I wanted at the time. It took me a few years to realize that God did answer my prayer: he answered with a no. It was the best answer he could have given. This no allowed me to search deeper within my heart to find a life-changing faith and led me to a husband that I love much more deeply than the love I knew previously.
I can now look back on that unanswered prayer with gratitude and thanksgiving. Kind of brings Garth Brooks Brooks's song "Unanswered Prayers" to mind.
I pray that at the end of my life I might be able to look back at all my unanswered prayers with a grateful heart. But for now, there are unanswered prayers that weigh on my mind, break my heart, and keep me from trusting God completely.
Why won't God bring home a runaway teen to her distraught mother? Why won't he heal a mother from cancer who has two small children? Why is someone else healed and another isn't? Why do we have such significant tragedy, terror, and loss in this world?
Obviously, I'm not the first person to struggle with these unanswered questions. People have been struggling with them since the beginning of time. Many have lost their faith over these questions.
But I cry to you for help, Lord; in the morning my prayer comes before you. Why, Lord, do you reject me and hide your face from me? - Psalm 88:13-14 (NIV)
When I was eight-and-a-half months pregnant with our son, Joseph, we discovered that he was very sick with hydrops fetalis, a condition in which water accumulates in body cavities such as the heart, lungs, and abdomen. We had hundreds of people praying for us. But those prayers didn't work in the way we wanted them to. Joseph wasn't healed. Instead, he died in utero less than a week after we found out that he was sick.
His death has made me hesitant and uncertain in my prayers. I am not immune from loss, pain, and grief. Prayer does not guarantee success.
Yet in the midst of my grief, I can still say that God is good.
Losing our son has changed my understanding of God. He is not a benevolent Santa Claus waiting to bestow our fondest desires. He is an almighty God who has created an unfathomably complex world, which includes pain, death and loss. Yet it's beauty and vastness still astounds me. It is a great gift to live and experience all that this world has to offer.
If I want to partner in prayer with God for the good, I also need to partner with him in the bad. I need to accept the answer of no. I need to accept the answer I don't like. I need to wait when the answer is unclear. Doing so takes me to a place of surrender, because I cannot understand all that God is and what he has planned for me. I need to embrace the unknown and trust that there will still be good in my life and in the world around me. I need to pray that his will be done, not mine.
"Our Father in heaven… your will be done, on earth as it is in heaven." - Matthew 6:9-10 (NIV)
Becoming a mother who has lost a baby is not a club that anyone wants to join. But who am I to be exempt from such loss? I think upon the millions of people throughout history who have lost babies and children in more tragic circumstances than mine. I cannot imagine how they coped and survived. It has given me a deeper understanding and compassion for those who experience loss and grief. I hope that I can be a source of comfort when I'm able.
Mysteriously, knowing deep sorrow has, in turn, heightened my joy. I have a deeper appreciation for the three children I still have with me on this Earth. I can still say that I am blessed. I will continue to engage my God in prayer and trust that prayer does, in fact, work.
"I do believe; help me overcome my unbelief!" - Mark 9:24 (NIV)

"Lord, I wait for you; you will answer, Lord my God." - Psalm 38:15 (NIV)
For a more in-depth study of prayer, I recommend Prayer: Does It Make Any Difference? by Philip Yancey.
| | |
| --- | --- |
| | Growing up, Molly Meyer wanted to be a professional cheerleader. When she realized she had no natural talent for it, she decided to be an engineer instead. Currently she calls herself a stay-at-home mom for her three children. She finds this phase of life joyful, humbling, and challenging. She hopes that God is doing a transforming work in her and preparing her to make an impact in the lives of her children and the world around her. |