We were a family of five, and then, on February 27, we entered the world of twins.
Our new babies, Liam and Bennett, have completely transformed our lives, and we are all adjusting to this huge change. In my last post, I shared my struggles after discovering we were expecting.
Image courtesy of Kyle Guerrero
A month after my wife, Amy, realized she was pregnant, she had a doctor's appointment to see how the baby was doing. As I was driving home from work, I called to see how the appointment went.
"I'll talk to you when you get home," Amy said.
Hmm. That was an odd response, I thought.
Ten minutes later, I approached our house and saw Amy standing in the front yard with her arms crossed. She looked flustered. I worried that something was wrong with the pregnancy, or someone had died, or something had happened with her family. In twelve years of marriage, Amy has never waited in the front yard for me to return home .
I jumped out of the car and ran to her. She was crying and said we were having twins. My mouth dropped open, and we went into the house to freak out together.
At the end of my last post, I mentioned that I felt at peace. But the peace that only God can provide quickly disappeared as my own fears and selfishness crept back in.
I found myself at a point of self-loathing. My eyes quickly turned from God and back to my own circumstances. How were we going to provide for two more kids? Why were we having identical twins? We don't all fit in the house we just bought. My list of complaints and concerns mounted.
I feel horrible admitting this, but I continued to struggle with these thoughts for months. I knew these kids were a gift from God. I knew I should be an adult and be grateful. But I couldn't get there.
Through friends, journaling, the Bible, and a book, God humbled me and slapped me upside my head. I needed all that to see his perspective on parenting.
Obviously, Amy and I are not the first people in history to be shocked by a pregnancy. During my time of bitterness, we visited The River and started talking to a couple who had also had an unexpected pregnancy.
They affirmed our shock and the difficult days ahead, but reminded us that God's hand was still in this. "Amy and Kyle," they said, "you need to pray and ask God why he gave you these kids. You need to claim the promises that he has for these boys."
These words realigned me to God's loving heart for these boys. When I started to feel upset, I would begin praying for Amy, my family, and our twins. I prayed, "God I'm not sure why you chose us to have twins, but I trust you know what you're doing."
Getting into God's Word, writing out scripture, and journaling really helped me escape my unhealthy mindset. For me, journaling is praying. It helps me connect to God the most. I share my feelings with God, ask for forgiveness, and dump out my heart.
As I complained to God, he showed me grace and, through his Word, changed my heart and desires.
Psalm 127:3 says, "Behold, children are a gift of the Lord. The fruit of the womb is a reward." I needed to read this many times. At that time, children felt more like a burden, especially when I had to work late or they woke me up in the middle of the night. I needed to be reminded that children are a gift.
Another problem was that I was not being gracious to anyone in my family. I knew what grace was conceptually, but I wasn't receiving God's grace. As a result, I had nothing to offer my family or others.
"As a father shows compassion to his children, so the Lord shows compassion to those who fear him," reads Psalm 103:13. In all the immature things I do daily, God still shows me compassion! I need to show that same compassion to my kids. Not just because I am their father, but also because they get a glimpse of their heavenly Father through me.
Then the book Parenting, by Paul Tripp, landed in my lap at just the right time. This book reminded me that God never calls us to a task without giving us what we need to do it. He never sends us without going with us.
I have used these principles to guide me in taking huge risks in my life. I went on missions trips to places that others didn't want to go. I've been outspoken at jobs that weren't Christian-friendly. I've talked to random strangers about the meaning of Christ's death on the cross.
But when I read these truths, I realized that I don't apply them to my life as a parent. I have seen it in so many other areas of my life. I know that God equips and sustains me in my marriage and as a dad.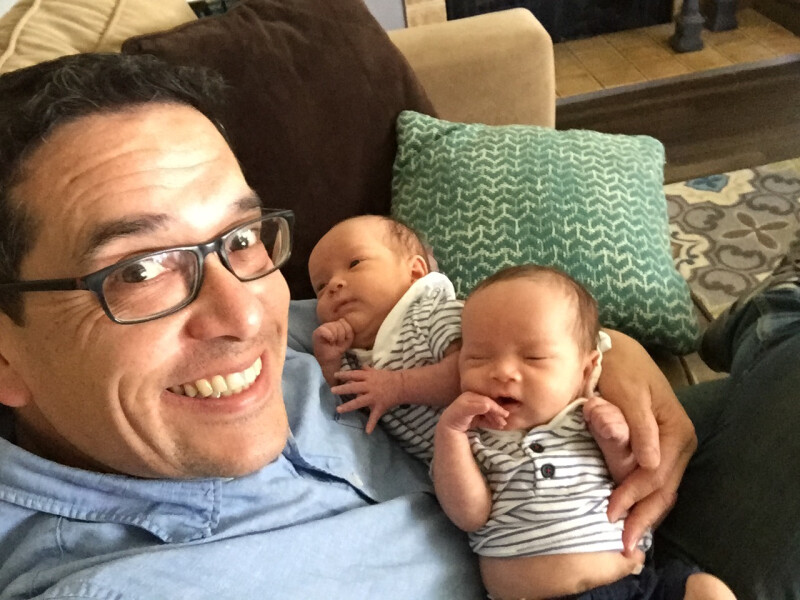 Image courtesy of Kyle Guerrero
Our family now numbers seven, and it's been difficult. The days seem to bleed into one another. But through the many poopy diapers, helping the older kids transition, and trying to track what day of the week it is, I am thankful for God's compassion and grace toward us. I'm thankful for the many people who have prayed for us, blessed us with kind words, stopped by to say hi, provided meals, and more. The list goes on and on.
As we continue down this journey, I know I have much more to learn. I have more selfish desires to lay down at the feet of Jesus. I'm so glad that God's grace is sufficient for the road ahead.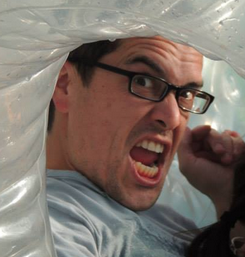 Kyle Guerrero has been married to his wife, Amy, since 2005. They have three beautiful daughters: Eva, Olivia, and Alexa. They have been connected with The River for over nine years and have been involved in small groups, youth ministry, and international service trips. They previously lived in Malawi serving the poor, in Uruguay ministering to third-culture-kid families, and in Leavenworth, Kansas, serving military families through Youth for Christ. Kyle is currently serving as the Missions Director at The Well, a church in Fresno.