"So be strong, act like a man..."
- King David to his son Solomon, toward the end of David's life (1 Kings 2:2, NIV)
When I was about ten years old, I asked for my dad's help in dealing with some challenging kids in the neighborhood. There was no compassion in his eyes as he told me to "man up" and deal with it.
I was alone. I had to take care of myself. This was the narrative that took root in my childhood, a pain and falsehood I have lived with my entire life.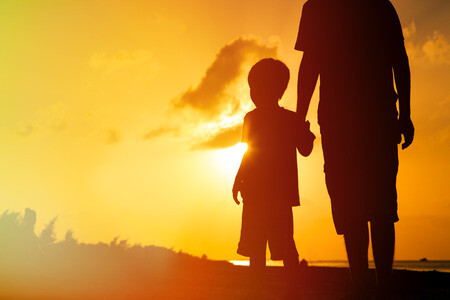 Copyright: nadezhda1906 / 123RF Stock Photo
This past summer, I attended the JH Ranch Father-Son camp with my thirteen-year-old. On the last day I lay in my bottom bunk, wondering whether I should attempt to climb the 757—a telephone pole 50 feet high, with a trapeze bar seven feet beyond the top of it—that afternoon.
The week at JH Ranch had been humbling. My fear of being alone had created a never-ending need for affirmation, resulting in a lifelong pattern of avoiding the difficult. The many challenging activities at the camp did not allow me to take the path of least resistance.
To be honest, the experience wasn't fun. Instead it broke me physically, emotionally, and spiritually by putting me in situations I would normally avoid. I found myself having to rely on my son. Quite the role reversal! I realized I could not be the only answer for my son. I needed to steer him toward God.
I understood two things as I lay in bed that morning. First, climbing the 757 was not going to decrease my extreme fear of heights. Second, my fear of heights was representative of my greatest fear of being alone.
At JH Ranch, each day ended with a worship service at the Big Top. On the second night, the guest speaker shared about her last moments with her dad. I immediately remembered watching my mom take her final breath over fifteen years ago.
She then instructed the children to cup their hands, and asked each parent to turn to his child and place his love into their cupped hands.
The speaker invited people up front to pray, asking us to be open to the amazing love of God. As I approached the front, I could not stop thinking about my mom placing her love into my cupped hands. I lost control, crying with sadness and loss. A hand grabbed my shoulder and someone began to pray for me.
As I wept, I spoke these words aloud : "I don't want to lose you too!" I realized in that moment that I was afraid to lose God in the same way I had lost my mom.
For years, I had preached that God would always have our backs. But, in my heart and soul, I did not fully believe that. I am thankful that God helped me name this fear of being alone, a first step in healing the scars of loss in my narrative.
After returning from camp, I made a commitment to put God first each day. Each morning I first read his word, highlighting a verse of importance and then journaling. I began with the book of John and have worked my way through Jeremiah, Lamentations, Job, and now Micah.
I wanted to set the right example for my family, but this practice has been so much more fruitful than I ever expected, reminding me daily that I am not alone. I value this time with the Lord, which I had so easily avoided for the first 42 years of my life.
On New Year's Day, I read Job 42:6. Job says to the Lord, "Therefore I despise myself, and repent in dust and ashes" (NIV).
This was my reflection that morning:
Heavenly father, thank you for this day, the opportunity to sit in your word. A gift of truth, a true blessing. I pray, should it be your will, that my children one day embrace such a blessing.
Forgive me, Father, for I have sinned, doubting rather than trusting in you more times than I can count. Doubt in you leads to increasing desires of the flesh, giving into temptation, and falsely believing that feeding my flesh will stop the hunger within.
Heavenly Father, I desire to put you first in my life. In times of temptation, I pray for the strength to see you, lean further into you, and trust that your love for me is more satisfying than any temptation.
Heavenly Father, you are the only thing that can feed my hunger and change my narrative!
Since my time with God at JH Ranch, my life narrative has begun to heal, to be transformed and restored.
"So be strong, act like a man, and observe what the Lord your God requires," David says to Solomon (1 Kings 2:2-3, NIV). The Lord, my God, is part of everything in my life. I am never alone.
I hope and pray that I have the opportunity in the coming months to walk with a community of men at The River who are committed to putting God first and to changing the narrative.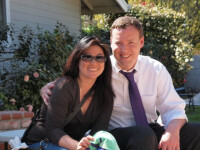 Bill Wagner loves being a husband and father. He is blessed to walk side-by-side with his wife, Kristy, raising their three children, Samuel, Graeson, and Emily. Bill was born, raised and educated in upstate New York, and relocated to the Bay Area in 2008. He is a headhunter by day, working from home and building relationships with corporate tax & finance professionals here in Silicon Valley. He took a leave of absence in 2012-13 to deepen his walk in ministry; he is now focused on bringing his faith outside the walls of the church and into his work.