Cultivating Joy During Shelter-in-Place
I'm an extrovert. Not slightly, not sometimes, but extremely, over-the-top, all-the-time extroverted. If I feel sick or sad or tired, the cure is having a group of people show up unexpectedly to socialize. At Riverfest, I volunteered at the check-in table so I'd be sure to meet everyone.
If you had told me on New Year's Eve that I would spend over half of 2020 at home with only my family, working remotely, and cancelling four long-awaited vacations, I would have told you I would lose my mind. I live for people, for water cooler conversations, for hosting events, and for the fun of planning and experiencing family vacations. And yet, here on day 183 of Shelter-in-Place, I remain joyful despite everything going against my natural programming. Why?
During The River's recent sermon series on joy, I identified with the goals of many of the sermons. While not every moment of Shelter-in-Place has been anxiety-free and positive, I have generally remained optimistic and able to find joy in new places. In many ways, my joy has increased as the months have passed, pointing to it not just being me mustering up artificial happiness. Friends have commented on all the fun my family is having, despite keeping up social distancing efforts. One encouraged me to make a list of ideas to share. While making the list, some themes emerged that I believe have been key to cultivating joy during this unique time. I felt called to share these themes and specific examples as a way to help others find joy. While my examples may or may not be attractive to you or your family, I believe the themes can be expressed in different ways to meet your style.
Theme #1 – Say Yes to Connection!
In the first week of Shelter-in-Place, our neighbor invited us to dance in our front yard every afternoon. She's a single mom of toddlers and was seeking adult interaction, while remaining socially distant. We said yes and every day for four months, at 3:30pm, we boogied in our front yard for 15 minutes—along with up to a dozen other neighbors in theirs. For the past two months, we've reduced the schedule to three days a week, but those dance parties are still a highlight in our schedule. While we've had friendly conversation with our neighbors over the 15+ years we've all been here, we now have community with them. Dance parties often end with conversation across the yards: learning about needs, providing encouragement, discussing social justice issues, and just enjoying seeing another human not on a computer screen. Other families in our neighborhood walk over for the dance party to find connection as well, both adults and teenagers. By saying yes to an unusual invitation, we've created an ongoing and dependable source of connection that refills our tanks with joy.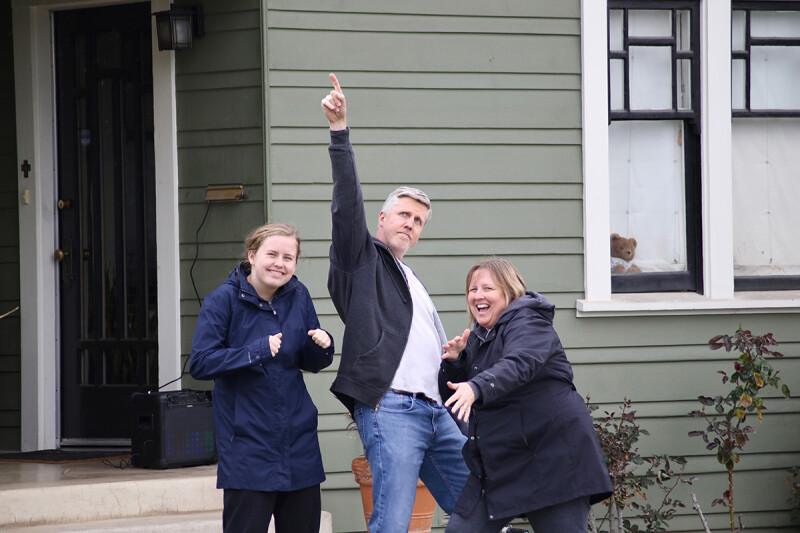 Image courtesy of M. Phillips
Theme #2 – Find Ways to Create Anticipation
I love planning things, especially vacations. I spend hours poring over travel review sites to design itineraries. I love this process and love anticipating being able to actually experience the things I spent all that time researching. By the spring all my trips for 2020 had been erased, and with them my day dreams about them. I didn't even want to think about the trips, despite tentatively rescheduling them to 2021.
By the end of May, I realized this lack of looking forward to anything was causing me to get in a funk. I needed to plan something—anything—that I could look forward to with some level of certainty. With outdoor activities beginning to open up, we planned a half-day trip to Monterey to kayak with sea otters off of Cannery Row. The trip was an amazing break and I loved drifting with my favorite critters, but I also found myself more joyful in the days leading up to the trip. I have since made it a regular practice to find things we can do for fun and schedule them in advance to maximize anticipatory joy. We've added events to our calendar like watching online shows streaming live from Las Vegas, hosting a back-to-school backyard movie night with friends, and driving to Gilroy for shakes at Sonic. Having events on the calendar has helped differentiate the days of the week, fighting off the doldrums of each day fading into the next.
Theme #3 – Mimic normal sources of joy on a smaller scale
We're a Comic-Con family. Yes, we're "those people" that dress up in full costumes and wait in line for hours to meet our nerdy heroes in a crowded convention center. With no in-person San Diego Comic-Con, we decided to attend the new on-line SDCC and reviewed the schedule of panels to attend on YouTube. I took time off work, and we watched discussions with actors and writers from our favorite shows from the comfort of home. Meanwhile, friends of ours who are even more connected to SDCC planned their own local mini-convention weekend. One night of their schedule was to go to a drive-in movie. We drove over to the Capitol Drive-in and parked next to them. We had a fun night talking across the parking spots before the excitement of seeing the 1985 hit Goonies on the big screen. We all agreed that COVID-Con was a fun way to remember the fun of SDCC and much better than just complaining about the real thing being cancelled.
While I still yearn for 'the good old days', my experience over these past six months encourages me to continue to find ways to build in connection, anticipation, and fun in smaller ways. I desire to take from this experience a greater appreciation for the small, but important, joys God has put in my life. I'm also hopeful that practicing cultivating joy in adversity is building resilience not only in me, but also in my family and others who need encouragement. Our world needs joy; I'm on board with helping us find it!
Beyond the examples I shared, here is the list of things we've done individually, or as a family, that fit into these themes. I'm sure you and your family can think of many other ideas that fit your unique likes and hobbies.
Planning Trips to Restaurants (we don't normally go to)

Sonic Drive-in in Gilroy – we bought 6 shakes that we brought home and froze for later
Shake Shack in Palo Alto – the shakes were ok, but the mushroom burger was amazing
Fuddruckers in Union City – favorite burger place we are rarely near
Sam's Chowder House in Half Moon Bay – half-day trip for lobster roll lunch
Benihana in Campbell – yes, you can get it To Go
Various Ice Cream places – trying out various "fad" ice cream creations
Porto's Bakery in Los Angeles – Ship to Home bake goods!

Yard Connections

Weekday lunches on the porch with a schoolmate during the lunch break
20th anniversary dance party with cupcakes and signs
Movie night with two other families on a screen in the backyard
Delivered baked goods to each person in our teen's small group

Online Fun

Zoom live shows at www.passportshows.com : Piff the Magic Dragon and Colin/Brad's Improv were both great shows and are friendly for all ages
www.nowherecomedyclub.com is hosting stand-up online (not family friendly)
Check out www.goldstar.com and sf.funcheap.com for other online options
Zoom Paint Class at www.yaymaker.com, you buy the supplies and attend class live (Optional: Family members compete for the best painting, get others to vote)
Online www.catanuniverse.com game dates as a family with our friend in New York
Online improv classes: Comedy Sportz San Jose and Freestyle Love Supreme NYC
Online community college classes

Reunions

Zoom call with my college dorm Bible study group
Zoom call with high school friends
Zoom calls with an extended family group
Outdoor picnic with old team members from an ex-employer
Monthly small group outdoor gathering

Other

Family Movie Nights & TV show binges of classics
Streaming Movie Premieres with a Party (special snacks, seating, etc.)
Home haircuts on each other
Jigsaw Puzzles – over 25 completed, as a family
Neighbor Groups to share shopping needs
Evening walks around the neighborhood
Various home and office redecoration projects
Encouraging our teen to text her friends or even call them
Worship Time – everyone had percussion instruments and joined in while watching The River Sunday morning worship (we only did this once, but I liked it even if others didn't)
Drive the scenic route
Capitol Drive-In
Reserve a mini-golf tee time at Golfland
Kayak rental from Adventures by the Sea, in Monterey
Mt Hermon Zipline course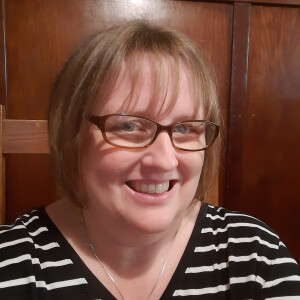 Originally from San Diego, Michelle Albertson has spent more than half her life living in intentional community in downtown San Jose. She and her husband, Eric, and teenage daughter, Grace, came to The River in 2016. Their family mission statement is to show the world that God is fun. This is best reflected in their annual Halloween display, which will be a drive-by experience this year (see www.albertzone.com for more details).
Michelle is a CPA and a CFE, currently working remotely as the Controller for KickFire. In her free time, she enjoys selling collectibles on eBay, watching classic movies, and listening to stand-up comedy.