Discovering God's Charge...Through my Puppy?
The River is kicking off a year-long series on its value of commission. In a passage often referred to as "The Great Commission," Jesus said to his disciples:
"All authority in heaven and on earth has been given to me. Therefore go and make disciples of all nations, baptizing them in the name of the Father and of the Son and of the Holy Spirit, and teaching them to obey everything I have commanded you. And surely I am with you always, to the very end of the age." (Matthew 28:18-20, NIV)
That's quite a call! I looked up synonyms for commission on Thesaurus.com. Here are a few of my favorites:
authority
delegation
appointment
charge
mission
warrant
power of attorney
All those words seem like they apply to strong, powerful people. And yet, we believe that Jesus commissioned all his followers to make disciples.
If you're like me, you can find this a daunting and potentially impossible task. Sometimes I pass through seasons where I count being nice to people as commission work, because anything more can seem like it would cause trouble or be too much work.
Last April, my husband Daniel and I got our golden retriever, Sobe, when she was an eight-week-old puppy. We had wanted a dog for many years and waited until we had enough space to have one. She's now seven months old and she brings lots of joy and lots of work.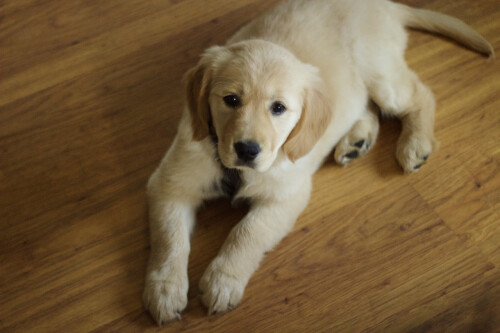 Sobe at 8 weeks (Photo courtesy of Marie Fang)
What we didn't anticipate was how much having a dog would change the way the world experienced us. When Sobe was old enough for us to take her on walks around the neighborhood, strangers would approach us and talk with us. When Sobe was around, all social norms of respecting others' privacy seemed to go out the window. People would ask all about our dog: her name, her age, her temperament. Usually they asked to pet her and after a short time we would say a polite farewell.
When Sobe got a little older, I started to take her to the dog park near church several days a week. After some time, I started to see the same people at the park over and over. I again noticed a similar pattern in this context: strangers were very friendly and tended to be rather talkative on the subject of dogs.
Interestingly, most people at the dog park seem very comfortable talking in great detail about their dogs before ever introducing themselves to me. They know everything there is to know about my dog before they know my name. It's as though people attempt to protect an invisible privacy barrier by not encroaching on my personal space—just my dog's.
I started to experiment with this. I started to introduce myself earlier in the conversation and ask the other person his or her name. I noticed a shift in the dynamic when I did this. People focused their eyes less on our dogs playing and made more frequent eye contact with me. We would start talking about our lives outside of our dogs.
My perception of the dog park began shifting: not only was it a happy place for my dog to play and for me to find rest in watching the animals play together, but it was a unique space where I could interact with people multiple times a week.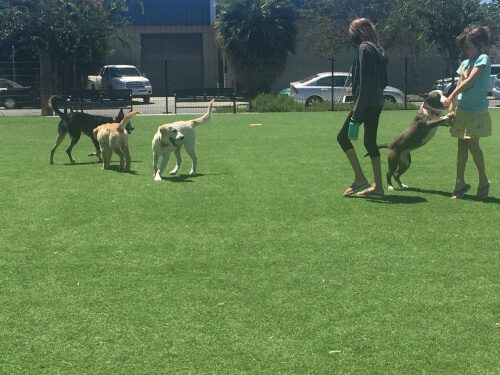 (Photo courtesy of Marie Fang)
It seems rare to have such frequent access to an open space where people are not busy with work or otherwise unavailable. Each interaction is a mini conversation that becomes part of a greater ongoing conversation I have with someone else over the weeks.
Having a dog has helped open my eyes to how open and friendly people can be. People desire connection, and yet in our culture it's often considered inappropriate to interact with strangers on a personal level. Somehow my dog has unlocked a window into our human desire to connect.
My experiences at the dog park and my neighborhood have increased my hopefulness that God is moving in others' hearts. I find myself starting to pray out loud for those we'll meet while I drive to the park with my dog. As I park my car and catch a glimpse of the dogs and their owners at the park, I ask God to guide Sobe to play with the dogs belonging to the people God wants me to interact with.
I don't have any children yet, but as I talk about my experiences at the dog park with others, my friends with children express how similar it is to their experiences with fellow parents at the park or at school. Kids have a way of breaking through our discomfort as well.
Commission work can happen in unexpected ways through the resources and opportunities that God has uniquely given us. We don't have to be very strong or impressive people, but we can be open to the opportunities God has already placed before us.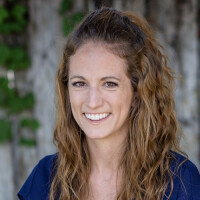 Marie Fang has attended The River since 2012 and serves as worship coordinator. Before moving to the Bay Area, Marie was involved in InterVarsity Christian Fellowship and at Coast Vineyard Church in San Diego. She has a doctorate in clinical psychology, is a licensed clinical psychologist, and works part-time at a Christian practice.
Marie and her husband, Daniel, have been married since 2009. Marie is passionate about learning to love those who are frequently unloved and guiding others in their journey of developing a healthy sense of identity.