Discovering the Power of the Sabbath
In the fast-paced, high-achievement culture of Silicon Valley, taking a full Sabbath day feels like a monumental, and often impossible, achievement.
In my old job, when I tried to protect a work-free weekend day, I found I was still cramming 70-plus hours of work into 50-60 hours. So, a day off hardly felt restful. Or, I would fill my day off with social activity because I felt guilty for all the times I was too busy to invest in relationships. I only thought of Sabbath as the discipline of taking a break from work. But there's so much so much more that God wants to give me in that time.
This summer, our small group read the book The Good and Beautiful God, in which author James Bryan Smith talks about soul training. I am not an athletic person, but this reframing makes a lot of sense to me. In the same way that athletes run and lift weights and practice repeatedly so they can perform well in competition, the spiritual disciplines are wise practices that can train and transform our hearts.
One of my favorite soul-training exercises from the book encouraged our awareness of creation. We were prompted to take a walk outside, ideally in a park or somewhere untouched by humans, and to jot down everything we saw as if we were describing it to someone who had never experienced the beauty of the created world.
I happened to be in Lake Tahoe that week, which provided a very rich experience of marveling at the handiwork of our great creator God. It's hard not to be in awe when gazing at waters of the deepest blue surrounded by endless trees dancing in the breeze.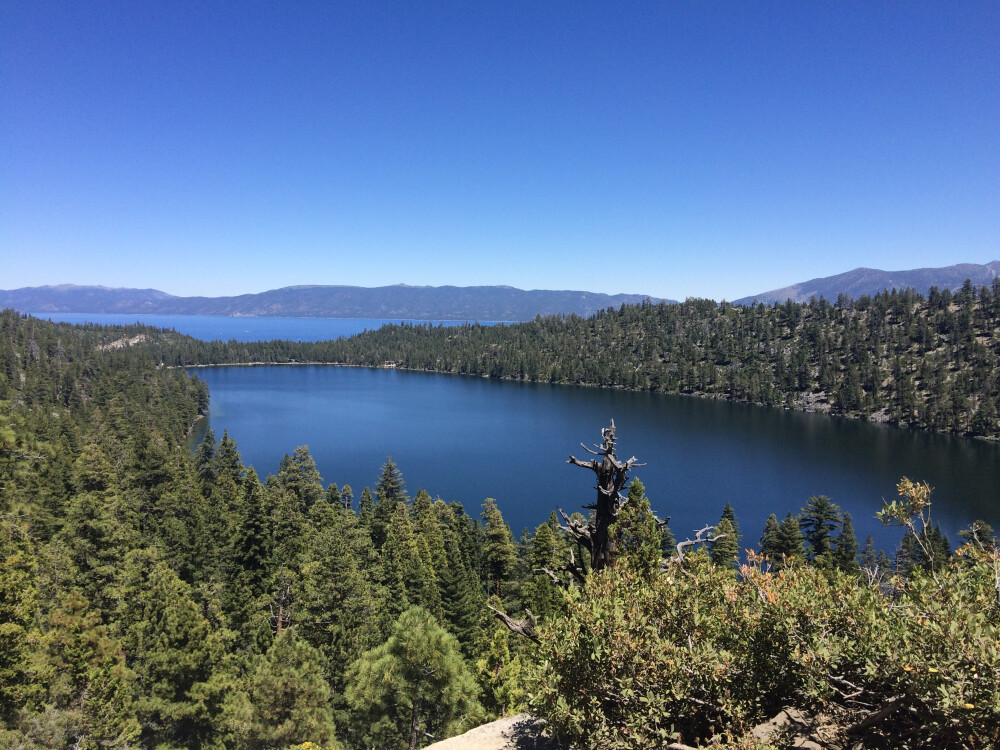 Image credit: Deborah Woo
And there, in the midst of creation, I had no sense of time or my to-do list. Just me and God, in stillness and silence. Usually I hate silence. But I found myself thinking, I want more of this.
After one particularly tiring Sunday in late fall, my soul was craving something. The next morning, I knew that I needed to get myself to a mountaintop. I grabbed my iPod and journal and went in search of a view.
But as I walked along a trail at Castle Rock State Park in Los Gatos, I never thought to pull out my headphones. My usual strategy for drowning out noise around me or my own racing thoughts was not needed. I focused on putting one foot in front of the other and soaking in the beauty around me. My mind emptied of worries and burdens. And then I came across this view.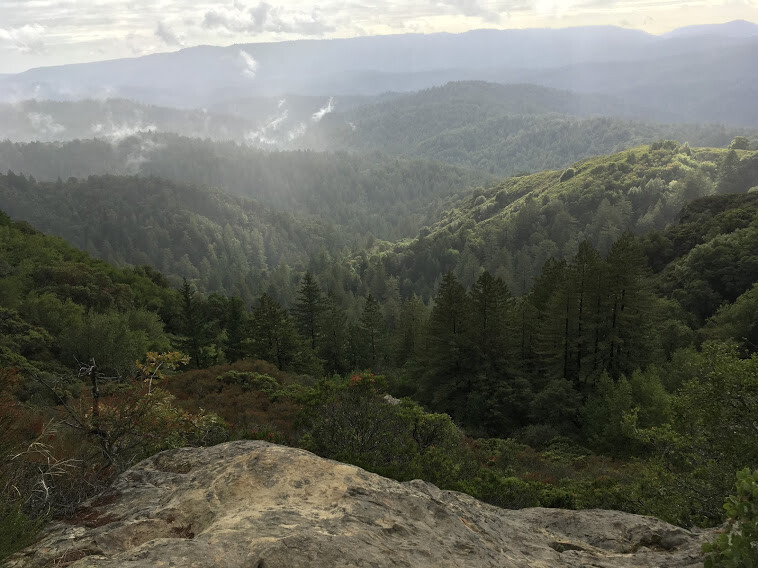 Image credit: Deborah Woo
I was struck anew by the greatness of our God. What a wonderful maker.
As I went about the rest of my week, I realized how refreshing my time at Castle Rock had been. I was more attuned to seeing God's work around me.
So I went on another hike the following Monday, and the Monday after that. I almost derailed myself by thinking I needed to use that time in focused prayer. It took me a while to realize that the power of hiking was not in how I filled the time. Doing something that took more effort than walking around my block forced my brain off my to-do list and other worries so that I could be present to the moment. Being in nature attuned my brain to the way God was at work in small details. And faithfully creating space through Monday hikes was training my soul to be more aware of God.
During late December and most of January, I didn't go hiking. Between holidays, rainy days, and a couple weeks sitting in the hospital with my ailing grandmother, there had been no time.
I wish I could say my soul training buoyed me through that difficult time. But, as my grandmother's condition progressed from bad to worse, I struggled to pray. It felt futile to pray for healing, given her age and compounding health issues. I was scared to pray and have my prayers go unanswered. I did not want to set myself up to be disappointed by God.
So rather than inviting him into my pain and trusting him with my doubts and questions, I kept God at arm's length. I welcomed the prayers of others for my family. Without regular Sabbath hikes or times in prayer, the gulf between God and me widened.
When my grandmother passed away January 11, I thanked God that she was home with him and was grateful that I'll get to see her again someday. But, beyond that, I still felt unable to pray.
At the end of January, on my first day back on a trail, I realized my training had not been in vain. As I put one foot in front of the other and my worries and masks began to fall away, I felt myself inching back across that divide toward God. I was struck by the vibrancy of life around me, and I could hear the chorus, "This is what you do, you make me come alive…" echoing in my head. I could feel God pulling me closer with each new bloom I passed.
I found myself along an overflowing stream and praised God for his provision in the midst of drought. With my heart refocused on the handiwork of our creator God, I kept praying. Words of thanksgiving over God's creativity gave way to praise for the ways that he is good. As I remembered his goodness, the burden of my unvoiced pain began to lift. A good God can handle my doubts and wants to hear my questions. He can be trusted with my pain and will meet me in the midst of it if let him.
I'm looking forward to my weekly Sabbaths to see how God continues to replace my grief with his peace and draws me ever closer to his heart.
Deborah Woo has been attending The River since 2014. She is a Bay Area native who grew up attending First Covenant Church Oakland, and has a bachelors in psychology from Azusa Pacific University. Deborah moved to San Jose to work for the nonprofit City Year, where she spent six years providing interventions and after-school programming for students in East San Jose, and professional development for AmeriCorps volunteers. She is working on an organizational leadership masters degree through Northeastern University online and joined The River staff team as children's ministry assistant in fall 2016. She finds great joy in seeing the world and faith through the eyes of the youngest members of our wonderful community.