Don't Let Your Goals Get in the Way of Your Goals: On Having Arrived
For the past few years, my perspective on life has been shaped by the expectation that my entire life has been preparing me for what's coming next. The progression in my mind goes something like this:
Figure out I want to study sociology --> Get a degree from Cal --> Intern with Servant Partners --> Do awesome long-term community development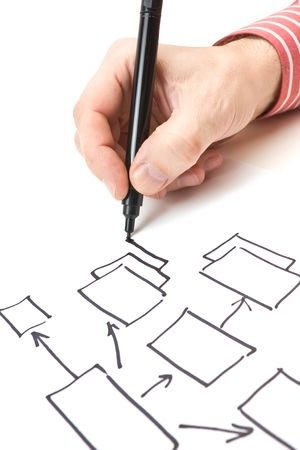 Copyright: server / 123RF Stock Photo
The thinking usually goes, "Okay, I'm here in Servant Partners for now, which is good and I'll use this experience. But, once I get to the next step, to where I really want to be, then I'll really be able to do and be everything I want to." As a corollary to this, I then begin to think, "Well, I can just wait around here and take in the things that I like until I get to the next thing, which is really what I want to do."

During my internship, this way of thinking has robbed me of full engagement. I think that I can just push the restart button in a year or so, after the internship, and make everything better. If I think something is annoying, rather than engaging my emotions and ways of thinking, I tell myself that I'll make sure this doesn't happen in the next incarnation of whatever it is that I'll be doing.
This perspective easily creates the emptiness of bitterness, isolation, and feelings of superiority. I think I know how to fix these things (which, of course, is very simple [insert sarcasm here]) while not doing anything and not asking why I feel this way, just waiting for the restart when I can finally do all the things in the way that I think are right. What's more, once I get to whatever that "next step" is, I quickly realize that there are many more steps ahead of me (Note in the flow chart above that Servant Partners was not included until nine months before I started the internship.) This further delays any changes I need to make in myself now since I never think I'm "settled enough" to do otherwise.
There are a number of reasons – social, spiritual, economic, relational, psychological – why this may be. Yet, while those things may or may not have some truth to them, the big truth that I keep pushing away is that I'll never arrive. Put another way, I already have arrived by being born, or by being born again.
I know that Jesus is a God of processes. But He is also a God of NOW. We are always in a process. But Jesus calls us to engage NOW, to listen NOW, to pray NOW, to live fully NOW. We know full well that now is not perfect—that's what the process is for. But, the process doesn't mean anything if we are not participating in it now.
It's easy for me to focus on the problems of now and imagine a different world where things are much better for everyone. I think this is actually a gift from God (at least, the latter part is). But, it's also very easy to get overwhelmed by those thoughts, to start blaming others, and to be too bitter and confused to even take the first step towards transformation. I'm experiencing that struggle right now as I prepare for a presentation on social problems. There are so many things that stand in the way of our living fully that, when we focus on those problems, it's hard to imagine how we can begin to live fully right now, or even begin to do so. But this is one of the goals of Christ's creating and calling us – to live fully in His Kingdom.
I've often heard that when you are involved in ministry (obviously a good thing, trying to develop individuals and churches to fulfill their God-given purposes) it is very easy to neglect caring for your own soul and wellbeing. It's easy to focus so much on one (albeit noble) goal that other important ones fall to the wayside.
This has been all too true in my experience. See, one of my goals in ministry is to be a part of creating a community where everyone can live to the full extent of their God-given potential. But another one of my goals is for myself to live fully right now.

So, don't let your goals get in the way of your goals.
Can you relate to Steven's experience of looking ahead to the next thing instead of engaging in the present? If God is truly a God of NOW, how would that change how you are living your life?
| | |
| --- | --- |
| | Steven Rozzi is currently a Servant Partners intern in San Jose. In August of 2013 he graduated from UC Berkeley with a BA in Sociology. After graduating high school he spent nine months with Youth With a Mission (YWAM) in Chile, England, and Thailand. However, through his love of travel - visiting multiple countries and driving a number of interstate (and intrastate) road trips - Steven's love for his native Bay Area has grown all the more. His passions include playing guitar, discussing grand social theory, drinking coffee, and being a quarter Danish. |