For the past few years, I've had a complicated relationship with Easter.
In early April 2014, I lost one of my best friends from college in a scuba diving accident. A few weeks later, I missed church on Easter because I was on a plane for a family trip. Well, I don't really feel much like celebrating anyway, I thought.
And that's been the theme of the past few years.
The declarations of Christ's victory over the grave just haven't felt the same when I still can't understand why my friend died so young.
If Christ conquered death, then why is my friend gone?
Where is death's sting? Right here, stabbing me in the heart over and over again.
God's breathing new life into what was dead? Not always!
Often, grief's specter begins to loom as the Lenten season begins and it morphs my experience of musical worship. Usually, worship provides me a meaningful space to connect with God and be reminded of His goodness and faithfulness. Instead, in my anguished state I will find myself unable to sing the words to many songs.
"You give and take away…"
So does that mean you made this accident happen?
"You are good…"
Well are you? It sure doesn't feel that way right now.
"I surrender all…"
Surrender what? Haven't you taken enough?
I felt a familiar anxiety mounting as April and Easter approached this year. But its grasp on my heart didn't feel quite so overwhelming.
Some of that is likely due to engaging in therapy over the past several months and having a trusted guide help me unpack and understand my emotional world a lot better.
But it's also because of ways God has been speaking to me in the past few months.
I know many people, transplants to the Bay Area and native Californians alike, have been struck by the beauty of the rolling green hills surrounding us after so much rain in the past several months. It particularly struck me on a recent drive out to the Central Valley. I drive through the Altamont Pass multiple times a year and it is always hot, dry, and brown, no matter how much rain there has been. It is currently a lush, green wonderland.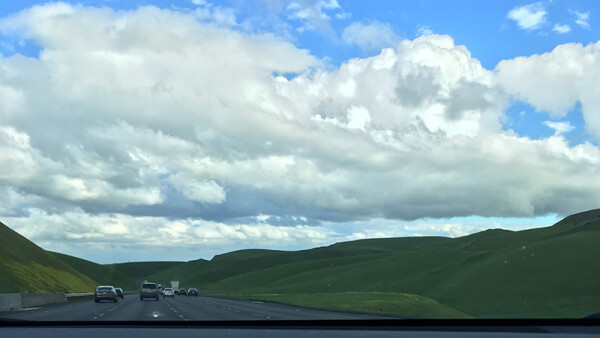 Image courtesy of Deborah Woo
As I drove through this mesmerizing green landscape, I found myself thinking about God's ability to make all things new. Even in the driest places, He is able to bring new life.
If God can bring such beauty here, perhaps even in the parts of me that feel dark and lost, He is bringing new life.
A few weeks ago I was hiking in Uvas Canyon. There's a trail with markers drawing attention to different things along the path and at two points there were signs for a dry wash. But as I looked up, in both of these places I could see water trickling down.
Look at that! That spot on the hill that has been dry long enough that there is a permanent sign calling it a dry wash, even that has water!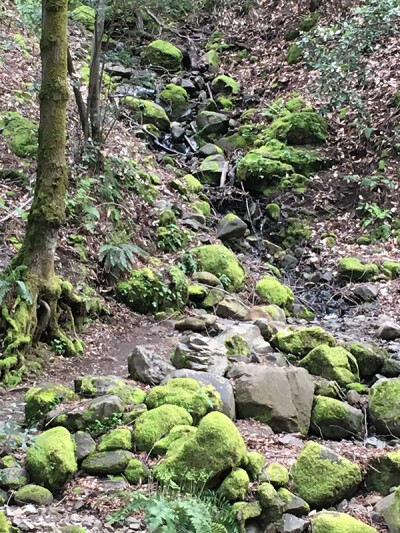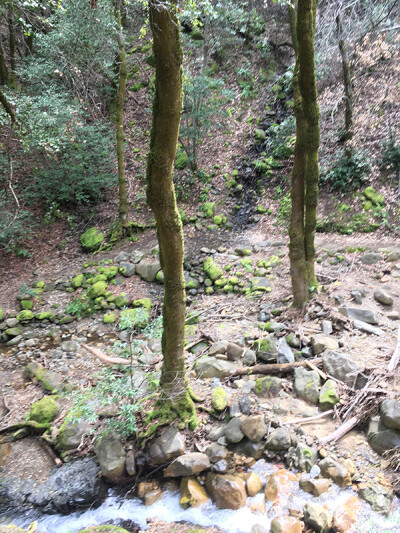 Images courtesy of Deborah Woo
Turns out, 'dry wash' is actually just a term for a seasonal water way that sometimes dries up, but I didn't know that, and in the moment it did not matter. To me it was another beautiful reminder of God's ability to make all things new.
Part of why I get anxious around Easter is that I wonder if something is wrong with me when year after year I still feel crushed by my grief. I wonder why I am having such a hard time healing and trusting God. Will I always feel this way? What do these scars on my heart mean for my ability to let people get close to me—in friendships or romantic relationships? Am I scared of having meaningful connections and then losing them?
This year, with the reminders of all that God is able to make new, I am starting to replay the past five years with different eyes.
Instead of the birthdays, weddings, and reunions my friend has missed, I see the ways I've learned to be more present to, and appreciative of, such special occasions.
Instead of focusing on all these moments that we didn't get to share with her here on earth, I marvel that my dear friend has already had five years to experience the fullness of God's presence and how beautiful and wonderful that must be.
And in the imagery of Easter: instead of pain, I find solace.
During Holy Week our small group read a passage from Philip Yancey's book Where is God When it Hurts?. Yancey quotes the missionary surgeon Dr. Paul Brand:
"And then there were his resurrected hands. One of the things I find most astounding is that, though we think of the future life as something perfected, when Christ appeared to his disciples he said, 'Come look at my hands,' and he invited Thomas to put his finger into the print of the nail. Why did he want to keep the wounds of his humanity? Wasn't it because he wanted to carry back with him an eternal reminder of the sufferings of those on Earth? He carried the marks of suffering so he could continue to understand the needs of those suffering. He wanted to be forever one with us."

He forever bears the marks of his suffering to show us that we are not alone in ours.
I sometimes think that my pain keeps me from God. That I somehow need to get a handle on my gaping wound of grief, and then I'll be able to experience a deeper walk with God. But Jesus also felt deep pain and sorrow. He pleaded with God and wondered if the Father had forsaken him. Just like God had not abandoned him, as dark as things may sometimes feel, God has not abandoned me.
This year, in the midst of my unanswerable questions, I choose to reclaim the glory and victory of Easter, instead of shying away.
Though really, just like on Calvary, it is God reclaiming me.
Deborah Woo has been attending The River since 2014. She is a Bay Area native who grew up attending First Covenant Church Oakland and loves watching The River get integrated into the Evangelical Covenant denomination. With a bachelors in psychology from Azusa Pacific University and Masters in Organizational Leadership from Northeastern University, she essentially loves figuring out what makes people tick and how to bring out the best in them. She joined The River staff team in 2016 and enjoys using her administrative gifts to help our growing community! Deborah's favorite thing about The River is that it's a place where people are honest about the non-linear nature of their faith journeys and the invitation for people from a variety of backgrounds to learn alongside and from one another in pursuit of the heart of Jesus.