Easy Breezy, Lemon Squeezy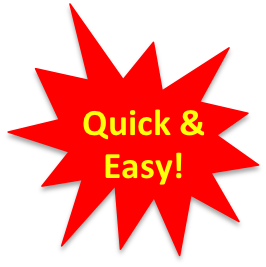 Have you ever had thoughts like these?
If I get a raise, I'll be happy.
If I find a girlfriend, my life will be complete.
If my kids do what I ask the first time, I'll be content.
If my parents buy me the new iPhone 6, I'll never ask for anything else again.
This is how my mind works. At some point, I have thought:
If I change locations, all of my job dissatisfaction will go away.
If I hang out with a new group of friends, I won't have to deal with any more drama.
If I leave teaching, I'll be able to have normal work hours.
I don't know about you, but I can hear the ridiculousness of those statements even as I type them. Okay, maybe ridiculous is too harsh, but God is showing me how unrealistic my thinking has been. Leaving one situation or group of people won't actually solve anything. The problems and issues that bug us will always resurface. The specific people, places, and things might change, but those nagging issues will remain the same. They may seem to disappear, but trust me, they'll turn up again.
I took a huge step of faith last year when I left the stability of teaching and started working for a nonprofit. I know God never promised life would be easy, but my irrational logic still thought God would give me a break and make my big transition pretty painless. You know, if I trust God and take a big step of faith, He'll reward me by making everything go smoothly.
I never verbalized this thought out loud or even knew it was in the back of my mind, but it sure reared its ugly head quickly. The first few months at my new job didn't go the way I thought they would. It wasn't what I expected. I found myself disgruntled with the way things were going. I could feel the disappointment and doubt creeping in. Had I made the right choice? Was this really where God wanted me? Come on, I stood up on stage in front of the whole congregation and told them I felt like God wanted me to go to this organization. What was I going to do if it turned out that wasn't God's will after all? I was going to look like a big, fat idiot! Or at least, that's what the enemy kept whispering in my ear.
Truth: God never promised things would be easy when we follow him. Even the oft-quoted Jeremiah 29:11 doesn't specify easy. "'For I know the plans I have for you,' declares the Lord, 'plans to prosper you and not to harm you, plans to give you hope and a future'" (NIV). Prosper. Hope. Future. Nope, nothing in there about easy. I may know that truth in my head, but when I'm busy, busy, busy, and not spending time in Scripture, it's much too easy for the enemy to cultivate my irrational thought processes.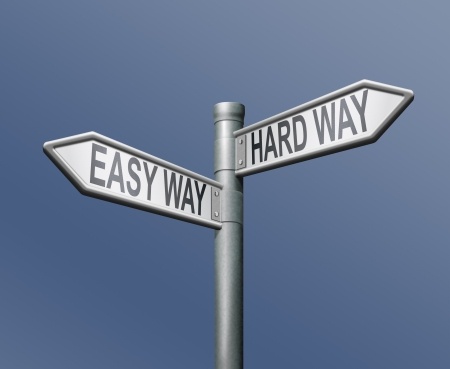 Copyright: dirkercken / 123RF Stock Photo
Thankfully, God graciously opened my eyes to my distorted way of thinking. Instead of being dissatisfied with the realities of my new job, God showed me how unrealistic my expectations were. He showed me how the things that bugged me were the same things that annoyed me in previous situations. Different people, places, and situations, but the issues were the same. That meant there was something God wanted me to work on. So that's what I'm doing now.
Instead of looking at my new job through the grass-is-always-greener lens, I can appreciate it for what it is. As it is. Instead of being dissatisfied with imperfect coworkers, I can accept them for who they are. As they are. Being mindful of the sacrifice God made for me and my incredibly broken and flawed self humbles me. God accepts me. As I am. That truth makes me thankful and appreciative for all that I have been freely given. Instead of wishing for some sort of fictional, idealized work environment, I could appreciate the awesomeness God has placed me in, because this is where God wants me. I really do believe that.
Taking time to slow down and listen to God is what has made the big difference for me the past couple of months. Rereading stories of God's people and how they did not have it easy helps keep my mind from going down that path of irrational thinking. Telling the enemy to back off when he's whispering lies in my ears is empowering. It may not be easy, but it is good. Good for me, good for my thought processes, good for my soul, and ultimately, good for God's kingdom.
Do you ever find yourself thinking that everything will get better--as soon as you get that one thing you've been wanting? Do you have challenges and issues that keep coming up for you regardless of your circumstances? How have you experienced God's grace and gentle teaching in the midst of that?
| | |
| --- | --- |
| | Lorianne Lee didn't grow up in the church. She accepted Christ in high school but had no one to mentor her. After she did the whole crazy college thing, Lorianne realized God was the only one who would never leave her. It was then Lorianne recommitted her life to Christ, found The River, and got baptized. She used to think once you became a Christian you would be all "fixed." Not! Lorianne has been on a healing journey for most of her life, and she is quick to point out that God has been faithfully with her the entire time. |