I may have written this post, or one similar to it, before. I will write it again, because I continue to bump up against the need to learn the same lesson. I internally rail against the drudgery of ordinary life and look for escape. The unending repetitive nature of grocery shopping, packing lunches, making meals, running kids to school, picking kids up from school, homework, laundry, homework and more laundry makes me want another life. But then, I'm sure, I would rail against the ordinariness of that life too. And I would probably miss my kids.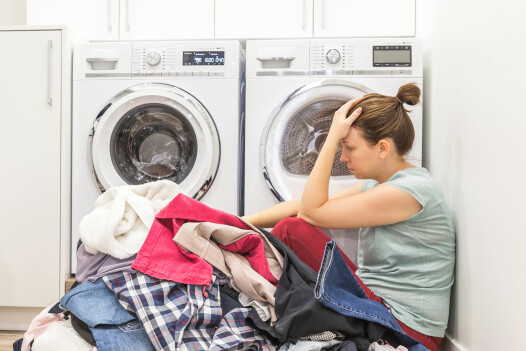 Copyright: Maria Kraynova / 123rf
Increasingly, our culture feeds this dissatisfaction with the ordinary and provides us with distractions from it 24/7. Predictably, my most common vice is my phone. It's so much easier to check the news, weather, emails, texts, and social media than to wash the dishes, start the laundry, finish the laundry, etc.
Productivity guru, Francisco Sáez, writes on his blog that "We are getting more and more accustomed to jumping from task to task every few minutes and we find it increasingly difficult to stay concentrated on a single task for a long time. Attention is something that must be trained, and this constant blast of interruptions produces the opposite effect. It impairs our ability to concentrate."
This results in a number of negative consequences—decreasing creativity, efficiency, productivity, and deterioration of relationships. I see this in real time all around me. I have a number of creative projects I'd like to make progress on, but I don't make the time to get started on them. Or, I can't finish a project that I've started because I get distracted along the way with multiple other to-dos, tasks, or other projects. Instead, I waste my time in multiple ten-minute increments on my phone throughout the day. At the end of the day, I am once again no further along in my more meaningful, soul-feeding work.
I also see it affect my relationship with my children. When I take the time to pay attention to them and connect, it often leads to meaningful time. But often, it's easier for me to ignore the opportunity and choose an easier distraction. I'm teaching them bad habits as they quickly approach their own technology-owning days.
My antidote to distraction and dissatisfaction is this—to accept and embrace the ordinary. My intention is this: to embrace my everyday, ordinary life as an offering to God.
But even with a vision and intention to change, without a means to that change, we likely will not change. The ways I intend to bring about change is first to practice submitting to my life as it is. In The Making of an Ordinary Saint, Nathan Foster writes that he "encountered a deep serenity from surrendering my desires and accepting life for what it is and not what I want it to be." If I can relax into my life, reminding myself that this is a phase of life that will soon pass, I can practice enjoying it more. Being present to the moment and speaking truth to dissatisfaction can help me recognize the available enjoyment.
I will also practice fasting from my phone. We recently got a puppy. My life has changed significantly. I haven't had as much time for my phone while chasing him around and potty training him. It's helped me to break my phone habit. However, after about a week, I spent a day checking it more often. I could physically and mentally feel my energy and mood change. It was a stark reminder that my life is more engaged and fulfilling off of my phone. I am working on setting rules for my personal usage.
In Philippians 4:8 (NIV), Paul tell us, "Finally, brothers and sisters, whatever is true, whatever is noble, whatever is right, whatever is pure, whatever is lovely, whatever is admirable—if anything is excellent or praiseworthy—think about such things."
It is through the practice and discipline of choosing worthy content to fill my mind, that I will find growth, peace, and joy—an immeasurable gift.
Foster adds, "Anything I had become good at happened not overnight but slowly, steadily, by repetition." It will take time and practice to make progress. And when I fail, I fall back on grace to give me the courage to keep going on.

Growing up, Molly Meyer wanted to be a professional cheerleader. When she realized she had no natural talent for it, she decided to be an engineer instead. Currently she calls herself a stay-at-home mom for her three children. She finds this phase of life joyful, humbling, and challenging. She hopes that God is doing a transforming work in her and preparing her to make an impact in the lives of her children and the world around her.