Freedom From the Fear of Death
Since the children have flesh and blood, he too shared in their humanity so that by his death he might break the power of him who holds the power of death—that is, the devil—and free those who all their lives were held in slavery by their fear of death. - Hebrews 2:14-15 (NIV)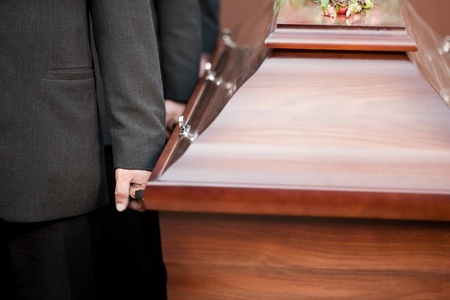 Copyright: kzenon / 123RF Stock Photo
I'm driving my friend Ian to chemotherapy last summer after his bone marrow transplant has failed to hold back the surging tide of leukemia. We are all crying out to God for a miracle. I realize my breathing is short and my pulse is accelerated; I am sweating like it's a big job interview. It feels like death is in the backseat, looking at both of us.
But the sun is out. This is a really good day for Ian's energy level. He's smiling a lot. He's actually doing stock trading in the passenger seat while I drive. He's excitedly sharing about Disney's long-term outlook after it purchased all the rights to Star Wars forever.
But what he's saying sounds like "blah, blah" to me as I sense the shadow of death over us both. He could be dead in a month, and he's stock trading without fear. He has a wife and two young daughters, and he's stock trading like he hasn't a worry in the world.
I am healthier than I have been my whole life, but all I can do is wrestle with this fear by trying to focus on the road while praying under my breath, "Jesus, mercy. Jesus, come." As the road flies by on a beautiful Peninsula day, I feel like we are on a death rollercoaster, hoping that Jesus will send us around the track of life one more time instead of letting death dump us out at the end of this lap.
In Sanskrit they call it Abhinivesha, the fear of death. It is the final layer of the five basic fears that multiply all human misery. It involves the fear of losing any blessings we have, but also the fear that misery will continue, that all your addicted relatives will never change and end up living in your basement until you die.
My first real experience with Abhinivesha was on my family's route home from church. I only read the big letters on the side of the building once: Pettigrew & Sons Casket Company. I never read that sign again. I can remember, as an eight-year-old, forcing myself to look the other way as we drove by every week. Abhinivesha weighing down my tiny, fragile soul.
I am not eight anymore. I have lost really close friends—vigorous, athletic, godly young men like Ian. I have faced death in my own years of chronic illness. I have experienced the power of Jesus freeing me from the fear of my own death.
I am convinced that God raised up Jesus' mutilated, Roman-army-desecrated body after three days, destroying the power of death forever. I have witnessed him continue to heal the same way he did two thousand years ago. Death is not my master.
Ian has asked me to journey with him through cancer because I am a person he can talk with about everything. So, how do I walk in this truth while I feel death's shadow so strongly? How do I walk alongside Ian and others who love him in our community in honesty about death but also in a hope connected to Jesus' victory?
I wish I was further along the journey. I wish I was a "holy man." But even now I'm beginning to accept that Abhinivesha will be with us as long as we are in these bodies. Its presence doesn't mean we are spiritual losers—just human beings.
However, we do need to pay attention to the ways the fear of death insinuates itself in our lives. The fear of death is not just in the cancer ward where Ian has lived for months or in my anxious body on the car ride to chemo last summer. It's in my prayers for his healing, my desperate longing and banging on heaven's door that he would live. Do I bang on heaven's door with loud prayers for Ian's sake or to muscle up on my fear of death? Medical experiments on healing prayer have found that simply lifting someone up to God in quiet trust has the same "healing rate" as all the shouting, binding, and breaking we do when we want to get death in a headlock.
It's a paradox: when I am aware of the fear of death in my prayers, I am also far more aware of God's goodness and creative ability to save and resurrect in ways I could never conceive. I'm more expectant and at peace, leaving outcomes in God's hands.
God knows how much the fear of death lives with us in our prayers and acts of compassion. I do much better as a friend and an intercessor when I accept its presence as part of life in frail bodies. The fear of death is, after all, just fear. Abhinivesha is not substantial like a resurrected Lord. It is not substantial like the affection that causes friends to bring dinner to Ian's family, or like the amazing love I see between Ian and his wife, Christy, as they deal with his body like it is a wonderful daily practice of joy.
The decline and death of the young and hale are a divine invitation for the rest of us to examine our own lives. Ian's imminent death (barring a first-order miracle of resurrection) invites us to face how Abhinivesha in all its forms has its tentacles in our lives. We get the facial peel, the hair coloring, the eye surgery. We avoid the wisdom journey and associating with the elderly. We adopt theologies and prayer styles that we hope give us control over death. I wonder where Abhinivesha might be at work in your life?
Death and the fear of death are awful enemies. But when we recognize them, yet persist in loving and living in the light of the substance of Christian hope, we don't have to live as their slaves. When we turn to our resurrected Lord and tap into the infinite riches of his indestructible life, what freedom can we experience! The fear of death is, after all, just fear.
Mark Phifer-Houseman has been married to his best friend and hero, Gayll, for thirty years. He has been enchanted by Jesus since sophomore year in college. That pursuit led to twenty-four years of ministry to college students before he became The River's staff director in 2008. Notable accomplishments include clinging to Jesus while being disabled on and off for fourteen years with chronic neuropathy and following Gayll's leadership in adopting their four children from Ethiopia in 2003. He loves seeing young people come alive to God, anything related to living out the radical love of the Bible, and families and churches thriving (including his own).