Knitting My Way Through Grief and New Life
Knitting has always been a central part of my life. In the fourth grade, my favorite show was The Carroll Duvall Show (kudos if you've even heard of it). Think of Carroll Duvall as a low-tech Martha Stewart, featuring craft ideas your grandma would give you for Christmas. My kind of show! In one episode, Carroll featured a guest who did a brief tutorial about knitting. I saw it, and I knew I had to learn. I stole my mom's yarn and started knitting.
This was before the internet. I didn't have any additional tools to teach me, I simply recalled it from memory. I didn't know, at the time, how atypical it was for a fourth grader to pick up knitting from a 10-minute television segment. But as you'll see, I believe God's hand was in this part of my story.
When my husband Daniel and I got married, we knew it would only be a matter of time before we brought a furry friend into our home. Six months into our marriage we adopted our cat, Johnny.
In February, just over nine years later, he suddenly fell ill. We made the difficult decision to let him go.
Johnny was my special little buddy. We always joked that he was a grumpy old man, but at his core he was a sweet kitty. Every morning he hopped into bed with me and cuddled while "kneading the dough" with his paws and purring. I would pet him as I meditated and prepared my mind for the day.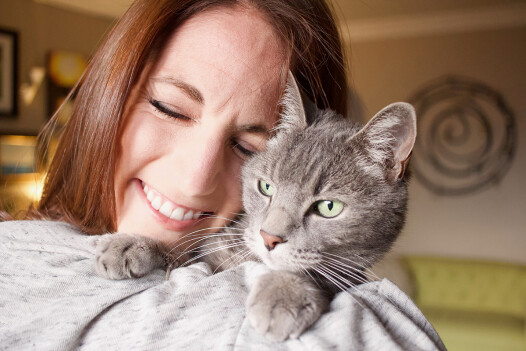 In the evenings, Johnny would return to my lap and sit with me no matter what I was doing — even if it meant plopping himself on top of my laptop or chomping on my yarn while I knit.
When it came time to say farewell, the loss really hit me. Johnny had been with Daniel and me through all the ups and downs of the past nine years.
Reflecting back on our years with Johnny, Daniel and I observed that the end of our cat's life really seems to coincide with the end of a chapter in our lives and the start of a new one. In past Estuaries posts, I've shared about some significant losses throughout the past several years. But recently it seems the tide has been turning. Beginning in 2018, I really felt a sense of newness and growth. I felt eager to lean in, rather than pull away from all that life threw at me.
Often with newness comes big change. While on vacation in Hawaii last December, Daniel and I were delighted to discover that I am pregnant — we're bringing a new person into the world! Talk about a new chapter bringing big change.
This was a highly anticipated event for me (note: we've been married nearly 10 years). Having spent my whole life knitting gifts for other people's babies, I was so eager to start creating a blanket for our child. I coped with my first trimester symptoms by knitting a baby blanket for littlest Fang.
Whenever I knit a creation for someone else, it becomes so much more than just an opportunity to simply keep my hands busy when I'm not feeling well. The creation takes on a life of its own. As a contemplative type, the time I spend focusing on the rhythm of my hands passing yarn through the needles allows space for me to focus on who the creation is for. It allows an opportunity to pray for the person I'm knitting for, while I also process my own emotions.
So knitting a blankie for baby Fang really allowed reality to set in: there's a baby inside of me! Somehow, seeing the physical object of a blanket — intended for a human whom I haven't seen yet — makes it feel like it's actually happening. And not only is there a new person emerging into the world, but somehow I also have the privilege of being responsible for this person (queue anxiety). The knitting helps soothe my nerves as they flare up, allowing them to settle back down like a wave that comes and goes.
Knitting, for me, is a combination of intercessory prayer, meditative practice, personal therapy, and spiritual direction.
As I knit this blanket for our newest family member in the earlier weeks of my pregnancy, per usual, Johnny found my lap extra enticing. Who wouldn't want to lie down on a snuggly blanket — that's kind of the whole idea, right? Even better when there is really enticing yarn to swat at, always dangling next to you.
Johnny and I had a little dance we usually did while I was knitting. I'd pull out the knitting, Johnny would spot it, I let him snuggle with it for a bit, and then boot him off my lap when it was time to flip the project over to start a new row. He'd wait a moment, and then we'd repeat the process all over again.
For some reason while making this blanket for our baby, I saw Johnny eyeing my work and my initial instinct was to keep him off the blanket. I didn't want to get cat fur everywhere before baby had even arrived. I chalk it up to this protective motherly instinct that seems to have emerged since becoming pregnant. Got to protect baby from kitty. But before I could hold Johnny back from doing his little dance, I had a second thought: This baby is Johnny's family, too. So instead of following my instinct, I welcomed Johnny onto the blanket. While I worked on it, I liked to think that he knew who it was for, and that it was all the more special to him because of it.
When Johnny passed, I was about halfway finished making the baby blanket. I took a day off to create space for my grief, but I was so overcome that I didn't know what to do other than knit. Instinctively I picked up the baby blanket. As I sat down to begin knitting, I was hit with the realization that Johnny had just snuggled with me and this blanket, while I knit the day before. Then an array of realizations hit me all at once: Johnny would never have the chance to meet our baby, and our baby wouldn't have a chance to meet him. This blanket would be the closest they'd get to being able to connect with each other. Suddenly, I was so grateful that I didn't make Johnny keep off of this blanket. He got to add his own special touch to it, as he would "knead the dough" and purr with it.
Death and new life truly exist in the same breath. My whole life has been a testament to how suffering and growth always coincide in a messy, beautiful way. Knitting has been a central tool in how I allow myself to fully hold the emotions of each, in tension with each other. I believe God had his hand in allowing me to learn how to knit from that segment on Carroll Duvall. It's a spiritual discipline that allows me to draw closer to who he is and who he wants me to be.
And when the day arrives, I'll wrap baby up in the knitted blanket and be grateful for new life, while also feeling the sadness that Johnny could only be there through the bits of love he put into that blanket with me.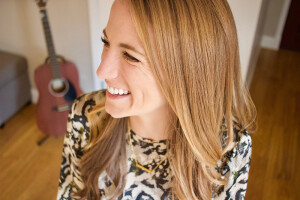 Marie Fang has attended The River since 2012. Before moving to the Bay Area, Marie was involved in InterVarsity Christian Fellowship and at Coast Vineyard Church in San Diego. She runs her own private practice in San Jose as a Christian psychologist.

Marie and her husband, Daniel, have been married since 2009. Marie is passionate about learning to love those who are frequently unloved, meeting with those on the margins of church, and guiding others in their journey of developing a healthy sense of identity.