A few weeks ago, I was catching up with a client in my headhunting business that I have known for many years. He was frustrated with his current role. Since his skill set fell outside my core focus, I held little hope that I could help as effectively and efficiently as he desired.
That same night, I received an email from a client asking me to help his company with a search for a Cost Accounting Manager, a job that provided a 100% skill set match with the candidate I had spoken to only hours earlier.
In that moment I felt blessed. This was an opportunity that God was providing, and I was comforted that he was involved.
Copyright: rawpixel / 123RF Stock Photo
This is an example of how clearly I can see God in the midst of my work as a recruiter. Not only on the good days, but also on the rough ones. Although I have known for years that he is calling me to do this work, I resist allowing him to be more involved.
I enjoyed hearing Ruben DiRado speak on faithfulness recently at church. I related to Ruben's sharing on how easy it was for him to brush off what he felt God was asking him to do, qualifying it as not possible, reasonable, or doable.
Inspired and strengthened by Ruben's sharing, I decided to lean further into my relationship with God. At work earlier this week, I took a small step I have avoided in the past. I responded to a professional contact who had challenged my blending of faith and work. I had avoided responding out of fear: fear of losing business, fear of upsetting the apple cart, fear that perhaps he was in fact shining a light on the fraud that I might be.
Here's what he wrote to me: "Hi Bill, I told you before that I'll be happy to talk after you stop fishing for business using religion as bait. Otherwise I'm not interested."
I wrote this in response:
Thank you for taking the time to respond, as I recognize this is not the first time you have called my intentions into question. I simply respected your position in the past and left it alone, and I do continue to respect how you feel. I also appreciate your honesty.
However, since we don't know one another outside of our past email exchanges, I feel compelled to ask you why you feel the way you do about my outreach. I would be interested in learning more.
I am not here to defend myself. I wanted you to know that I added aspects of my faith to my email signature and LinkedIn profile in an effort to (hopefully positively) impact the people I come in contact with on a daily basis, recognizing I am limited in my impact in the "nuts and bolts" of recruiting.
I am guilty of not sharing more of my spiritual walk, something that has been on my heart for many years. Even I call into question my title as the "Preaching Headhunter," as God is probably wondering when I am actually going to start preaching.
Not only do I respect how you feel, but I also appreciate your honesty. I wonder if there are people out there who might feel the same. Regardless, I pray that my words are received from a place of peace, hope, and love, as that is where they originated. Thank you in advance for taking the time to consider this email.
Bill
Whether or not I receive a response, this small step was my effort to tell the enemy that I will not stop trying to shine the light of God through my work.
Another small step I am committing to is a daily prayer before I make my first recruiting call each day. It usually goes something like this:
"Heavenly Father, thank you for this job, this opportunity to support my family. I place my success in your hands, confirming that your will is greater than mine. Allow me to cross paths today with those people who are most in need.
"Grant me the strength, Lord, to continue to lean into you. Leaning in to soften my heart. Leaning in to fall gracefully to my knees, serving the people that you put in front of me. Leaning in to remain mindful through prayer of all my brothers and sisters out there that may be less fortunate then myself. I do not want affirmation, Lord, for I know that I am loved by you.
"I ask this all humbly in your precious son's name, Jesus Christ. Amen."
What small step toward a deeper relationship with God can you make this week?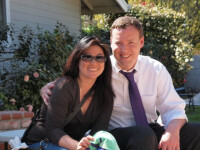 Bill Wagner loves being a husband and father. He is blessed to walk side-by-side with his wife, Kristy, raising their three children, Samuel, Graeson, and Emily. Bill was born, raised, and educated in upstate New York, and relocated to the Bay Area in 2008. He is a headhunter by day, working from home and building relationships with corporate tax & finance professionals here in Silicon Valley. He took a leave of absence in 2012-13 to deepen his walk in ministry; he is now focused on bringing his faith outside the walls of the church and into his work.