A few weeks ago, I took my son to the DMV for his driver's license test. When I got out of the car and exchanged places with his examiner, a profound sense of anxiety swept over me like a wave. For a moment, I was transported to an earlier phase of life. It felt eerily like dropping him off at preschool and enduring the pain of his separation anxiety. In both cases, I felt excruciatingly out of control.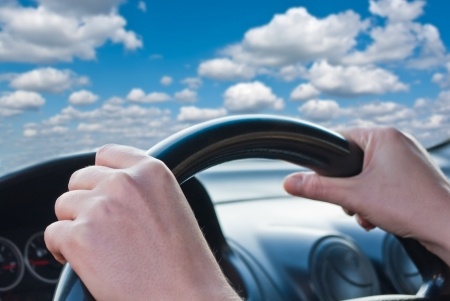 Image credit: a7880s / 123RF Stock Photo
Teaching the kids how to drive marked a new season of life. For the kids, it marked a season of independence. For me, it marked a season of learning to let go. As it turns out, it would not be an easy season for me to embrace. In the early days of driving lessons, my daughter started referring to me as "foot-stomper" because I kept jamming my foot on the floorboard as if there was a brake on the passenger side of the car.
But teaching the kids to drive was just one expression of what it would mean for me to let go of control. It seems like letting go is a central theme of this season in my life. With regard to the kids, it's a time for me to let them sit in the driver's seat regarding choices about education, career, relationships, and spirituality. Apart from the kids, there are a host of looming concerns (like aging parents, personal finances, and my own physical health) that burst my long-held illusion of invincibility.
In the midst of worrying about all these matters, I recently experienced a stretch of nights in which I was not sleeping well. Lying awake one early morning, I had a revelation: for much of my life, I've depended upon diligence to get me through uncertain times. When the going gets tough, I go into problem-solving mode. This strategy has served me pretty well over the years.
But I'm realizing that diligence has its limitations. It's most effective when I have a set of tasks to complete. It's far less helpful in my relational world — the health of which is not primarily governed by the completion of tasks. Because diligence is often an attempt to control outcomes, others in my life do not always experience it as a gift. This is especially true when young people are learning to chart their own paths.
I find the strategy of diligence to be deeply ingrained in me. Maybe that's partly due to my Asian-American genes! Or maybe it's simply my temperament. Who really knows? What's most important is that Jesus is giving me a different road to walk in this season.
What is Jesus' invitation to me through all this? As I understand it, it's to be vigilant in repenting of rehearsing worry — and to keep company with the Good Shepherd as he leads me through this dark and uncharted territory.
As I do, I sense the Spirit of God expanding and reshaping my prayers. I still pray for particular outcomes, but there are also new prayers emerging from my inner being. I find myself praying that God will grow in each of my kids a heart of courage to face challenges and inevitable failures with a resilient and hopeful spirit. And I find myself praying for an increase in my own heart's capacity to love the kids well, so that, in the midst of all their ups and downs, I might reflect to them the love of Christ that bears all things, endures all things, hopes all things, and believes all things. And, so that, whatever happens in their lives, I embody the kind of grace that makes it desirable for them to unveil their hearts to me.
To let go of control (or the illusion thereof) and to embrace the "most excellent" way of faith, hope, and love. This is my ongoing journey.



Brad Wong is the lead pastor of The River. He loves being husband to Vickie and dad to Ryan and Lauren. He studied pre-med microbiology at UC Berkeley, but his vocational path took a sharp turn in the mountains of the Philippines, where he shadowed missionaries who translated and taught the Bible.

Brad delights in exploring the world. During his time at The River, his ministry travels have taken him to Thailand, Uganda, the Philippines, China, Malawi, and Honduras.

He enjoys reading, running, Belgian ales, red wine, dark chocolate, good conversation, challenging ideas, thoughtful people, and food from every culture.
What in Brad's story resonates with you? How do you typically respond when life seems out of control, and how has this worked for you? Is there anything you need to let go of today to make space for God to lead in your life? Please share your thoughts in the comment space below.