Lessons on Empathy and Loving the Least of These
"How was your weekend?"
"G-g-g-good, Alex! I had a g-g-gr-reat weekend! I w-went to see a movie with my staf-f-f."
"Oh really? That must have been fun."
"It was, b-b-but I'm always a-a-afraid about being alon-ne, and I was afraid of leaving m-m-my house."
"Oh, I'm sorry you feel that way. I'm sure it's okay."
These are conversations I have with my clients on a regular basis. I work with mentally disabled adults as a part-time supported living assistant. These clients are high-functioning yet need companionship, care, and a lot of assistance with normal activity. In fact most of my work encompasses just "being there" and present to my clients as they go through life and learn independence. Some days I help assist them with tasks; other times my work can encompass nothing more than eating lunch with them and hearing out their problems.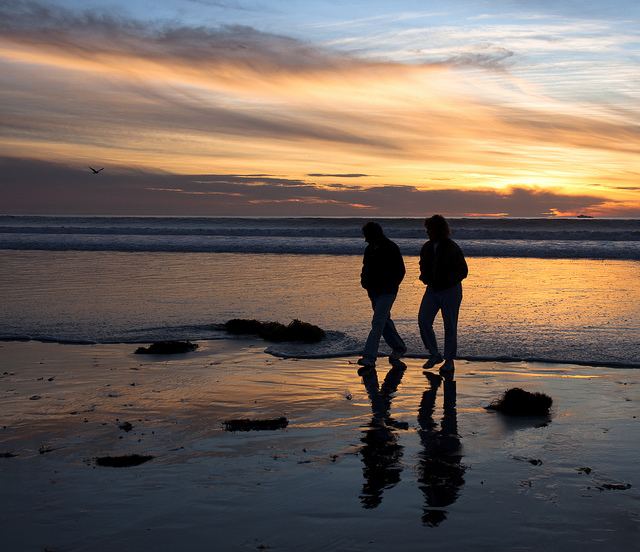 Image credit: Nathan Rupert
To be honest, it's not a very glamorous job. In a culture where so much is about having an amazing job, it can feel like my work doesn't mean much.
Working with the disabled, especially when it comes to understanding them, can be challenging at times. I sometimes feel that what disabled people go through can be trivial, such as feeling alone or being troubled by small issues that I do not think too much about. At the heart of my work, what I do seems meaningless unless I see tangible change and transformation in the lives of the people I care for. Yet through this work, God has taught me a valuable lesson in empathy and loving the "least of these."
At first I was not aware of my lack of empathy. I thought I was just doing my job. In the beginning I always pushed my clients to be more independent, trying to explain why their fears were misplaced and how they could behave properly. I was giving a whole lot of truth without much love.
My supervisor eventually told me that one of my clients didn't feel like I cared much.
I was upset. How could they say I don't care about their well-being? Don't I try to better their lives by telling them what they should be doing? I thought I was doing a good job by giving instructions and trying to explain the world from my perspective. I also dismissed the feedback by telling myself that my clients aren't cognitively fully functional.
Later I was sad because I felt like I was failing at my job. I began to pray about how to take care of my clients better, and in that moment God revealed one thing: "You are not living in your clients' world."
In fact, I was trying to be as removed from their world as possible because trying to empathize with my clients felt beneath me. And even though I listened, I had a hard time fully entering into the world of my clients and seeing things from their perspective. I realized that it was important to laugh at the things they laughed at, be concerned about the things they are concerned with, and not try to fix them.
Then God spoke to me again and asked me a very potent question. "How do you want to be treated when you are hurt?"
I realized that I would not want to be treated in the same manner I had treated my clients. So I began trying to see my clients as struggling individuals instead of just people that I work with.
Even though I enjoy helping people, that's difficult for me. It's hard because I want to see myself as above the work I do. It's challenging because a part of me wants to be in control and I desperately want to see people change without much emotional investment from me. I also like having distance from the people I work with because, like many humans, I want to avoid others' pain.
But when I look at Jesus, I see how he exemplifies a person who understands pain and suffering to its fullest. Jesus could have easily redeemed the world from a safe distance on the throne of heaven. Yet he chose to enter human suffering to redeem and restore humanity.
Entering the life of a person who is mentally disabled has been challenging because sometimes it requires me to step down from my "throne." In Silicon Valley, where stepping up in the work world and pleasing powerful people are glorified, my line of work feels countercultural. The same applies to therapists or people who work with children. This kind of work emphasizes the upside-down kingdom that God calls us to enter.
When I let down my guard to suffering, I feel like my work becomes a bit more meaningful. And the most meaningful times are not when I see my clients accomplish a growth goal or learn a new task. The small things are the most meaningful, like seeing my clients joke and laugh, or comforting them when they have a hard day.
In those moments, I see my clients not as clients or mentally disabled. Instead I see how they—like me—are created in the image of God, and are worthy of love and compassion.
Alex Ly began attending The River in the summer of 2012. Prior to this, he studied at UC Davis, where he received degrees in history and political science. He was also heavily involved in the InterVarsity chapter. He currently is a bass player on the worship team and a volunteer leader for the youth ministry. Some of the things he enjoys about The River are its emphasis on missions, diversity, and a holistic approach to faith. Two of his most impactful experiences at the church have been participating in the young adult group, and receiving inner healing through The Healing Path.


For fun, he likes playing badminton, playing bass, and going swing dancing.