Jesus, I am resting, resting, in the joy of what thou art,
I am finding out the greatness of thy loving heart.

- From "Jesus, I Am Resting," by Jean Sophia Pigott (1876)
Do you see? Do you see? All the people sinking down.
Do you care? Do you care? Are you going to let them drown?
- From "Asleep in the Light," by Keith Green (1978)
What is the life of a mature and obedient follower of Jesus? Is it mainly to be resting, trusting, and content in the great love of God—primarily concerned about healthy loving relationships close to us, taking care of our families, serving one another in church? Or, as Keith Green's song pleads, to be constantly on a mission to serve those lost spiritually and physically suffering? Instead of a life of rest, this is a life of zeal, urgency, emptying our savings for the cause of mission and the needs of the world.
As a younger Christian, I oscillated back and forth between these poles. I am old enough to have seen Keith Green in his twenties in concert. His oscillation was worse than most. One minute he would sing about how God's amazing grace sets us free to be "kids of the king, so rejoice in everything!" The next minute, without any reflection on what he had just been singing, he would begin berating his audience for going to concerts and buying Christian music instead of pouring our lives out for the poor and our families who don't yet know Christ.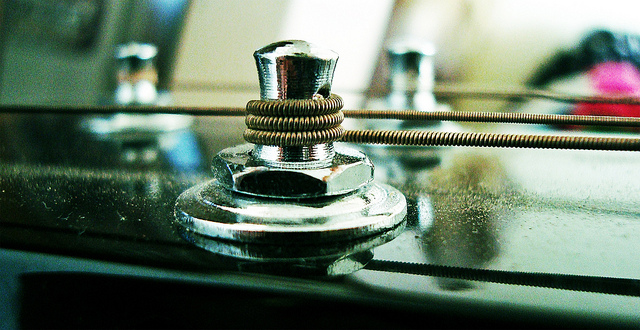 Image credit: El Ruido
Is God schizophrenic, or is it just his people? How can the song "Jesus, I Am Resting" be part of the same faith tradition as "Asleep in the Light"? Resting, trusting, and content—or zealous, sent, and urgent? Just give me one answer, please. When I was in my twenties, I left that Keith Green concert and many church services completely confused about what was important. I burned out on the electric shock of zeal and mission numerous times in those years.
Most people, by adulthood, opt for one extreme or the other, and build a nice fence so they can't see folks at the other pole. Maybe the zealous/sent/urgent pole has given us a huge electric shock one too many times. Sure, we pay lip service and we cheer for people at that pole, but we give up trying to integrate it into our own daily lives.
On my sabbatical last summer, interestingly, this tension resurfaced for me as I read more about dynamic disciple-making movements around the world, especially in countries where Christ-followers face incredible persecution. At the same time, I was preparing with the other staff to lead The River in a Soul Keeping Challenge—tuning out the channels of media and outside demands, and tuning in to the channels of God and our much-neglected souls.
I had learned to live mostly in the zealous/sent/urgent posture well into my thirties, with only Sabbaths or retreats reserved for resting and trusting. But in my late thirties I became disabled and practically housebound for several years. This thrust me deep into depression—and then into the Christian mystics and the tradition of the inner life. What a relief in my disabled state to know that there is a Holy Spirit, and I am just one of God's seven billion human children! What a joy to realize that there were many, many others carrying on the struggle for God's loving rule to be made tangible in places of great need and injustice, even if I could not participate.
After that, I became a trained spiritual director. I lost all interest in grand schemes of transforming the world, saving the world, transforming the inner city. I dialed into my own soul, my kids, and the people who came to talk with me about simple questions like Is your soul happy in God? How are you doing nurturing your soul? Are you feeding on God in such a way that you have overflowing love for your family and the people closest to you? What happens when you sit still and do nothing? Who is Jesus to you today? These were the questions I was interested in.
In my early years as a spiritual director, one of the wiser sages I have ever known told me, "Health is found in keeping the tension." How we maintain the vertical dimension of love for God with the horizontal dimension of loving our neighbors near and far is a measure of our spiritual health.
In the last seven years as a pastor, I have tried to live in this tension as I worked with our team to integrate ministries of healing and mission, soul nurture and outreach, loving one another in small group communities while still praying for our neighbors and seeking their good. Sometimes it's felt like we are in a healthy tension. Other times it's felt like we are losing ground to Silicon Valley's dominant workaholic/spendaholic/playaholic worldview.
Then what happened to me on my recent sabbatical? I went away from The River and my pastoral responsibilities to rest. But once I was rested, I was captivated by the amazing things God is doing around the world through people risking their lives, working with great zeal to see people in spiritual darkness brought from fear, superstition, and emptiness to the light of Jesus and the loving community he creates. The spiritual battles of our age are being fought in the Horn of Africa, among the millions of refugees in the Middle East, in China, and elsewhere.
I am not completely sure what my awakening to these frontline struggles mean. At my age, I certainly am not equipped to be on the front lines of this struggle in rural or urban Islamic settings or in Communist China. But I still have yearnings to be on the frontlines of this kind of mission or, at least, for our church to be connected to and blessing those who are involved in these awesome transforming movements.
In my younger years, perhaps I didn't have the roots or the inner strength to sustain such questions without jumping immediately to action. Now, I can often face them directly, knowing I am a beloved child of God with an eternal future in God's great kingdom. The tension is still painful, but it is the pain of healthy soul training. It's leading me to a deeper life of prayer, which is an unexpected fruit. I no longer have to build a suburban wall of busyness to keep out the realities of the world and my connection to those on the frontlines.
Resting with zeal? Trusting with urgency? Somehow, with God, this is the path of life.
| | |
| --- | --- |
| | Mark Phifer-Houseman has been married to his best friend and hero, Gayll, for thirty years. He has been enchanted by Jesus since sophomore year in college. That pursuit led to twenty-four years of ministry to college students before he became The River's staff director in 2008. Notable accomplishments include clinging to Jesus while being disabled on and off for fourteen years with chronic neuropathy and following Gayll's leadership in adopting their four children from Ethiopia in 2003. He loves seeing young people come alive to God, anything related to living out the radical love of the Bible, and families and churches thriving (including his own). |