Last December, about forty people gathered in our sanctuary after services. There was no lunch, no set teaching, no guest speaker. It was a time to reflect and share thoughts about race relations following the acquittal of white police officers in the deaths of Michael Brown in Ferguson, Missouri, and Eric Garner in Staten Island, New York. Both Brown and Garner were African-American.
As I looked around the room, I saw a variety of faces—black, Asian, Latino, and white. Some were people I know, others were people I've only seen across the room. Many were youthful, but there were also some more mature and wise members among us. Two young women in our church, Iheoma and Cayla, led a large group discussion time, then we broke into smaller circles to share our own stories of how race has impacted our interactions with authorities.
Some people may wonder what a conversation about race—albeit a timely and newsworthy topic—has to do with the body of Christ. During his own lifetime, Jesus was not one to stay within his own ethnic group or to shy away from difficult discussions. He brought his message to both Jew and Gentile, even Samaritan; one of his most famous parables, the Good Samaritan, highlights the power of cross-cultural compassion. Personally, I'm really thankful that our church leadership considered this discussion about race something worth talking about together.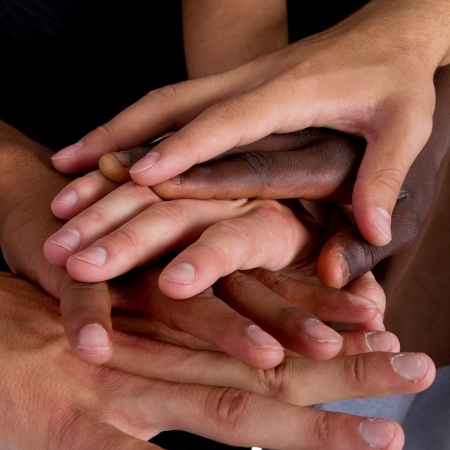 Copyright: / 123RF Stock Photo
My own spiritual walk has been supported and influenced by people of many different ethnic and cultural backgrounds. When I was a child, some of my first encounters with God came through the small Taiwanese churches of my childhood, which were filled with people who spoke the same dialect as my family, worked in generally similar jobs, and lived in similar neighborhoods. Since then, my spiritual path has taken me to a variety of racial and socioeconomic settings: an African-American-centered college Bible study, a church in rural Idaho where many of the other congregants were white or Latino, and eventually to The River. All of those experiences and all the people I've gotten to know along the journey have made an impact in my spiritual life in some way. By spending time each week with these friends, I learned about the things on their hearts, the dynamics in their families, the hurts that have plagued their communities for generations. Without being in these multicultural church communities, I'm not sure I'd had ever found myself in a farm house or learning how to make soul food corn bread or Mexican rice.
Because my family is a biracial family, we wouldn't feel like we could grow to our fullest in a church that is predominantly Asian or predominantly white. And a mixed-race congregation with only whites or Asians wouldn't feel like the right fit either.
Jesus loves the little children,
All the children of the world.
Brown and yellow,
Black and white,
They are precious in His sight.
Jesus loves the little children of the world.
In a society that is increasingly multiracial, I'm glad that The River is a place where we are welcome to worship with our full selves the way God created us, including our skin tone, hair texture, native languages and family traditions.
To be honest, there were times during the December event when I felt uncomfortable. It wasn't easy to hear other people's stories of being pulled over by police (and there were several, shared by black, Latino and Asian men). Other people shared stories of "criming while white," a phrase coined on social media referring to incidents in which Caucasian people have received only a warning or slap on the wrist when stopped by law enforcement. All these stories evoked a tangle of emotions.
Discussions about social inequity are so broad that I knew we couldn't expect to draw any conclusions from one event. But hearing other people's stories made me realize that so many experiences I assume are commonplace or universal are not. I appreciated hearing this side of life from people whom I may sit next to every Sunday, but with whom I would otherwise not have had these conversations. As the afternoon closed, we were each given a scrap of cloth to rend as a physical expression of the emotions we were feeling. While a small worship group led the singing of the song "Lift Every Voice and Sing" (commonly referred to as the Black national anthem) I felt, for a moment at least, that we were living God's exhortation to love one another.
"A new command I give you: Love one another. As I have loved you, so you must love one another. By this everyone will know that you are my disciples, if you love one another." - John 13:34-35 (NIV)
| | |
| --- | --- |
| | Grace Hwang Lynch is a freelance writer and editor and full-time mom. You can find more of her musings on raising a mixed-race Asian family, as well as some great family recipes, at HapaMama.com. |