We were in the examination room, and I was trying my hardest to hold it together. My heart was racing; tears were building up.
The doctor asked my husband and me if we had any questions. I looked at her and started to cry. I asked, "How many babies have you lost in this procedure?"
She said, "None in 26 years."
Though that was the answer I wanted to hear, it did not help me feel better. You see, I was holding our 6-month old baby, and the doctor had just told us he was going to need surgery. I don't know if anything could have made me feel better after that news.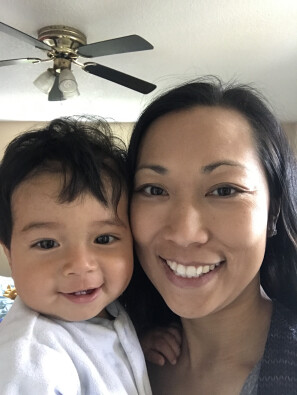 Image credit: Mary Chong Carrera
Our youngest, Sebby, was born with an unresolved issue in his body. We were told that, in some cases, the issue resolves on its own. Other times, the issue requires medical intervention.
For six months, I had been hoping that it would resolve itself. And in that exam room, when the doctor told us otherwise, my world came crashing down. I was very sad and very scared.
As the doctor walked us through the process, all I could think about was my sweet baby being put under anesthesia and not waking up. I could only think about losing him, about how he would be in that teeny tiny percentage of babies that don't make it through this procedure. I was terrified of those 2-3 hours of waiting while he was in the operating room.
I asked for prayer from others. I cried. I asked for more prayer. But I couldn't pray myself.
I was so scared that God would say, "You'll be okay. No matter what happens, I will be with you." I didn't want to hear that I would be okay. And I knew that God would be with me, no matter what.
I was sure of his promise of presence. But I was not satisfied with the promise of his presence. I wanted, I needed to hear, "Sebby will be okay. He will make it through surgery and he will be fine."
My husband, Jesús, kept encouraging me to talk to God. He said, "God will speak to you like God has spoken to me." After months of avoiding a direct conversation with God about Sebby's surgery, I was finally able to utter, "I am so scared. I know you'll be with me. I know I'll be okay. But I need to know that Sebby will be okay."
God gave me an image pretty quickly. I saw us in the hospital room with Sebby, and as he was being wheeled away, I could see Jesus walking alongside him. I cried, thankful, knowing that God would be with Sebby. But those tears still carried a lot of fear about what could happen while he was in the operating room.
My next prayer time, I had another image. I was walking with God and holding Sebby. Suddenly, a river formed in front of us. It was clear we needed to cross. God reached his arms out to take Sebby from me and, without hesitation, I gave my son to him. Of course I wanted God to carry him through the river instead of carrying him myself. I might slip and fall, but God would not lose his balance. Sebby was safest with God.
At this deepening truth, I cried. It was painful to tell God that I trusted him with Sebby because it meant that, whatever happened to him, God was in charge of his life.
I believe God is good and trustworthy. Yet I was still afraid. I did not want to lose my baby. I wanted to pray more into this image, to hear more from God, but I was frozen in my fear.
Finally, a few days before Sebby's surgery, I recognized that I did not want to go to the hospital with such a great amount of fear. So I sat in my car and prayed. "God, I trust you and I know Sebby is safest with you. But I am so scared. I can't imagine my life without my baby. Please, God, please, let him get through the surgery okay. Please, please, please."
In that moment, God took me back to our walk. After we crossed the river, God placed Sebby back into my arms. I felt a huge wave of peace and relief.
I did question if this image was from God, or if I had made it up to make myself feel better. But as I shared it with Jesús and other friends, they encouraged me to trust my relationship with God.
Though I held on to these images, I have to be honest. The fear was not completely gone on the day of Sebby's surgery. I cried when we got to the hospital. I cried when I handed Sebby over to the nurse. I cried about three times in the waiting room. And I cried when I held Sebby as he woke up in my arms after the surgery.
I was so relieved that it was over. It was one of the hardest things I've ever experienced.
But through it, I also felt a hope that came from my connection with God. When the tears came and my fears threatened my hope, I would return to the images God gave me. I knew that God was with me and Jesús in the waiting room, and with Sebby in the operating room.
God was with us as the river formed, and he carried us all safely through it.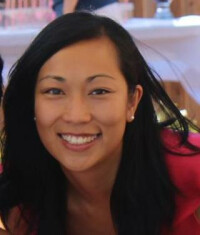 Mary Chong Carrera was born a friendly, fiery extrovert with a flair for drama. Growing up has brought a healthy dose of wisdom; she's learned to appreciate being still and quiet.
Mary attended Santa Clara University, where she cultivated great friendships, studied accounting, and fell in LOVE with Jesus (Christ, not her husband--that Jesús came later).
Mary has a passion for people and loves developing friendships, empowering leaders, and walking with others as they explore faith. She's wife to Jesús, mom to three adorable sons, Jesse, Ángel and Sebastián, part-time InterVarsity campus minister, and full-time human trying to engage with the world with love. Though her big Chinese family drives her up the wall sometimes, she loves them to pieces and knows she wouldn't be who she is without them.