Recently, I was encouraged to give meditation a try. If you had asked me to do this a few months ago, I would have been skeptical. A few years ago, I probably would have laughed outright.
I've always been a little unsettled by silence. As a child, I lived in a windy area, and my imagination easily morphed the creaking of my house into all sorts of impending danger. As an adult, I need music or the TV on incessantly. I think it's less about drowning out ambient noise and more about not wanting to be alone with my own thoughts.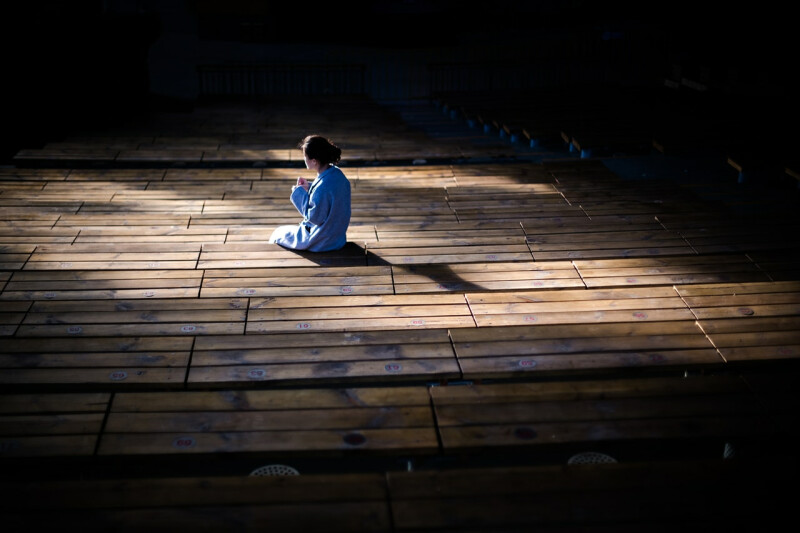 In silence, the worries constantly simmering beneath the surface of my cheery disposition become harder and harder to ignore.
In silence, the conversations I had earlier in the day play on a loop in my head. I fixate on the things I wish I had or hadn't said, stress about if I stepped on anybody's toes, or dwell on how judged or hurt I felt by another's comment.
In silence, the depth of loneliness or grief threatens to swallow me whole.
Growing up in a church tradition that taught me that having "regular quiet time with God" was the key to my spiritual life was challenging. I knew reading my Bible and praying were important, but trying to do that in silence often meant I spent more time being annoyed at my wandering thoughts and my inability to focus than actually connecting with God.
When I make regular time for God—to be in nature, to journal, to walk a labyrinth, to sing worship songs—I feel it nurturing my soul.
But I have this mental picture of the perfect quiet time as one in which I sit by myself, completely still and silent. I think that if I could be disciplined enough to do that, then I could somehow hear God's voice more clearly.
So, I was intrigued when I began reading The Sacred Enneagram: Finding Your Unique Path to Spiritual Growth. Author Christopher Heuertz talks about how each enneagram number pursues spiritual growth differently. Some numbers have a need for silence, some for stillness, and some for solitude. We often think that those three contemplative practices go hand in hand. Separating and distinguishing them was so freeing for me!
As an enneagram Two, my path for growth is to engage in solitude, and I find that to be so true. In the past I have written about hiking on my day off, and now I k now why that is so meaningful. It is time I am choosing to be intentionally present to myself, God, and the beauty of the moment.
It's not that silence and stillness aren't also beneficial for me. But I can enjoy the good that comes simply from actively engaging in solitude.
When I was told to try meditation, I received it with an open mind. I disregarded the mental picture I had of sitting in silence while constantly trying to empty my mind. I realized I was being invited to something much richer: to meditate on a passage of Scripture and let the truth of that passage wash over me.
The first day, I sat down and lit a candle as a symbol of the Holy Spirit being with me. I've seen people do this in group prayer settings, but it surprised me how powerful it was to invite the Spirit to come and speak to me in a tangible way. The dancing flame would draw my attention back to center when my mind wandered. I was even struck by the way the smoke drifted through the room after I blew the candle out to end my time. It was a physical reminder that the Spirit is always there. Even in solitude, I am not really alone.
The next day, I put on some nature sounds in the background as I lit my candle, and I found I was able to focus moreas I read through the passage. Another day, instead of reading the passage myself, I had my Bible app read it to me in different translations.
In letting go of my mental picture of what a quiet time should be and embracing the invitation to meditation, I've been able to hear from God in a new way, which is exactly what I've been pursuing all along.
I have been meditating on is Psalm 139, which reminds me daily that I am intimately known by God the father and he chooses to call me his beloved daughter. The heart of my enneagram Two nature fears not being loved if people really knew me. But In my not so quiet time I am able to hear his great love for me and his longing to meet me exactly where I'm at.
Engaging in solitude still takes discipline, especially as the busyness of the holiday season ramps up. But I'm thankful for the new tool of meditation to help me engage with Scripture and with God in a new way.
Deborah Woo has been attending The River since 2014. She is a Bay Area native who grew up attending First Covenant Church Oakland, and has a bachelor's in psychology from Azusa Pacific University. Deborah moved to San Jose to work for the nonprofit City Year, where she spent six years providing interventions and after-school programming for students in East San Jose, and professional development for AmeriCorps volunteers.

She is working on an organizational leadership masters degree through Northeastern University online and joined The River staff team as children's ministry assistant in fall 2016. She finds great joy in seeing the world and faith through the eyes of the youngest members of our wonderful community.