When our twin boys were born about nine months ago, we were excited! Not in our wildest dreams did we think our home would be filled with five kids.
As I wrote previously, we had just bought our first house, assuming our family size would be five. We loved our cute little 1940s house. This was going to be our forever home… until the day we moved in. My wife, Amy, pulled me aside and told me she was pregnant. A few months later, we found out we were having identical twins.
I wanted to scream. I wasn't ready for this. I was extremely upset with God and asked him why this was happening. I was finding my work groove at my job, our family had a good rhythm--and how could we afford two more kids?
I am thankful that God is patient with me. As months passed, I finally came around to the fact that we were having these boys, and I became excited and thankful.

Copyright : Oksana Kuzmina / 123RF
After a difficult birth and a few months of recovery, things began to normalize for our family. Then we had to face the reality that Amy was going back to work. I kept worrying about childcare for our boys.
What were we going to do? Should we move? Did I need to quit my job so Amy could work more? Would I have to get a second job? Maybe we could teach the boys how to sew leather belts that could be sold at the flea market. Okay, that last one wasn't a real option--yet.
Again I found myself confused about why God would give us something far bigger than we could handle. As I cried out to God, journaled, and talked to friends, I began to feel God's peace again. Maybe it would be okay.
We asked in our community and searched different websites for someone to watch the boys. We quickly narrowed it down to two candidates. When we interviewed them it probably felt like an FBI interrogation, as we didn't want just anyone watching Liam and Bennett.
The first woman was still in college and energetic. She was excited about watching the boys, and she engaged them the whole time during her trial run. Our first option was looking good!
The second lady, named Fran, came highly recommended by a coworker. Fran had taken care of twins in the past and was looking to be out of the house after since retiring a couple years earlier.
After meeting the two women, deliberating with friends, and praying persistently, we decided to hire Fran. We initially moved really slow because Fran is seventy-four years old and has one bad knee.
She quickly blew our expectations out of the water. Fran moves circles around us! When she's not engaging the boys, she is cleaning out our dishwasher I didn't even realize that was a thing. She washes and folds our clothes. She sweeps dust bunnies in our house and takes the boys on long walks.
When we talked about her pay, she said she wouldn't take more than $25 a day. If we tried to give her more than that, she said she wouldn't come back. WHAT?!
Fran has been a huge blessing for us and our boys. She shows the boys how to pray before they eat and sings to them in Spanish. When she walks into the room, the boys' faces light up. They really love her because she loves them.
God has shown me that he provides. He put someone in our life who loves the boys. We are extremely thankful for his provision.
In the near future, there could be another transition that's out of our hands. I am learning to quickly run to my heavenly Father because he loves my family and me more than I ever could. God is ultimately in charge, and I am called to pursue him in the good and hard that life offers.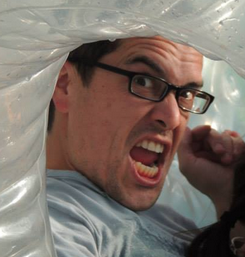 Kyle Guerrero has been married to his wife, Amy, since 2005. They have three daughters and twin boys. They have been connected with The River for over nine years and have been involved in small groups, youth ministry, and international service trips. They previously lived in Malawi serving the poor, in Uruguay ministering to third-culture-kid families, and in Leavenworth, Kansas, serving military families through Youth for Christ. Kyle is currently serving as the Missions Director at The Well, a church in Fresno.