I think my life might have been changed by a movie this year. A movie I watched—and then experienced.
Last fall, at a retreat for Christian leaders, I watched what started out as the slowest movie ever. Babette's Feast is set in the nineteenth century on the northern peninsula of Denmark. Its main characters are two aging spinsters who are devout in faith, but whose lives are as thin on joy and love as the bland soup they eat daily. They lead a small religious community that their father founded. But, over time, the purpose and vitality of the community has diminished. The environment is harsh. The colors are muted. Nobody smiles. And the pace of the film moves glacially. More than one of the pastors made a wisecrack about how this reminded them of the last James Bond film they saw—obviously not.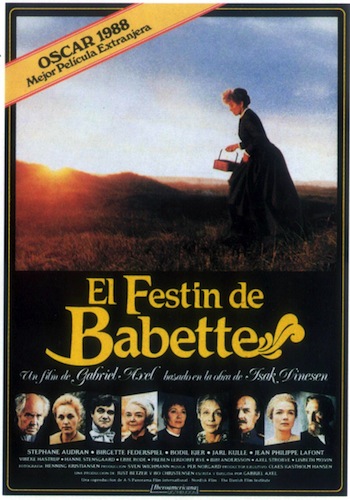 Image credit: Movies in LA
If the retreat wasn't being led by someone I trusted, I might have walked out. But as it turns out, the film is a pretty good parable of my Christian experience. My last couple years of ministry have been filled with important but wearisome tasks: searching for a church building; outfitting the place with appropriate furniture and technology (not too cheap, but not too expensive); choosing paint colors that everyone can appreciate (not possible); sifting through years of accumulated junk as we moved all our stuff from the old place to the new; and managing multiple staff transitions.
All this work has been important. Nevertheless, in the course of the work, there are ways in which my soul began to resemble the early portion of Babette's Feast more than I'd care to admit. Devout, but tired. Thin on joy and love.
In the movie, deliverance comes from a most unlikely source. A refugee from the French Revolution, a woman named Babette, comes to serve as a cook for the two sisters. She serves quietly and dutifully until, one day, she learns that she has inherited a great sum of money. With this windfall, Babette purchases and prepares a great feast. Babette serves the finest wine, the choicest meats, and the most delectable desserts—all expertly prepared. As they feast together, the two sisters and their aging friends are slowly but mysteriously revived. Where people felt abandoned, dignity is imparted. Where bitterness had set in, relationships are mended. Color begins to emerge. Laughter and song arise in the hearts of the people. New life springs up like shoots in the dry ground of this community.
Everything had been so slow and plodding. And then it all seems to change in an instant, at one great feast. The climax of the film comes when we learn that Babette has spent her entire life savings on this feast. She could have returned to France as a free woman. But now she will remain a servant for the remainder of her days.
One of the old, (formerly) crusty characters recites a portion of Psalm 85: "Steadfast love and faithfulness meet; righteousness and peace kiss each other." Because I've always loved that Psalm, I know the words that follow: "Faithfulness springs up from the ground, and righteousness looks down from the sky. Yes, the Lord will give what is good..." I wasn't sure why, but in that moment something began to move within my heart. I started to weep.
When the lights came on, I quickly composed myself for the discussion time that followed (with some of the pastors still joking about how slow the movie had been). But when I got in my car to drive home, I dissolved in tears again. I was struck afresh by the wonderful reality that there is One who came as a servant. Through an act of extraordinary sacrifice, he has purchased for me a rich feast that revives the soul.
Babette's Feast is a wonderful film. I can't recommend it highly enough. But, in the end, it was powerful for me because I didn't just watch the movie. I experienced it afresh during this year of monthly retreats.
During each retreat, a team of wise spiritual shepherds laid down their lives in joy, gentleness, and hope for a fresh work of God in each participant. While I am deeply grateful for every small act of kindness offered, I often find myself thinking of the founding leader who sold her Menlo Park home twenty years ago to launch this ministry. For me, her sacrifice is a real-life expression of Babette's feast, a glass of fine wine that gladdens my soul. It's not a magic wand that waves away my weariness, for some of that still remains. Her act of profound generosity is more like a great lever dislodging boulders of doubt and bitterness that had settled into the deep places of my soul.
I find that there is now a little more space to receive the whisperings of the Spirit. In that space, I'm beginning to find the capacity to laugh at my shortcomings, receive each new day as a gift, and believe for fresh expressions of heaven in my current context.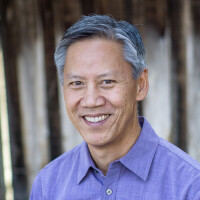 Brad Wong is the lead pastor of The River. He loves being husband to Vickie and dad to Ryan and Lauren. He studied pre-med microbiology at UC Berkeley, but his vocational path took a sharp turn in the mountains of the Philippines, where he shadowed missionaries who translated and taught the Bible.
Brad delights in exploring the world. During his time at The River, his ministry travels have taken him to Thailand, Uganda, the Philippines, China, Malawi, and Honduras.
He enjoys reading, running, Belgian ales, red wine, dark chocolate, good conversation, challenging ideas, thoughtful people, and food from every culture.