Resolving to Do More of the Same This New Year
I have always loved the beginning of the year. Not for the confetti throwing or champagne drinking of New Year's Eve, but for the idea of a fresh start and all the possibilities that lay ahead for the future. Crash diets, spring cleaning, and goal setting… Bring it on!
New Year's resolutions, with their lofty ambitions and clear time boundaries, have always appealed to me. Five years ago, I was aimlessly wandering through a clothing store on the afternoon of December 31 when an idea hit me. I really didn't need more clothes. But I could use more time and mental energy. And more money wouldn't hurt either. Right then, I resolved to not purchase any clothing for the next year. Instead of surfing sale sites, I would work toward my writing goals. Instead of picking up another pair of jeans here or shoes there, I would save up to buy the camera I had felt was out of my budget.
Image credit: Ryan Cadby
By the end of the year, I purchased the camera. And perhaps more importantly, with the body of work I built up by devoting more time to my blog, I made connections and found several freelance writing opportunities.
I wish I could say all my New Year's resolutions were so successful. At the end of 2014, I was feeling stagnant. There were areas I wanted to change. I wanted to wholeheartedly pursue writing a book, getting in better shape, and improving challenging family relationships. But by mid-year, I was exhausted from a home remodeling project that never seemed to end and continuing relational difficulties. On top of all that, I had even gained a few pounds.
On the last day of 2015, I was on vacation in Mexico with my family. I woke up before sunrise to board a small boat that would take us to an island an hour away, where we would be able to swim, kayak, and paddle board. Being prone to seasickness and averse to cold water, I was not thrilled by any of this. I complained bitterly to my family during the hour it took to sail there.
As we neared our destination, the guide announced that we had the option to swim from the boat through a rock cave to a hidden beach. Because of the current and choppy conditions, this was for strong swimmers only.
Gauntlet thrown.
Dozens of swimmers were already making their way to the hidden beach. While I originally insisted I was going to relax on the boat and watch my husband and kids, I quietly put on my flippers and got ready to jump in the water. The ocean wasn't as cold as I feared (although it wasn't exactly warm either). While the swells and waves tossed me around, I made it through the rocky tunnel and pulled up on the white sand.
The other tourists on the beach made it clear that the swim hadn't exactly been a wilderness adventure, but it stretched me. And I liked it. After we swam back to the boat, it was time to relax in the sun and watch my family do the other activities.
I've been mulling over this experience the past week, because as we end one year and begin another, I'm realizing that there's a time for pushing ourselves and a time for enjoying our present circumstances. Given last year's unsuccessful resolutions, I have wondered where I went wrong or if my goals were not in line with God's plan for my life. To the best that I can discern, I feel that my goals from the past year are still relevant and worth pursuing in the next twelve months.
I'm learning to be both patient and persistent—especially in the face of discouragement. I'm also trying to be gracious with myself about the past year and hopeful for the upcoming one.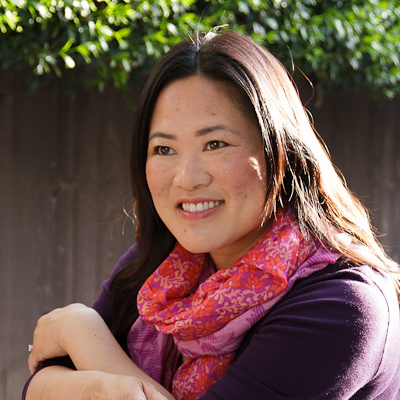 Grace Hwang Lynch is a freelance writer and editor and full-time mom. You can find more of her musings on raising a mixed-race Asian family, as well as some great family recipes, at HapaMama.com.