Seeking God in Silicon Valley
Keep me safe, O God,
I've run for dear life to you.
I say to God, "Be my Lord!"
Without you, nothing makes sense.
Preserve me, O God, for in you I take refuge.
As for the godly ones in the land, they are the true nobility,
in whom is all my delight. - Psalm 16 (The Message)
God, where are You?
My life is easy compared to most of the world, but I find it so hard to see You in daily life here, and mid-life feels like crossing a desert. David says it well: "Without you, nothing makes sense."
In Christendom, in Europe and its colonies from 400 – 1800 A.D., the church spire or cathedral rose about the city as a daily visible reminder of Your centrality and Your presence. Your festivals ordered the community life and quieted the noisy markets.
Santa Clara County's enlightened fathers thought it fitting not to set aside any land for churches after 1975 because churches provide no tax revenue. And, for many of us, the six- or seven-day workweek is standard now. We live on coffee and Red Bull, numbing the soul's many other needs for the project, the mortgage, the school district, and the deadlines that flow one after another without respite. So, we know what the functional lord is here in Silicon Valley.
But productivity and mammon with their pleasures and privileges provide no rest for my soul at fifty as they did in my twenties. The job well done, the pat on the back, the feeling of progress, or sports and restaurants and entertainment provide momentary distractions, a breath mint that soon fades away.
But they are not You. And I don't see a revival breaking in, with Your knowledge filling the halls of Apple and Stanford and the mayor's office, any time soon.
Jesus, You have called us to live here. You have placed several million people from all parts of the world here because of the economy. Where do You want me to find You? How can I demonstrate Your overflow to my neighbors, my family members?
I find You on the deserted beach on a Sabbath. You draw near and life is worth living again, but what of the other six days of work, family, exhaustion, setting up a new house in a new neighborhood? Lord, You don't abandon us on the other six days, do You?
Maybe it's just a long season of desert walking for us: the aging parents, the health challenges, the anxieties of loving four young-adult kids who are, more or less, on their own at this point. You have taught me your skills of gratitude, of daily prayer, of finding joy in small things.
But is there not more to the Kingdom of God than keeping the small flame alight with such tools? I feel stuck and trapped and of little help towards those who live around me. What kind of spiritual leader am I then?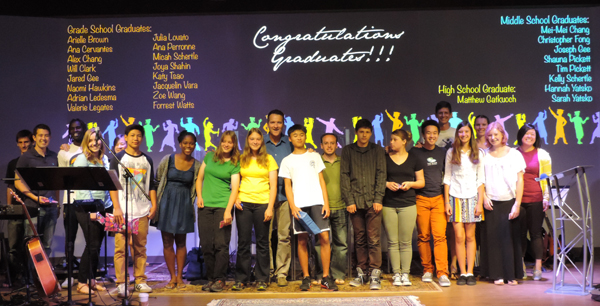 "As for the godly ones in the land, they are my true nobility, in whom is all my delight."
When I turn from these thoughts and see something like our youth graduation service, I see You have not abandoned us and my heart is revived. How did this happen?
Tim Collier, Steph Yee, and Val Lu came to The River three years ago and Tim led them to begin volunteering with the youth ministry during a low point. Brett and Angie Bymaster "graduated" from children's ministry to lead the middle school group in 2011. Grant Jenks, Ihoema Umez-Eronini, Alex Ly, Will Keith, and Kate Wieking joined up to make this all-star team possible.
Why would any of these young professionals and graduate students spend so much time with middle-school kids? What possible motivation but You and Your love could move them to this? They could be in San Francisco, out on dates, talking their troubles over with friends, or just reading a book in the bath after a long day at the office.
But You have moved them to love these youth, at times so raw and needy and in many cases, not really interested in You. You have caused these ministers o pour out their energy on young people who, from the outside, seem like they offer little in return but empty candy wrappers and pizza boxes to clean up at the end of a Friday night. What is this but You, my Lord, that could move someone to do this for even one month?
Oh Lord, forgive me for my blindness. What is the human condition but blindness to Your works? Forgive me for my distorted checklist of what a "real" God movement needs to look like for it to be worthy. I praise You for our graduation celebration, a manifest sign of Your presence coming to fruition.
Open my eyes that I might see You more and more in all those who labor in Kids' Club, in public schools, with the homeless and the orphans, and those who, day in and day out, go to work to provide a loving home for kids to grow up in.
But today I especially thank you for Brett, Angie, Tim, Steph, Val, Grant, Alex, Kate, Will, and Ihoema, the "true nobility" of Silicon Valley.
Do you sometimes have trouble seeing God in Silicon Valley? What surprising places have you found Him? Who are the "true nobility" that you have encountered?
| | |
| --- | --- |
| | Mark Phifer-Houseman has been married to his best friend and hero, Gayll, for thirty years. He has been enchanted by Jesus since sophomore year in college. That pursuit led to twenty-four years of ministry to college students before he became The River's staff director in 2008. Notable accomplishments include clinging to Jesus while being disabled on and off for fourteen years with chronic neuropathy and following Gayll's leadership in adopting their four children from Ethiopia in 2003. He loves seeing young people come alive to God, anything related to living out the Bible, and families and churches thriving. He is glad to no longer be a sports parent so he can play tennis and hike again. |