This spring our small group read The Making of an Ordinary Saint by Nathan Foster. Each chapter of the book discusses a spiritual discipline. A few weeks ago our small group discussed the chapter on the discipline of service. As we explored this topic, I was struck by how—in times of hurry or anxiety—I experience service as a chore. Whereas in times of abundance of time and energy, serving others tends to bring me joy.
A recent experience really highlighted this concept for me.
I went on a retreat in LA with a few fellow therapists over the first weekend of June. The main goal of the weekend was to find time to rest and connect together, given that we work in a field where burnout and isolation are incredibly common.
The weekend itself was everything I wanted it to be and more. I felt completely relaxed and full of joy from the benefits of slowing down and gathering with a group of life-giving ladies. As the weekend came to a close and I arrived at LAX to return home, I felt completely content.
As I boarded the plane, I quickly nabbed my favorite seat, next to the aisle in the first row. It makes it easy to deplane quickly, and my pregnant body really enjoys the easy access to the restroom for frequent bathroom breaks. Life was going my way.
The plane was delayed as the last passengers hadn't yet arrived at the gate to board. But in the nick of time, a woman arrived on the plane with her early school-age son.
The flight attendant mentioned that this was a full flight. As the woman boarded with her son, I noticed across the aisle that there was one seat left in the first row. As the woman put her child in the seat in the first row and reassured him that he would be alright, I could sense her trying to cover up her nervousness knowing that she would sit separately from her child.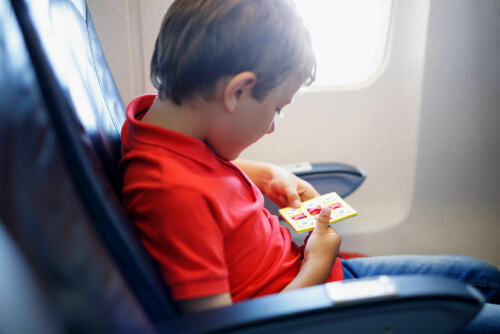 Copyright: Irina Schmidt / 123RF
I waited for one of the two solo passengers next to the boy to offer up their seat to the mother, but neither seemed to notice the situation. As the woman took a deep breath and looked to the back of the plane for her seat, I made the obvious choice. I offered her my seat.
This didn't at all feel like an act of service to me. It was an instinctive choice that I made with joy. If I were in her shoes I'd hope someone would do the same for me! And I knew this was likely my last flight as a solo traveler for a long time, which made the decision feel easy.
As I offered the seat to this woman she seemed both grateful and incredibly confused as to why I offered up my seat. I didn't let her protest and I just started walking to the back while she expressed her gratitude.
Making my way back, I saw an open middle seat in the very last row. More than one flight attendant stopped me along the way, asking if I was looking for water or the bathroom. No, I was simply taking the seat in the back. People reacted with shocked expressions, which mostly came as a surprise to me. Why was this not a no-brainer to everyone else?
Finding the available seat, I realized the two passengers on either side of the open seat were of a larger size, such that they needed the armrests pushed back in order to fit. There was about half a seat's worth of space left for me between the two of them.
As I got in my seat, I thought about how this situation would probably bother me in most circumstances, but in this instance I was just so happy to know the woman didn't have to sit 30 rows apart from her child. The seating was definitely physically uncomfortable for me, but that also didn't bother me at all.
As we deplaned, I was the last to exit. The flight attendants mentioned how nice it was of me to swap seats. One even said I was a 'saint' and another wished my karma would come back and serve me well.
But I still felt confused. This act was my joy to offer. And genuinely, it didn't feel like an act of service. It was just instinctive for me.
As I penguin-wobbled out of the secure area of the San Jose airport, took two bathroom breaks along the way, and rode the escalator down to baggage claim, I spotted that my bag was the only one still left rotating around the carousel. I started crying on the escalator because I was so overcome with the joy of the weekend and knowing I got to enjoy the special privilege of one last flight even as my body moves so slowly now.
I know if I were busy or frazzled, that whole flight would have felt miserable to me. I probably wouldn't have offered my seat to the woman. Or if I did, I would have felt incredibly bitter about it on the inside and quietly fumed about how uncomfortable I felt sitting in the middle seat in the back row.
I used to dread the idea of slowing down while pregnant. But it turns out that it's a blessing from God. My hope is to continue embracing slowing down, so I can continue finding joy in acts of service that otherwise feel like a chore.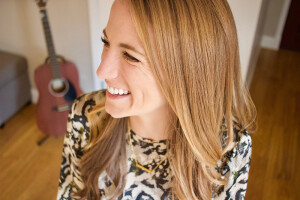 Marie Fang has attended The River since 2012. Before moving to the Bay Area, Marie was involved in InterVarsity Christian Fellowship and at Coast Vineyard Church in San Diego. She runs her own private practice in San Jose as a Christian psychologist.

Marie and her husband, Daniel, have been married since 2009. Marie is passionate about learning to love those who are frequently unloved, meeting with those on the margins of church, and guiding others in their journey of developing a healthy sense of identity.