I wrote a script for my family, which featured our future, redeveloped backyard as the backdrop. It went something like this: my daughter leaves for college (yes, she will) in six years. Between now and then, she and her brother need to create fun childhood memories in our home and our backyard. We have a lovely, cozy space in the backyard, but no one goes out there. No one goes out there because there is no destination. Well, went my script, let's put one in so we can have family dinners, BBQs, and marshmallow roastings with friends outside.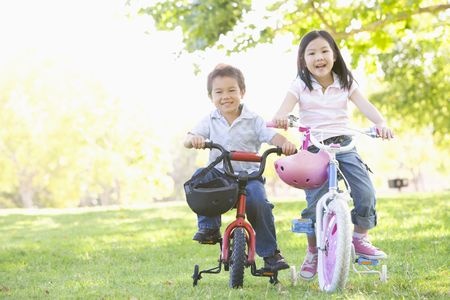 Copyright: stockbroker / 123RF Stock Photo
After a couple months of consultation with the landscapers, I finally landed on what I wanted, and the landscapers began their work. Things quickly went off script. Our neighbor to the south called the city to complain that privacy trees planted along our shared fence had been removed. Apparently there's a covenant indicating that privacy trees must be planted to screen existing homes from any new two-story homes built after a certain year. The code enforcer came, looked around, and declared there would be a heavy fine: $65,000. Ludicrous. I couldn't eat or sleep; these are my two favorite activities, but they no longer brought me the joy and satisfaction they normally do. I was in flight mode.
What could God possibly be inviting me to in this situation fraught with misunderstandings, miscommunications, and misinterpretations?
After crowdsourcing to find solutions, my husband and I made contact with the city planning director and her team. They were reasonable and provided a solution path to remedy the situation and avoid the fines: we needed to get both our south-fence neighbor and our west-fence neighbor to sign a waiver or modification agreement on the privacy tree covenants. Both were challenging hurdles for different reasons.
Three days after finding out about the fines, my husband suggested we try to make amends with our neighbor to the south and prioritize our relationship with her above avoiding the fines. He pointed out that she was truly our neighbor and enemy right now—the person God calls us to love. I was willing to go but was not feeling hopeful. She had a reputation for being difficult to reason with.
After my husband introduced himself to our neighbor, the first words out of her mouth were "I'm not signing anything." He apologized and explained our intent. She actually softened and was quite pleasant. Her only request was to put back the privacy trees. We replanted them within a week.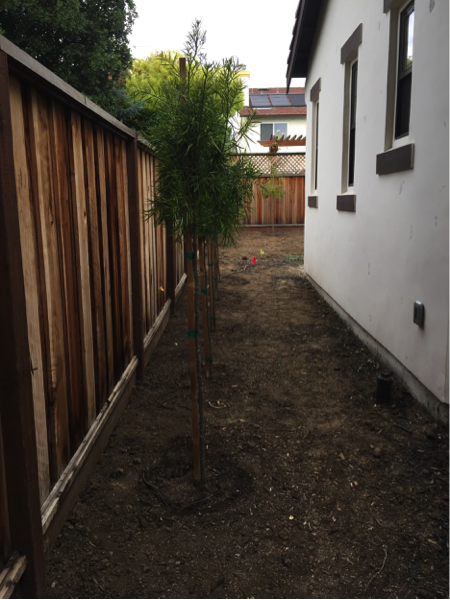 The replanted privacy trees for the neighbor to the south
Since then we've had a couple more encounters with her. All were amiable. Our neighbor is quite a talented woman, and, as I listened to her story, it became quite clear why she felt such animosity toward the city and some resentment at us, her new neighbors. Her family history with the land is dear to her, and our arrival is a reminder of a time that no longer exists. I get it.
In the end, she agreed to sign the modification agreement for us after the re-planting. Her reaction and support could only be a result of the hand of God.
As for our neighbor to the west, we had to sleuth and ask their neighbors for contact information to leave voicemails and emails. Our neighbors were out of town—for a month. After they returned, it took two in-person meetings for them to agree to sign. They finally signed the modification agreement with the condition that one tree be planted along their fence for privacy and screening.
I'm now two months in from the start of the landscape work. We have a plan for closure of the fine issues, and agreements have been signed. We still have unknowns regarding the outcome of the backyard, but our meandering from the original script resulted in this goodness: relationships established with my neighbors, the city developers, my husband, my landscapers, my prayer warrior friends. Perhaps this is the goodness of God, the cross bridging relationships. Not once during this process did my husband and I rip into each other—a real gift. The reactions of the landscapers were telling of their character: earnest and invested. To date, I have not paid them a dime. I don't know what the final bill will be, but I'm hopeful that we can continue the project in two weeks and actually have our dream space come to life.
However our backyard turns out, I feel it will be a sacred space, where relationships can develop and blossom. Even before its completion, so many people have given to it.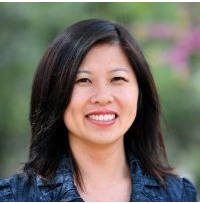 Kuimeuy (ku-may) Wang has been married to Kevin for twelve years and is mother to Zoe (10) and Micah (8). She lives in Silicon Valley and volunteers at school through Project Cornerstone. Her hobbies include trying out new restaurants, especially fusion ones; dabbling in art with her son through YouTube drawing videos (Sponge Bob, angels, reindeer, the Hulk); photography (but it doesn't return the affection); and running. Her favorite book of the Bible is Ephesians; her favorite TV show is Enlisted; her go-to meal after traveling is a nice bowl of pho. Tell for when she's tired: necklace statement pieces to draw attention away from the bags under her eyes.