Surviving versus Thriving
For the last few months, my four-and-a-half-year-old son has made two new friends who he now calls his best friends. Their names are Skye and Timothy. Together they have celebrated Skye's birthday, gone on field trips, and even built their own arcade. They don't wear masks when they see each other, and they don't social distance either. It's not that we're against these things; it's because, well, Skye and Timothy are LEGO minifigures.

Image courtesy of Margaret Ma
My son has built an entire make-believe world that he calls Lego City. Our friends from this world are talked about every day like they are members of our family. Once when he told me that Teacher Bob from Lego City was not at school, I asked if he was sick. He responded by saying, "Yes, but he's not sick with the coronavirus. There is NO coronavirus in Lego City!"
Having been sheltering in place now for almost four months, most days I wish I could live in an alternate reality too. I wish I could put my mind on autopilot in an alternative mental place and wake it up when we have all been vaccinated. At that point, we will just chalk up the last year to an unfortunate mess and go on with life, resuming the trips, the play dates, the swim lessons, and all the other things we will have missed this year.
The only problem with this plan is that I can't stop refreshing the news feed on my computer, in a strange new obsession with the news. I also can't help but check the daily case counts on the Santa Clara County Public Health website and even graphed the numbers, in the beginning of our Shelter in Place. I also can't help but worry about whether the two most vulnerable members of my family, my mom and mother-in-law, will become infected with the virus. I can't help but be frustrated at the people who refuse to do their part to help us fight this pandemic by wearing masks or social distancing. I can't help but feel angry at the numerous racial comments made against Asian Americans, including by our own president. And finally, in the wake of recent protests, I am deeply grieved as I learn more about how my African American brothers and sisters have been treated. I am humbled by my naiveté and saddened when I think about the young Black children I know who are growing up in a nation where they have to fear for their lives—merely because of the color of their skin.
There is too much going on to simply try to 'get through' this time.
I read an article recently that stated the closest Biblical account we have to what we are going through is Jesus's time in the Garden of Gethsemane:
And He went a little beyond them, and fell to the ground and began to pray that if it were possible, the hour might pass Him by. And He was saying, "Abba! Father! All things are possible for You; remove this cup from Me; yet not what I will, but what You will.
(Mark 14:35-36 NASB)


When I read this, I can resonate with that painful cry "remove this cup from Me!" My prayers these days can be simplified to "Please keep the coronavirus from my family. Please give us a cure! And please fix this country, so people stop hurting and dying!"
The second part of Jesus's prayer feels much harder to emulate. "Yet not what I will, but what you will." We know that Jesus went on from this scene to endure great suffering, to the benefit of the world.
I know that the challenge for me in this time is to press in, to press into His will for what he wants to do with me and in me. It already hasn't been pretty, as this time has helped me to see how much I depend on my own ability to control situations and outcomes. I have also come to see how addicted I can be to work. It provides a way to get lost in things that I can control and a sense of accomplishment.
I will also admit that I waver in my engagement with the national topic of racial injustice. I have felt sadness and anger, and I have also had days where I feel too emotionally spent with other things to engage with this topic. And then I feel ashamed for having the luxury of feeling that way, knowing that my Black brothers and sisters don't have the option to disengage. I was also embarrassed and ashamed when I found out that one of the police officers was an Asian man. I am humbled and repentant when I realize that I've also lived in the privilege of doing nothing. I am well aware that there is much for me to confess and to learn.
So much.
In a year, I could look back on this time and recall how many puzzles I finished, how many board games I played, or how much more tech savvy my teaching became. None of those things are bad. But I also hope I'll look back on it and not even know the person I was in March of this year. I want to proudly say that I didn't just survive this time, but that I pressed in and thrived.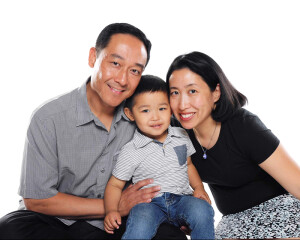 Margaret Ma is a native of the Chicago suburbs but has been calling The River home since 1999. In many ways she feels she has "grown up" at The River. She went from being an idealistic "dot-comer" in the early 2000s to finding her calling as a teacher. She is also a wife to Jack, mom to Lucas, sister to Angela, daughter to Sophia, aunt to Jeremy, and sister-in-law to Steve (yes, she has numerous family members at The River). She is currently a small group leader and member of the Giving Team. She enjoys watching movies and TV shows that make her cry, playing board games, and traveling.