The Woman Caught in Adultery
In 2006, when Amy and I were newly married, we moved to Malawi to serve with a relief agency. Before long, we got to know some in the local expatriate community, many of whom were Christian.
One of the struggles we all faced in Malawi was finding a church community. One evening we were sharing our experiences at the different churches we had visited with some friends, and they told us a story that will forever be etched in my mind.
Our friends had visited a local church on the Malawian Mother's Day. They were excited about the opportunity to be there and to see how the church honored mothers. Unfortunately, their excitement quickly turned to horror as the pastor of the church called a young pregnant woman forward to stand in front of the congregation. As the mother stood before the whole church, he began to berate her and publicly humiliate her for her out-of-wedlock pregnancy. She stood before her accusers with nowhere to go, nowhere to hide. She faced everyone with shame. At the end, the pastor excommunicated her from the church. Her church had disowned her.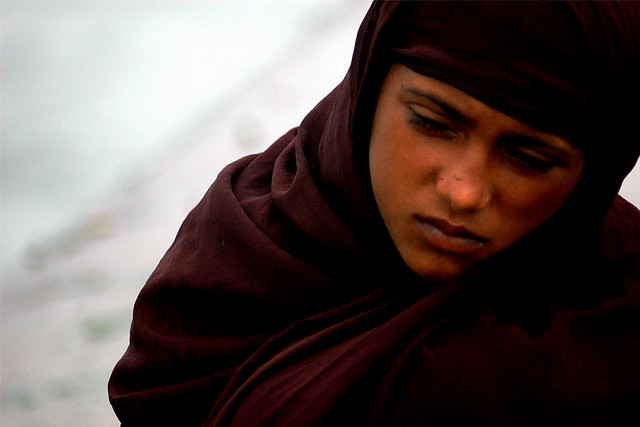 Image credit: Renu Parkhi
My heart felt heavy as I heard about this situation. The young woman had no one to turn to, and I couldn't help but wonder what she thought about God's love for her, what happened to her faith, and where she was that day.
This story came to mind a few weeks ago as I was preparing to share at a Club Beyond training in Colorado Springs. I was asked to share on the story of the woman caught in adultery in John 8:1-11. As I read this story, my mind immediately jumped to this girl in Malawi. Those same feelings of anger and sadness overwhelmed me as I read through this passage. I was actually on a plane, reading and trying to hold back tears. How could people be so cruel when they, when I, when every person reading this blog has sinned.
In the gospel, John recounts that the adulterous woman was caught in the act and that the Pharisees brought her before Jesus. The Pharisees cared only about the law and not her life or her reputation. But as they accused her, Jesus' responded, "Let him who is without sin among you be the first to throw a stone at her." One by one, they walked away.
Jesus, who had been kneeling, stood up. "Where are your accusers?" he asked the woman. Not a single person remained because, in Jewish tradition, it was recognized that everyone sinned. Everyone except Jesus himself. He was the only one that could have rightfully stoned her, but he didn't lift one stone. Instead his words were, "Neither do I condemn you; go, and from now on, sin no more."
There are times I find it difficult to accept Christ's mercy and forgiveness. And in the same way, there are times I find it challenging to extend grace and mercy to my children, my wife, my friends, and my co-workers. I wonder how I would respond if my daughter made a mistake like that. Would I be able to extend love and grace to her? I hope I would, but I also know that I sometimes become an accuser before I show mercy.
Jesus has extended his mercy, love, and grace to me countless times. And he continues to extend it to each of us every day.
The story of the pregnant mother in Malawi is a significant example of a lack of grace and forgiveness extended, but I am certain there have been smaller situations in which I also failed to show love. As Christ-followers, it's important show Jesus' love and mercy to those who have not experienced His love. In doing so we can break down walls that people may have against Christians. We are sharing the Good News as we extend forgiveness and love. As our actions match our words, Jesus' story is told. Just like the adulterous woman from the Bible and the woman excommunicated from the Malawian church, we all need to be shown forgiveness and acceptance and love.
We are the church, and we are an extension of Christ. Are we offering mercy and grace when we meet people who are different from us? When others believe something different than us? Am I doing this? Or am I casting stones?
Kyle Guerrero has been married to his wife, Amy, since 2005. They have three beautiful daughters, Eva, Olivia, and Alexa. They have been connected with The River for over nine years and have been involved in small groups, youth ministry, and international service trips. They previously lived in Malawi serving the poor, and in Uruguay ministering to third-culture-kid families. They now live in Leavenworth, Kansas, serving military families and their youth through Youth for Christ.

Kyle dislikes long walks on the beach and candlelight dinners. He loves being outdoors, learning new things, exploring, and being with youth, God, and family.