Well, You Know, We All Want to Change the World
In March of last year, when I first came to San José as a fresh Servant Partners[1] prospect, I remember asking one of the directors, Andy Singleterry, a question that troubles me to this day: "As a well-educated white male, how do you see your place in the ministry in the Washington neighborhood?" The question was really more for me, to understand my place in the internship. His answer was basically "lots of listening."
With all due respect to my boss, this left me pretty dissatisfied. What's so revolutionary about listening? Is this the kind of radical movement Jesus envisioned when he prayed, "Your Kingdom come"?
However, in true Andy fashion, fifteen months later he gave me a book that explained the theory behind his response. That book, To Change the World, by Professor James Davison Hunter, explains why recent Christian attempts at "changing the world" have failed. I highly recommend reading the entire book, but here I will only highlight Hunter's main proposition.
Hunter offers an alternative way of understanding and manifesting the Church's role in culture[2]—what he calls "a theology of faithful presence." This theology is based on the incarnation of God through Jesus Christ—God's presence, as a human, in the lives of real people in history. Hunter notes that the power we see Jesus use in Scripture is unlike the power typically used in the world. Hunter argues that Jesus' power is groundbreaking because he does not use his power to glorify himself, but to give others life ("He did not consider equality with God something to be grasped" – Phil. 2:6). And in his greatest display of power, his death and resurrection, Jesus "disarmed the powers and authorities [read: culture]" and "made a public spectacle of them, triumphing over them by the cross" (Col. 2:15).
Jesus' triumph in changing the world was achieved by using the very institutions meant to destroy him and his movement. The Roman government, which taught and legally enforced that the general Caesar was God, and the religious system of the Pharisees, which had followed the letter of the law so closely that they lost its spirit, colluded together to kill Jesus. But that collusion, instead of squashing the Church, enabled Jesus' resurrection, which showed his victory over any and all oppressive systems and individuals. And instead of using this triumph to directly dismantle those oppressive systems, it gave people the power to live outside of the value assignments given by those institutions. In Christ, we are no longer condemned by the merits of our patriotism or by our ability to follow rules by rote.
So, what does all this have to do with Andy's dissatisfying answer to a one-and-a-half-year-old question?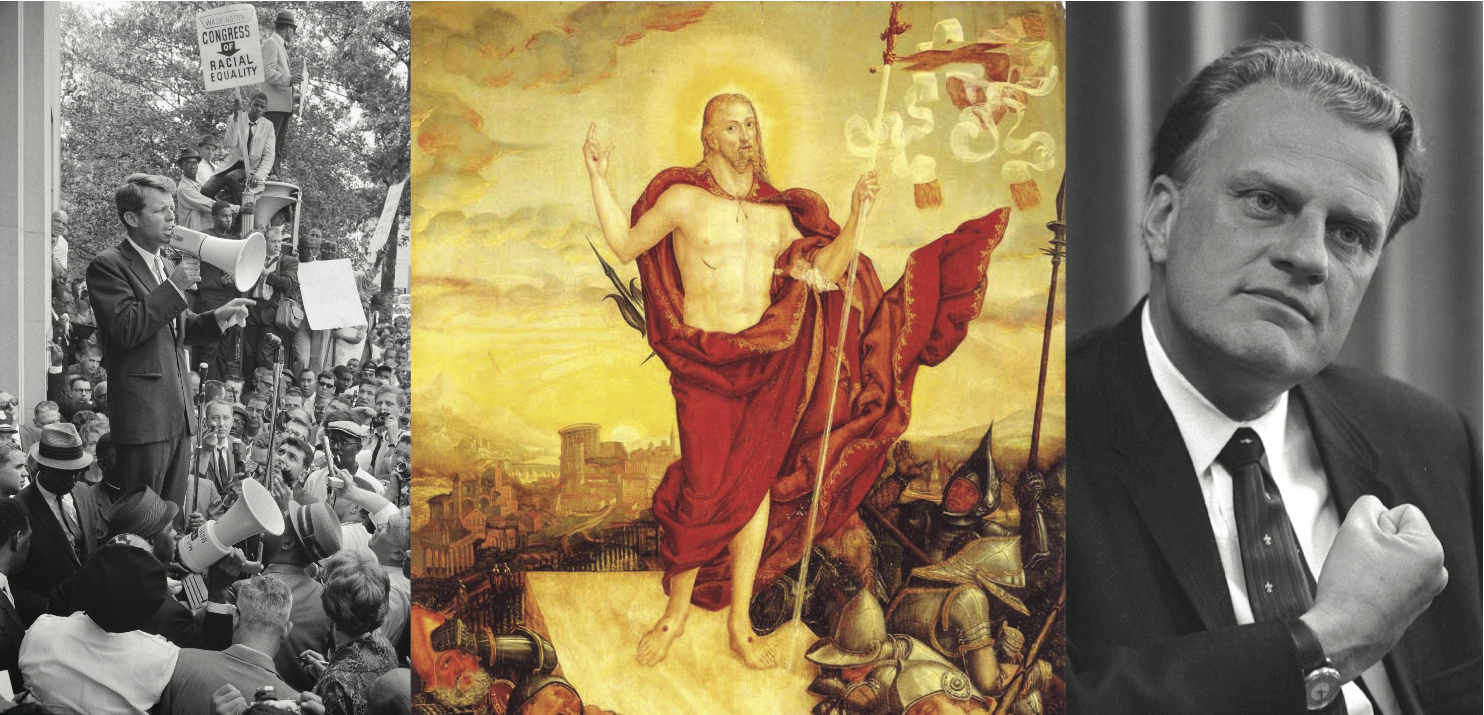 How then shall we live?
"Robert Kennedy CORE rally speech2" by Leffler, Warren K. - This image is available from the United States Library of Congress's Prints and Photographs division under the digital ID ppmsca.04295. Licensed under Public domain via Wikimedia Commons.

"Der-Auferstandene 1558". Licensed under Public domain via Wikimedia Commons.
"Billy Graham bw photo, April 11, 1966" by Warren K. Leffler - This image is available from the United States Library of Congress's Prints and Photographs division under the digital ID ppmsc.03261. Licensed under Public domain via Wikimedia Commons.
In essence, it comes down to power. Though this theory of culture does not only apply to the Church, this post does, so I will focus on my experience of the Church in relation to Hunter's argument. Often when talking or listening to other Christians, we seem to either abuse our power (the Inquisition, the implicit and explicit acceptance of chattel slavery in the United States, the mistreatment of the LGBTQ community, etc.) or attempt to dissociate ourselves from structures of power to avoid its "corrupting nature." I know a number of Christians who have turned inward to focus solely on their church life as the means of social transformation to the neglect of other public activities, which in Hunter's theory could do much to change society. Though the danger of power is legitimate, it should not prevent us from using the power we have. Hunter submits that it is through positions of power—in churches, but also in businesses, volunteer organizations, families, and schools, etc.—that culture is truly transformed.
In light of Hunter's book, Andy's response of "lots of listening" becomes much more potent. If I, as someone with a relatively high degree of power, listen to and legitimate the thoughts and experiences of those who are often not heard, my willingness to do so will do much to transform society into one where all people can express their unique reflection of God.
My recent completion of this book coincides with the time when the Servant Partners interns create concrete plans to minister in the Washington neighborhood. Part of that plan for me, though simple and seemingly less revolutionary, is to set aside time to meet with just five neighbors to listen to their stories, to hear their concerns and hopes. The Guadalupe-Washington Neighborhood Association (GWNA), of which I was somehow elected to be treasurer, is currently in the process of rethinking their plan of engaging and representing our neighborhood. The hope is that in meeting with neighbors, I will be able to offer them a platform through GWNA from which they can come together with others and take concrete steps to improve life for everyone in the neighborhood. Instead of using the power this position affords me to push my own agenda for GWNA, I hope to use that power to allow our neighbors to transcend the negative labels that have been assigned to them.
This is a small start, and I know that power is shaped differently for each person at different times. So I will continue to ask myself and others these questions:
In what positions of power do I find myself?
How can I, like Jesus, lay down that power in the pursuit of empowering others, especially those who have less power than I do?
What may be preventing me from giving of myself to others?
As Christians, our call, among other things, is not just to make the Church really great for us, but also to make the world really great for everyone. We cannot be content in simply being good church-attenders or Bible-studiers. These things are great and necessary as followers of Jesus. But we must venture out into the un-churched areas—geographically, personally, and culturally. That's what Jesus did. And that's how he changed the world.
[1] Servant Partners, the organization for which I am currently an intern, is an organization that sees itself as, "a catalyst for change," that seeks to, "evangelize, train, and empower people to transform their own communities in ways that will continue long after [they're] gone."
[2] Defining the term culture is part of Hunter's goal in his book. For the sake of brevity, I cannot retell his complete assessment of culture here, but what I think his most important note on the topic is this: culture is a system – created in networks of individuals, groups, and institutions – of truth claims and moral obligations. Culture is the power to define what is and isn't true, and in doing so, it creates ethical burdens for people within those cultures.
Can you think of other examples of Christian attempts to "change the world" that were unsuccessful or perhaps even harmful? Do you find yourself shying away from structures of power? What power and privileges have you been given that could be used to empower others?
| | |
| --- | --- |
| | Steven Rozzi is currently a Servant Partners intern in San Jose. In August of 2013 he graduated from UC Berkeley with a BA in Sociology. After graduating high school he spent nine months with Youth With a Mission (YWAM) in Chile, England, and Thailand. However, through his love of travel--visiting multiple countries and driving a number of interstate (and intrastate) road trips--Steven's love for his native Bay Area has grown all the more. His passions include playing guitar, discussing grand social theory, drinking coffee, and being a quarter Danish. |